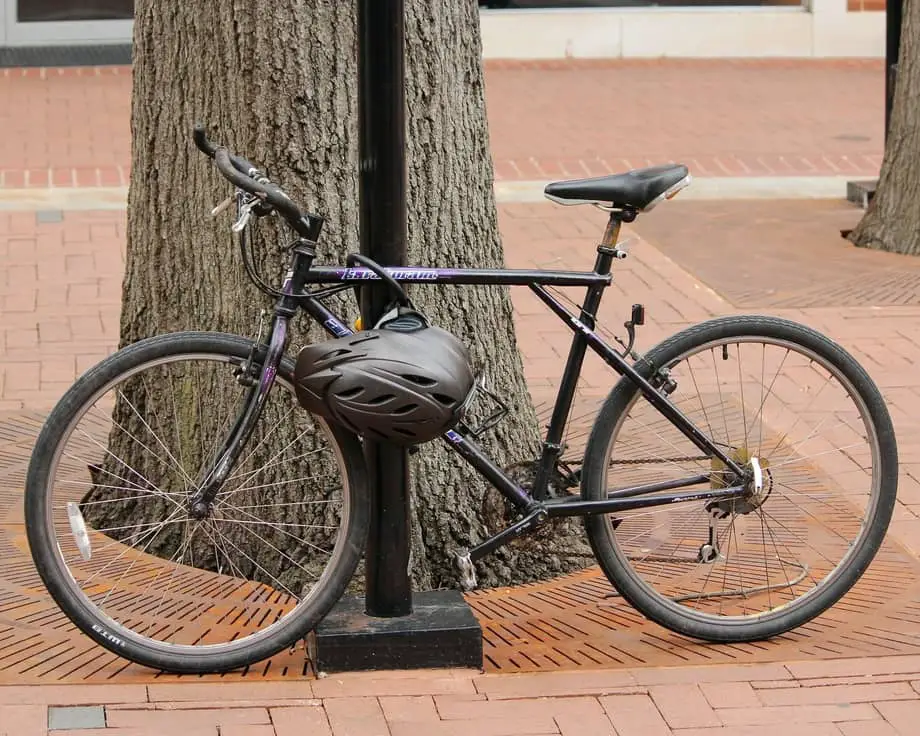 The single most important purchase in your cycling arsenal is the helmet you choose.
I had a nasty accident in my earlier cycling days while wearing an ill fitting bicycle helmet. It set me back with serious concussion and I had to put my life on hold for 12 whole weeks.
So for me, my purchase of a cycle helmet after that fall was going to be one with as much research as possible to make sure I got the best and safest helmet out there.
My Recommendation…
My top pick is the Giro Chronicle MIPS Helmet.
I prefer to buy Giro Branded helmets because they are a brand that specialize in helmets specifically.
In my opinion, they provide good, solid quality, long-lasting helmets that are good value for money.
The brand has their own in-house safety and technology testing centre, and are market leaders when it comes to the latest technology, especally safety technology.
Here are some of the features that I like:
It's got a really great fit.
The helmet comes with a patented 'roc loc 5 system', which gives you multi-directional fitting choices, with the straps being held in place as you adjust.
The system works using a Micro Dial button at the back of the helmet. You can very easily adjust the main band of the helmet. As you adjust the main band around your head,  the vertical and rotational fit will also adjust, giving you a perfect, snug and comfortable fit.
It's nice and lightweight.
In previous Giro helmets, the previous versions of 'roc loc fitting' were heavier, but the new roc loc 5 system on this helmet is about 40% lighter, making it so light you can't feel it when riding.
The visor is nice and deep
The visor goes out a long way, which I like as t keeps the sun out of my eyes even in the winter when the sun is so low. I also like that it's quite high up the helmet, so it doesn't get in the way when I ride.
It's fitted with MIPS technology
This was a big plus for me. I've had to live with the consequences of a nasty hit to the head, and having the additional MIPS safety technology on top of the standard safety requirments was a big must for me.  (More information on MIPS below. )
It's available in a choice of colours
Call me vain, but I like to look good when I cycle, and it's nice to have such a large selection of colours available to choose from!
I personally prefer the brightest colour out there; the bright yellow, but there are 8 other colours to choose from, and they come in a trendy matte finish.
Being a city cyclist, it's important for me to stay seen.
You get a discount if you need to replace it
Giro offer a discount on a new helmet if you ever need to replace it in the event of an accident. Hopefully I'll never need it, but it's good to know that they offer this.
As long as the helmet is less than 3 years old (you should replace your helmet every 3 years anway), they will happily send you a discount voucher for a new one.
(Contact Giro.com for more information.)
What I Don't Like About the Helmet
The only little niggle I have with the helmet is that although the visor is adjustable, the only way to adjust it is to unscrew it, which is a little annoying.
It also doesn't adjust to lower than the set position, only higher. But to be honest I have never needed it to be lower than what it is set to, even in the winter when the sun is pretty low.
What features to look for when buying a bicycle helmet:
If you are on the lookout for a good helmet, make sure it includes the following features:
Lightweight – A good quality helmet should be light enough that you forget it's on your head when riding. If you are looking online for a good quality helmet, as a guide, a weight upto about 13oz (390g) is about right. After that it will start to feel a little heavy.
Multiple adjustment features – Make sure the helmet fits you comfortably. It should be snug enough that you can hold your head upside down without the helmet falling off. But it shouldn't feel tight from anywhere. This is important, because in the case of a fall, your helmet has to remain in the correct position in order to protect you. The best helmets will have adjustments vertically aswell as horizontally. Also, the straps should stay in place in all adjustment positions.
Adjustable visor – First of all, make sure that it has a visor, as many helmets don't. Never underestimate how important a visor is. When the sun is out, you need to make sure that you can still see around you comfortably. If it's an adjustable visor, or removeable, this is a bonus.
Reflective Properties – Especially if you are city cyclist like me, being seen is important. Many helmets will have reflective stickers at the back of the helmets, or even lights. At the very least, having a brightly coloured helmet is a good idea when cycling in the city.
Moisture-wicking properties – A good helmet should be equipped with moisture-wicking inner pads and linings to  help keep you cool, and your helmet fresh.
MIPS – All cycle helmets will have minimum safety standards that they have to adhere to, but I really value the additional safety measure of MIPS technology. If I had an MIPS fitted helmet when I had my accident, I could've saved myself 12 weeks of post concussion recovery.
What is MIPS?
MIPS stands for Multi-directional Impact Protection System. It's like an additional layer within the helmet that imitates the protection system that your body naturally has for your brain.
The inner layer of the helmet moves/rotates in the direction of your fall, in much the same way that your brain's outer fluid would, which reduces the impact of the fall more than an ordinary helmet would.
This can help reduce risk and severity of brain injury upon impact.
Get the Right Size…
Although the Giro brand tends to be quite accurate in their fit guides, some people find the helmets very slightly on the large side. Nevertheless, the adjustable features make it a very good choice if you are going to buy online.
Measure around your head using the following points as a reference for where to place the measuring tape:
About 2 fingers above your eyebrows.
Right above where your ears attach to your head
Just under the 'bump' at the back of your head. It's above your neck but below the middle of the back of your head.
This will give you a guide as to which size you need to get for yourself.
How to look after your helmet?
Treat your helmet with care so that it lasts and keeps you protected fully for all your rides.
Here are a few tips:
Don't get it dented! – If your cycle helmet gets dented from knocks and drops, it directly affects how protective it will be. So store it carefully, move it carefully, and whatever you do, don't drop it!
Protect it from extreme temperatures – Extreme temperatures will wear down your helmet and make it less effective. So keep it away from direct sunlight; in cars, on windowsills, etc. Don't leave it upside down when in the sun, because the sunlight can affect the EPS in the helmet. (EPS is the polystyrene stuff your helmet is made out of)
Only use water to clean it – Any chemicals, including soaps can wear away the EPS, so when your helmet needs a clean, only water. You can always remove the pads if you want to give them a proper wash; as long as you don't put any soap on the EPS.