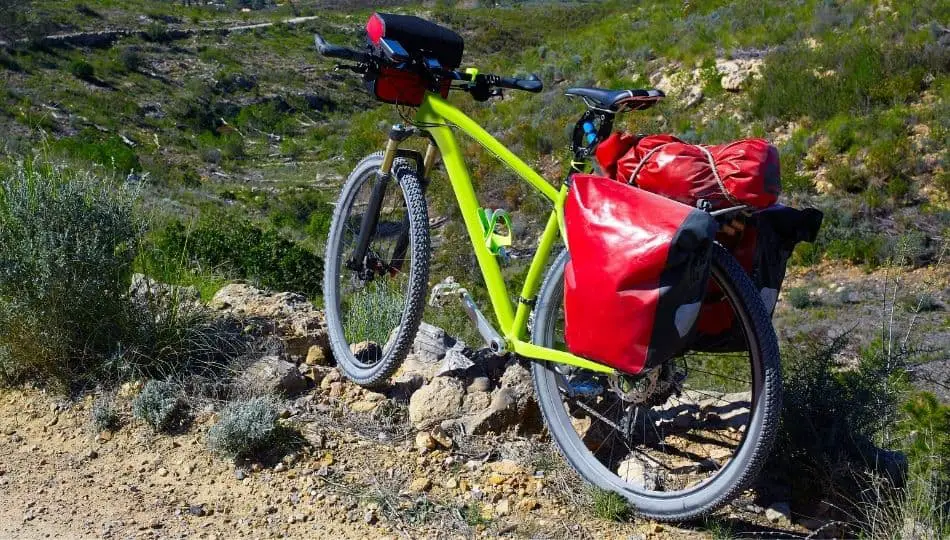 Commuter bikes are becoming the popular choice for people to get around. Whether they want to be healthier, save money, or just enjoy riding their bike, this is a great option for a lot of individuals. The problem is that carrying a heavy bag while you ride can interfere with the enjoyable experience that you could otherwise gain from riding your bike. This is why a pannier can be a perfect option for you.
You can attach a pannier to the bike by:
Locating the rear rack.
Putting bag hooks into the correct position.
Make sure the center clip is secure.
Go through the rack with the top strap.
Ensure everything is secure.
Panniers can be notoriously difficult to attach to a bike. By reading on, you can learn everything that you need to know about panniers including how to attach them to your bike, and some tips to get the best use out of them.
How to Attach Panniers to a Bike
There are different types of panniers that you can get, each with their own approaches to installation. There are also different approaches to installation based on the rack setup that you have on your bike. This section will take a look at different ways to attach a pannier to a bike.
The Fremont Pannier Bag
This is a specific pannier that can be used with any bike that has a rear rack; (here's an example of one on Amazon). If you don't have a rear rack on your bike, you will need to purchase one. (You can get them from Amazon here). To attach this pannier:
If there is no rear rack, install one. If there is, locate it.
The bag has hooks on it, which you will place on the rack. Be sure that you push it down to ensure that the bag hooks are secured to the rack.
Move the center clip on the bag until you can secure it to the bike rack. You should know that sometimes this center clip doesn't make full contact with the rear rack. This isn't as important so long as the other clips are properly secured.
Take the top strap, then pass it through the bottom of the rack, through the handle of the bag, then over the top of the bag. You need to be sure that this strap passes over at least a rung on your rack.
Fold up the pannier bag, then secure the buckles. The top of the bag can be rolled downward to fold the top of the corners together allowing you to secure the buckles. 
You can check to make sure the bag is secure by trying to move it. It should not move very easily or fall off the bike when you do.
Garment Pannier
If you have a garment, like this one (Amazon link), you need to start the process by setting up the pannier to be used on the rack. To setup the pannier, you start by:
Determine where the best positions for the mounting hooks, center lock, and lower catch. You can do this by holding up the pannier to the rack. (Reflective side should face the back.)
Put the lower catch to hook around the functional side rack bar.
Check the mounting hooks to make sure that they fit the rack properly. 
Make any adjustments as needed.
After preparing your pannier for mounting, you can move onto actually mounting the garment pannier. To mount it to the rack, you need to:
Position the bag with the reflective pattern facing the back, ensuring the lower catch can hook onto the side rails by sliding the bottom first and following with the mounting hooks.
Make sure that when you snap in the mounting hooks that it makes a clicking noise.
Take the center lock and turn it to hook underneath the primary rack bar. This is an important step because it makes sure that the pannier is secure and won't just pop off the rack.
Make sure that the pannier is properly secured. 
Note About Rear Panniers
Rear panniers can be made with a click system, which can make it simpler to install. These can be quickly clipped on and attached and released as needed. 
Do You Need Anything Special to Use Panniers?
Generally, you need to be sure that you have a bicycle rack to attach a pannier. You may be able to attach a pannier if you have eyelets on your bike, but the easiest way to attach them can be through using a rear bike rack. There are also attachments that you can buy that will help better secure your pannier to your bike. These includes a hooking system that allows you to use one hand to hook the pannier on and off your bike.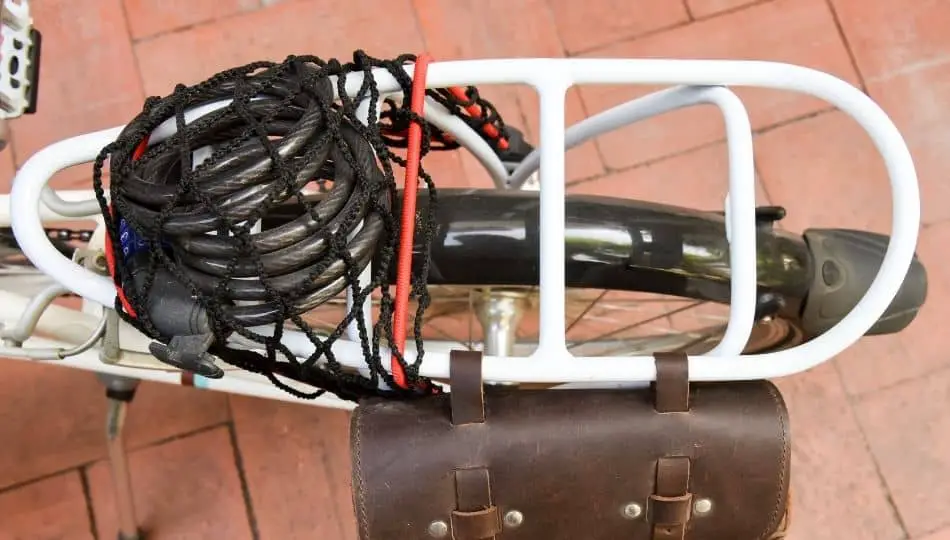 Some other types of items that you can use to attach panniers include:
These are cushioned metal straps that work on bikes without eyelets to avoid having to get a rear rack for your bike. These are very cheap and easy to use items that clamp onto your bike, giving you a secure place to mount your pannier.
Tubus Stay Mounting Clamps
This is another option that is made for bikes that have no eyelets and are very similar to P-clamps.
Seatpost Clamps with Rack Eyelets
This can be used for bikes that don't have eyelets for rear rack mounts.
What are the Different Ways Panniers Can Attach to Bikes?
Panniers need to be mounted on racks. They can be attached to either side of your rear rack (or on both sides, as needed), attached to a front rack or even small options on the handlebars. The number of panniers and the size that you use can depend on what your specific needs are.
Do Certain Panniers Only Attach to Certain Bikes?
Whether or not a pannier will fit on a bike can depend on a few different factors. One factor is whether or not you have the ability to attach the panniers to your bike. For the most part, panniers can be attached to any bike. The problem is whether or not a pannier will fit your specific bike. Will the pannier fit on your bike? Here are some things to consider:
Size and Shape of the Pannier
Not only do you have to consider the size, but you also have to consider the shape of the pannier. You may need to get a different shaped pannier that is the size that you want.
If your bike has smaller wheels (26" or less), this means that you have shorter chainstays so that you have less available space for the pannier. You will likely need a larger wheel size in order to accommodate a pannier.
The type of rack that you have can make a difference in how well the pannier fits on your bike. You may find that it's easier to change your rack or mounting solutions than getting a different pannier.
The chainstays length can have a significant impact on whether or not a pannier can fit on your bike.
This may not be something that you would generally consider, but the larger the feet, the more space that it takes up. This means less room for a pannier. If your foot hits the pannier, this could be a safety hazard for you. 
Think about these things and then determine which pannier will work for your specific bike. Otherwise, with the right equipment you can fit panniers on practically any bike.
Can You Fit Panniers Without a Rack?
Do you have a bike without a rack? The good news is that you can still put on a pannier without a rack. The first thing that you will want to look for is whether or not your bike has eyelets. You can mount the pannier using the eyelets. However, even without eyelets, it is possible to fit panniers without a rack. Using the extra equipment like P-clamps as previously mentioned allows you to fit panniers without having to worry about getting a bike rack.
Are Panniers the Best Choice for Bike Storage?
As with anything, there are pros and cons to having panniers when compared to other choices, but panniers are by far one of the most popular options that cyclists choose to use. Let's take a look at some of the pros and cons:
Advantages of Using Panniers on your Bike
Panniers Can Carry Plenty of Gear
When compared to other bike storage solutions such as bikepacking bags, you can carry a lot more items in your pannier than you can a bikepacking bag. In fact, when you select the largest pannier bags you get double the storage space than what you would get with the largest bikepacking bags. Not only does this carry more gear, but you can also carry bulkier gear. This can be especially important when you are traveling around during the colder months. 
Easy to Pack
Panniers are most commonly found in a rectangular shape with a massive opening on the top. This makes packing the pannier extremely easy and efficient. There are no pockets that you have to worry about putting your items away in. You can just toss your items in and get on with your adventure.
Easy to Attach and Detach as Needed
After you get used to it, attaching and removing the pannier can be very easy to do. Other options like the bikepacking bags can be very difficult and time consuming to do this.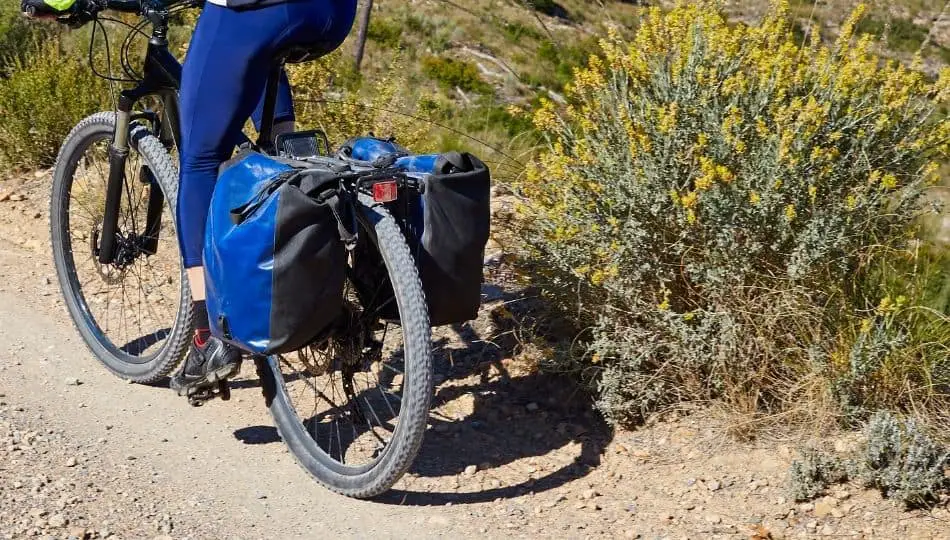 Carry Your Gear
If you are using your bike as your daily commuter to get to and from work, panniers are great for storing your work items. 
Make the Morning Easier
Mornings can be complicated enough without having to worry about the stress of packing up your bike. You just have to attach the pannier and get on with your day.
Disadvantages of Using Panniers on a Bike
Heavier
Panniers do have the tendency of being heavier than other solutions, when you consider everything that goes into your pannier system.
Can Impact the Longevity of Your Bike
Because panniers tend to add extra weight to your bike, this can actually create extra wear and tear on your bike. 
Take Care with Weight Distribution
If you're not careful with the weight distribution when packing panniers on your bike, you can create imbalance that makes handling more difficult. You need to be very careful when packing your bike to make sure that there is even weight distribution.
Wider Bags
Panniers tend to be wider than some other storage solutions for bikes, which means that it can be harder for you to get into areas with narrow paths. You could just use two sets of smaller double panniers for the front and back of the bike to get the slimmer profile that you need to get through these narrow paths.
Panniers are the best solution for traveling on your bike, whether you are using the bike as your daily commuter, for errands, or for longer bike tours. Panniers are the easy to use and convenient storage solution, especially when compared to the various other options for bike storage.
Bikepacking bags like these (Amazon link) and messenger bags may be a decent solution, but if you are looking for the best solution you can find than panniers are the best option. You can easily find a pannier that works for your specific needs and your budget. 
Why Do You Need Panniers?
Do you have to carry around a heavy backpack for a long time? Do you just hate carrying a backpack while you are riding your bike? Panniers can be very useful items to have for your biking needs instead of having to worry about wearing a backpack. This prevents extra stress on your body as you ride while also ensuring that your back gets plenty of ventilation as you travel around. 
Panniers can be essential items for people who have mid-to-long range commutes or if you are going on a bike tour or some other adventure. There are plenty of different options as far as panniers go, ensuring that you can get the perfect baggage solution for whatever your needs are.
For instance, maybe you need to carry your laptop or tablet in the pannier as you ride. This means that you need a pannier that will keep your devices protected. There are different styles as well, which can perfectly match your needs and your style preferences.
These are practical solutions that allow you to carry everything that you need for whatever trip you are going on. 
What are the Different Types of Panniers?
Aside from the different style options that you have to choose from, there are a few different types of panniers. When it comes to the rear mounted bags, you can either choose between a double style or a single style of panniers. The double style is a great option because it allows you to have two separate bags for greater versatility.
The single bag option better for someone who only needs a single use or just need the bag for touring. Rear panniers are more commonly used by people who are just taking a short trip. They will then use doubles on the rear or doubles on the rear and front, depending on what your storage needs are. 
There are also front mounted panniers that you can choose from. Also known as "handlebar bags", these options are the perfect choice for when you don't have a lot to carry with you on your travels or you are going for a very short trip somewhere. These are very easy to remove and re-attach, allowing you to easily carry around the items that you want on you when not riding your bike.
You could also choose a rack top pannier. These panniers are smaller than full pannier bags that are mounted on the rear rack, but they are bigger than handlebar bags. Rack top panniers are great options because they are small but convenient bags to carry your items in. 
How to Choose the Right Panniers?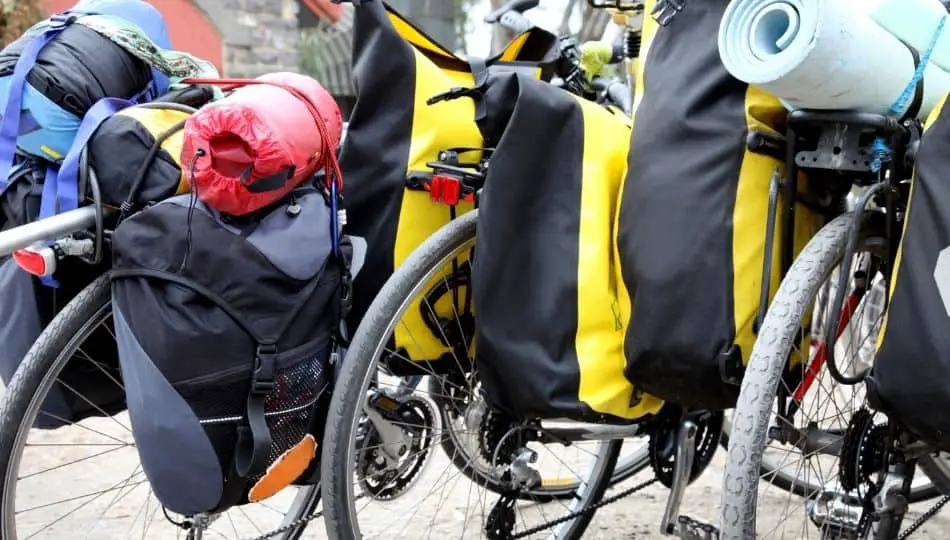 So how do you choose the right pannier for your needs? The first thing is that you need to think about the items that you are carrying with you. Are you carrying around your laptop or tablet for work? If so, you need to be sure that you have a pannier that is big enough for your needs while also offering the right type of protection for your gear. Do you need a lot of space because of a long trip or your items are bulky? Then you need a bag that's large enough for your items.
What type of water-resistance do you need? Some panniers offer better weather protection than other options. If you are going to be traveling around in inclement weather, you need to be sure that you have a pannier that is going to offer the right level of protection for your items. You can use another pannier on nicer days, if you want. But it's a good idea to use a water-resistant pannier for your daily needs just in case bad weather surprises you.
Do you need a double pannier or a single bag? This goes back to what storage solutions that you need for your journey. Longer camping trips or bike tours will require more storage than if you were just commuting to and from work.