You can make your bike feel like it's brand new with new grips. The handlebar grips and tape are certainly not the most important parts of the bike, but they do play a vital role in how comfortable you feel while riding it. Overall, good grips will help you hold on securely.  
But there's a catch, installing bike grips with hairspray means you may end up with sticky residue that's difficult to remove. But no worries, we have got you covered! In addition, installing your own handlebar grips doesn't require you to go to a bike shop.
In this article, we have curated a great alternative way on how to put on bike grips without hairspray, so you can escape all the mess!
What is the best alternative to hairspray?
You can also use a soapy water solution to clean any type of vinyl or rubber grip. Because the use of hairspray for attaching bike grips might result in a sticky residue that will be difficult for you to clean after all. Using a better alternative also makes changing or adjusting bike grips easier without using hairspray every time.
There is always something nice about looking fashionable while riding your bike, but the truth is, this isn't always possible with all types of bikes. It is where bike grips play a crucial role in creating an attractive and comfortable bike.
Yes, it is understandable that you are tired of using hairspray to attach new bike grips. As a result, we have an effective solution for you in the section below.
How to put on Bike Grips without hairspray? Step by Step Procedure
It is easy to install rubber handlebar grips on your bike without hairspray if you have the right tools and follow the right procedure. The below section will help you out. But before that, there are a few things you need.
Basic requirements
The following tools are essential when installing rubber handlebar grips on your bike.
Soap and water
Grippers for replacement rubber handlebars
Abrasive alcohol
Plastic ties
Scissors/razor blades
Screwdriver, hammer, wrench
Compressed air
Now follow this step-by-step procedure that will help you to install bike grips without hairspray in no time.
Step 1

: Take off the old rubber grips
If your bike has bar-end plugs, remove them. To perform this task, you will need a screwdriver or a wrench that can be found in any hardware store.
Remove the old grip by sliding it off or cutting it off carefully. In some cases, a razor blade must be used with care. Spray rubbing alcohol inside the rubber bike grips to remove them without cutting them. As a result, removal will be easier.
When you do not have rubbing alcohol available, you can spray WD-40 between the grips and the handlebars and let it sit for five to ten minutes while it dries. Ideally, you should move the bike grip back and forth to ensure that the lubricant is evenly distributed.
If you cannot reach under the grip, use a screwdriver to prop up the grip while spraying while inserting it between the bar and the grip. Remove the old rubber grip after the lubricant has sat for a few minutes. Using compressed air, you can remove the grip if it becomes stuck.
Note:
Cut only steel and aluminum handlebar grips. The force exerted by a blade or scissors is not enough to be handled by carbon fiber handlebars.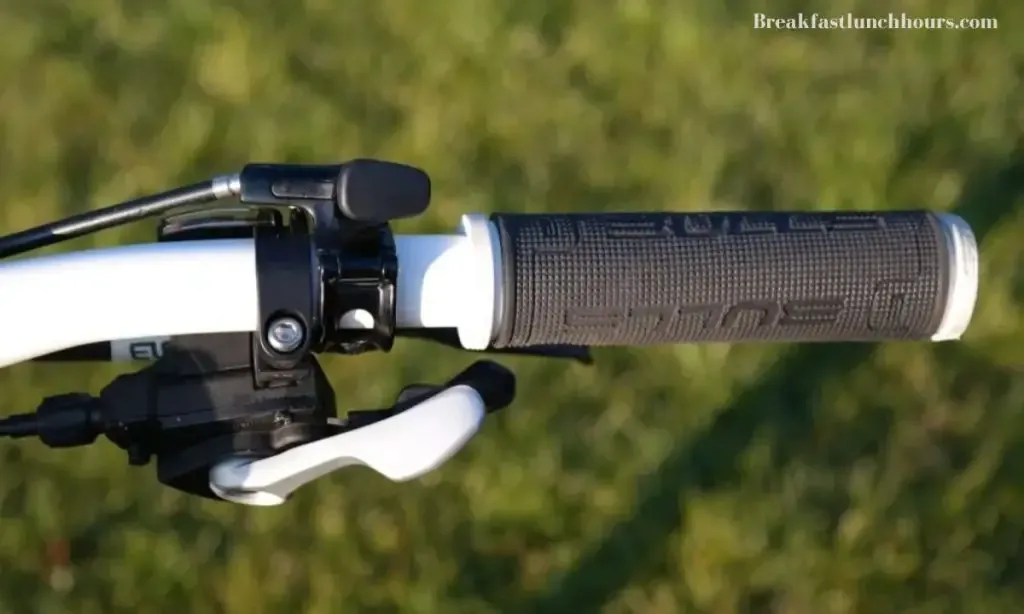 Step 2

: Wipe the bars clean
You can clean the bars with soap and water if they have been coated with WD-40, dust, or gunk. Installing new grips will be easier by doing this.
Plus, dry the inside of the handlebar grips before placing them on if the ends of the bars are open. When water gets trapped inside the handlebars, rust can form, which requires replacing them early. No one wants to spend time cleaning out rusty handlebars.
Also read – Cycling road rules vary from state to state, and in countries all over the world, but many rules are applicable all over the country.
Step 3

: Apply plastic ties or an evaporative liquid
You can use some plastic ties to hold the grips in place and provide some friction during installation. Spray hand sanitizer, or another liquid that evaporates quickly on the handlebar. Additionally, when you use rubbing alcohol, it will evaporate fast and leave no trace, so you do not have to worry about
Step 4:

Place the new grip on the bar
Now, it should take you no longer than a few minutes to install the bicycle grips onto the handlebars. Make sure the grip is aligned with the contour of the handlebar before pressing it into place. Slowly attach handlebar grips to your bike.
Put in the bar end plugs after installing the handlebar grips. A hammer or hand can be used to attach them. It will take you a little while to adjust your new grip to make sure that it fits perfectly on your bike, but when it does, you'll be ready to ride it.
Another Method on How to put on bike grips on without hairspray
Remove the old handlebar tape by cutting or unwinding it.
Make sure all lumps of old tape adhesive are washed off.
Next, prep the bars for taping by setting up your workstation.
Wrap left and right handlebars clockwise and counterclockwise for each handlebar starting at the bottom.
Wrap the tape three or four times as you work up, leaving about half hanging off the bottom of the bar.
While you move up the bar, you will need to overlap about a quarter of the tape each time you turn.
Raise the lever body (where the brakes and shifters are located) until you reach the top of the bars.
Now, top bars should be wrapped in the opposite direction.
Trim the tape to the length you want and wrap it up.
Finally, fasten the wrap in place by adding 2 to 3 wraps of electrical tape.
What is the best way to keep my dirt bike grip from sliding?
Riding without hairspray can be difficult when it comes to putting on bike grips. When putting on bike grips, there are numerous ways to do so, but for most people, grip tape is the best method to use because it provides maximum grip.
A grip adhesive is used to attach the grips to the handlebar, and a smooth and bump-free surface is important.
If that is not possible for you, then use petroleum jelly or Vaseline to lubricate your hands well before gripping the handlebars with your fingers. Lastly, to ensure you don't have to keep trying bike grips on, make sure they are on correctly first.
Note – Are you guys feeling pain in your back, having a trouble walking after getting off your bike? Yes, is the answer we get from the majority of the people and the sole solution to that is a "suspension seatpost"
FAQs about How to Put on Bike Grips without Hairspray
What type of grips should you choose for your bike?
Taking into account the amount of riding you do, how thick and what kind of material you prefer, and how large your handlebars are will all help you choose the right grips for your bike.
How to ensure that the grips on the handlebars are secure?
Make sure that the grips are securely attached to the handlebars by tugging them firmly to prevent them from rotating. Grips can also be glued or sprayed with hairspray to help them stay put.
When should you replace my bike's grips?
If you ride your bike a lot and the grips are subject to a lot of wear and tear, you will need to replace them periodically. However, it's a good idea to replace your grips when they become damaged or worn out every year or two.
Wrapping up!
As you have mastered the process of installing rubber handlebar grips, it's easy to steer your bike comfortably. It even makes your bike look sleek and nice. Follow this given procedure and you are all set. If you still have any doubts about "How to Put on Bike Grips without Hairspray", let us know in the comment below.