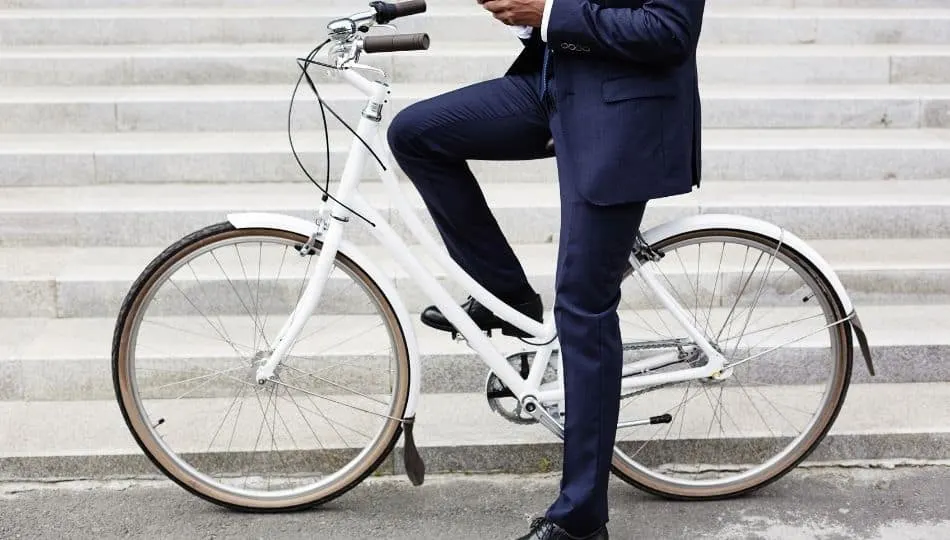 These days, commuting to work by bike is a popular option for its many benefits. Cycling to work can reduce environmental impact and boost fitness while also allocating time that's just for you. There's plenty to keep in mind for this endeavor, especially regarding what to wear.
Cycling to work can involve many equipment pieces, and these can be affected by the weather and the commute length. Helmets are always essential, and weatherproof jackets and pants are both versatile and practical. Shoewear and accessory options abound, and seasonal gear can help cover all needs.
If you're planning to cycle to work, read on to find out more about what you should wear on your commute.
What to Wear When You Cycle to Work
Choosing to commute to work by cycling can bring you many benefits, starting from your carbon footprint to your fitness level. This change requires some preparation and specific gear to improve and streamline the experience, especially if you have a busy work schedule. 
Cycling to work can involve various pieces of equipment, most of which will vary according to the circumstances affecting your commute. These are some of the things to keep in mind when preparing your gear for the ride:
Essentials: You will require certain essential pieces of equipment like helmets and jackets that adapt to the weather as needed, along with either biking pants or shorts.
External factors: The weather and the duration of your commute will influence what you wear on the commute.
What to avoid: Knowing what not to use will keep your list of gear in check.
Shoewear: cycling-specific shoes or overshoes will make the adventure more comfortable.
Cycling vs. work: Combining cycling gear with work-ready clothes can be a hassle but an easy one to overcome.
Essential Items to Wear When Cycling
There are lots of customization options when it comes to cycling gear for your commute, but some are must-haves and should always be kept in mind when preparing to cycle to work.
Helmet
The helmet is the most essential piece of gear you can wear on your commute. No mere accessory, this item will keep you safe when you cycle to work. Regardless of whether it's a compulsory item to wear by law, you should be wearing one at all times while cycling. Make sure that the helmet fits you perfectly to avoid discomfort and maximize security.
You can customize your helmet with various options while optimizing the safety factor by adding high-visibility or reflective parts, or even lights. If you feel like investing in the highest level of security for your helmet, you can choose one with Multi-Directional Impact Security (or MIPS). This is a layer of protection specifically designed to protect your brain during impact. (Here's a great brand of cycle helmet on Amazon that includes this type of MIPS technology).
Base Layer
The base layer will be an essential part of your cycling equipment, regardless of what you wear on top of it. The base layer will ensure you have maximum comfort during your ride, especially if you're looking to build up a sweat. This layer is vital in regulating your body temperature and providing either heating or cooling elements depending on your needs.
The usual materials you'll find for the base layer are merino wool and synthetic fabrics. Both types come with their advantages, but merino wool offers the additional benefit of odor control. You should adapt the base layer depending on the weather and temperatures you'll be facing.
There's a wide selection of merino wool base layers that are specifically designed for cycling available from Amazon. You can find them here.
If you'll be cycling in the heat, opt for cooling materials and vests or short sleeves. If it's cold, opt for long sleeves, warmer and heavier materials, and windproof options if you'll be facing the chill.
Jacket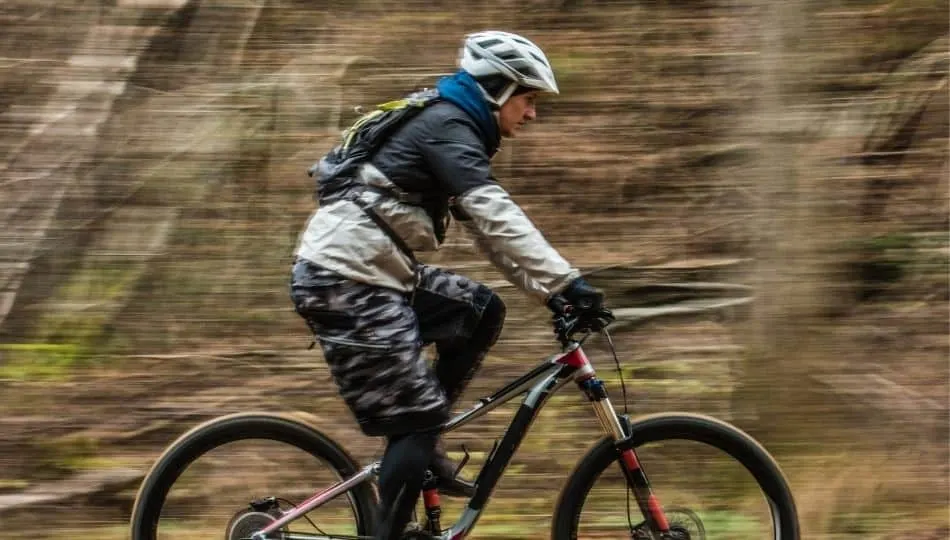 No matter the season or the type of weather that characterizes your commute, a jacket is one of the most useful pieces of equipment to have on your ride. When it comes to safety on the road, you should always carry a high-visibility jacket with you to make sure you have one in low-light conditions to ensure your protection.
If you're cycling in hotter climates or during the summer, you can swap out jackets for vests. There are many high-visibility options for vests if you're looking to combine safety and practicality in one layer. Jackets also come in various options, but a waterproof one always comes in handy, whether it's a light option or one better suited for the cold.
Here's a selection of great cycling jackets on Amazon that are suitable for many different weather condition.
Commuter Pants
Cycling pants are another customizable part of your commuting equipment that will change according to your needs during the ride. There are plenty of options for what pants to choose for the journey but bear in mind that it's not essential to pick cycling-specific items. If you're comfortable, you can cycle in jeans or other casual choices.
That said, some pants options are designed to ensure comfort during a commute and can help with the overall experience, especially in terms of materials. You can choose either long pants or biking shorts, depending on how you're looking to combine your cycling outfit with your work outfit, and depending on the weather.
No matter what you choose, bear in mind that stretchy materials are preferable because they allow unrestricted movement when pedaling. Polyester is an airy and durable choice that doesn't require much maintenance. Aiming for soft fabrics that don't constrict will provide you with excellent results.
When it comes to pants that are made for commuting, some even come with extra panels around the knee area that give you even more freedom of movement. Your comfort should always come first.
These pants (Amazon link) are specifically designed for the cycling to work folk. They are smart enough to wear in an office but comfortable and stretchy enough to cycle to work comfortably. Win win!
Factors to Keep in Mind When Deciding What to Wear
Planning your outfit for your cycling commute can vary depending on various factors. These are some of the most important ones:
The weather: This will be one of the most influential factors on your wardrobe in general and your cycling to work clothes in particular. You will have to adjust your equipment and your layers according to the weather's whims, from heat to cold and, location depending, the probability of rain.
The distance: If your commute is lengthy, or if it involves plenty of inclines, you will exert much more physical effort than you would otherwise. This would require cycling gear that can withstand the increased physical activity while keeping you as cool and comfortable as possible.
The variables: Other factors can affect your cycling commute, such as whether you need to carry a backpack that will increase the exertion, and whether you need to be work-ready, or whether you can bring along a change of clothes. 
Cycling Clothes vs. Work Clothes
One of the main things to consider when planning your wardrobe for your cycling commute is the time you have between getting to work and having to start work. The facilities available to you should also be noted, as changing rooms and showers can have much to say about your equipment and the nature of the ride.
If you're looking to use this commute as an opportunity for a training regiment, this will significantly influence how much effort you will exert on the ride to work. In this case, you can pack up a change of clothes and choose a selection of activewear for your commute that will make the increased fitness level more comfortable.
If you have to arrive at work ready to go straight into the job without a chance to change clothes or take a shower, this may affect the details of your commute, as well as your equipment. In this case, you should opt for wearing work-ready clothes that are as comfortable and breathable as possible. You should also have a slower riding pace.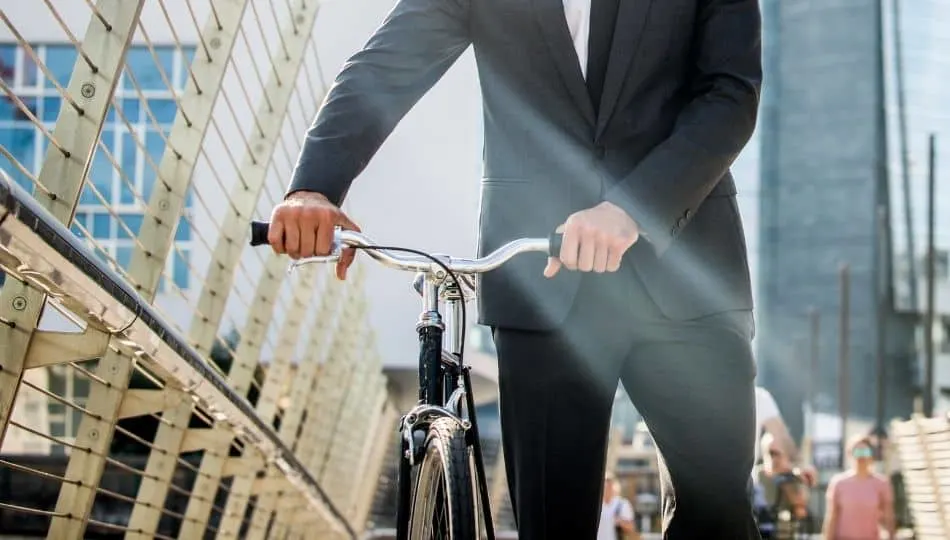 In case you have to wear formal attire at work or constricting uniforms, you should aim to get there with enough time to change. You can also make this process easier by only replacing the most constricting clothing items with more comfortable cycling attire and then quickly swapping them back before going into your workplace.
What to Avoid Wearing When Cycling to Work
Many types of clothing are suitable to use while cycling, but some should be avoided to prevent discomfort and maximize your safety. At the same time, some are not practical to wear when out on a bike for extended periods.
Reduce lighter colors
Light colors can be impractical, especially if cycling in the rain or around muddy patches of road. Light colors show every speck and spatter, which can get in the way, especially if you don't have time to change. Darker or neutral colors are more suitable on the road.
Don't wear flowy clothes
Clothes that are long and flowy can affect your safety as they can easily get caught in the wheels or under the pedal, which can cause falls or crashes. It's best to keep your cycling to work wardrobe as streamlined as possible for both your comfort and your safety.
Avoid heavy materials if possible
You should always opt to wear materials that are as lightweight as possible on your cycling commute, weather allowing. Lighter materials will make you feel more comfortable, especially if you choose wicking fabrics. These types of fabrics, like merino wool, will draw moisture away, which will help keep you feeling fresh for a longer time.
Eliminate tight clothing
While cycling in jeans can be done on short distances, it isn't recommended to wear them for an extended period while on a bicycle. In general, tight materials that restrict movement are not recommended, and you should always opt for those that have at least a degree of stretch to them. 
The Best Shoewear for Your Cycling Commute
The most important criteria for choosing the right shoes for cycling to work are ensuring that they work well on pedals while also being comfortable. Weather will also play a significant role in deciding what shoes to wear during the ride, but even if you have to wear flat-soled shoes or dress shoes for work, you should make sure they have enough grip.
Shoes like these (link to Amazon) are ideal for cycling to work if you don't want to have to change your shoes when you get to work.
If you wear shoes that aren't made for cycling, your bike must be fitted with flat pedals to make sure you can cycle comfortably at the expense of some speed. A workaround for wearing the same shoes for cycling and work is to purchase a pair of commuting shoes that include a pedal clip on the sole (like these on Amazon).
In case of rain, you can consider wearing special cycling overshoes that attempt to keep your shoes as dry as possible. If you want to avoid getting wet feet, you can also have pairs of waterproof socks to hand.
Some Tips to Keep Helmet Hair at Bay
Cycling to work and arriving ready to jump straight into meetings can present some challenges. One of these challenges, mainly if you have long hair, is helmet hair: the flattening effect that wearing a helmet can have on your hairstyle. While safety always comes first before style, there are ways to avoid walking into work with helmet hair.
Tie your hair: Putting your hair into a ponytail or braiding it will prevent it from looking out of place even after wearing a helmet. You can also opt for various types of buns, as long as they're comfortable to have under your helmet.
Use styling products: When you arrive at your workplace, dash to the bathroom or the changing rooms, and use a brush along with some hair styling products to make your hair regain some volume.
Adjust your hairstyle: If long hair feels like a hassle when cycling to work every day, you can consider shorter styles if you're looking for a change.
What to Do if Your Workplace Doesn't Have Showers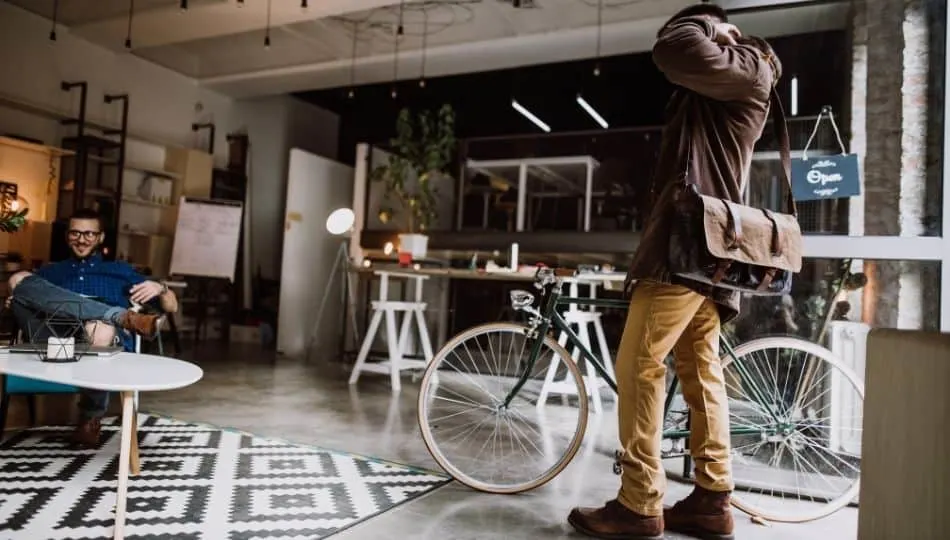 The facilities at your workplace can influence your decisions about what you wear on the commute, but there are ways to get around a potential lack of showers. Avoiding a punishing pace on the commute to work will reduce sweating, especially if you opt for breathable materials and fabrics that wick sweat for your clothes. 
When you get to work, if you're feeling in need of freshening up, you can use wet wipes. Some even have a cooling effect if you're feeling overheated after your ride. If you have to cycle to work in hot weather and have no shower facilities to greet you, the combination of wipes and a change of clothes can help you feel refreshed despite the exertion.
For more information about dealing with sweat when you cycle to work, check out my article "11 Tips to Beat Sweat & Body Odor When you Cycle to Work"
Cycling to Work through the Seasons
The climate where you live will be instrumental in deciding what to wear for your cycling commute, especially if you're in a place with four seasons that all have their own weather conditions. You should always consider the kind of weather you will be facing throughout the year when putting together your wardrobe for cycling to work.
What to Wear in the Fall
Depending on your location, fall can be a season with many variations in weather, from the late heat of summer to the cold of early winter. Sometimes you'll even experience weather changes that don't settle throughout the entire season, so you'll have to be ready to adapt to the fickleness of weather conditions quickly.
For fall, it's best to keep a versatile selection of clothes on hand for your cycling commute. You should include a waterproof jacket that can adapt to sudden weather changes. Some jackets are convertible and can have long or short sleeves, depending on the conditions. 
As the days grow shorter, it's a good idea to include more high-visibility and reflective elements in your fall cycling gear, as you will most likely be caught in low-light conditions. When it comes to shoes, you should either select a waterproof pair or have waterproof overshoes. Waterproof socks also make great companions during this season.
You will most likely see an increasing need to have versatile layers in your cycling clothing in the fall. Combine your base layer with a top layer to make the best of whatever weather the season will throw at you. Jerseys are a great addition to the wardrobe in this season. For the chillier mornings, you should also have a pair of gloves to protect your hands.
What to Wear in the Winter
Winter can bring complications to your cycling commute routine in the form of snow, ice, and cold temperatures. If you live in a place with milder winters, you may still face chillier weather than usual and potentially more rain and wind to consider. Your wardrobe during this season will see an increase in layers and accessories.
Merino wool will prove highly useful during winter as it combines well with other fabrics to keep you well protected from the elements. You should keep in mind that while the weather might be cold, you will get warm during the ride, which calls for versatility in clothing. Combine items like a base layer with a softshell jacket like this one (Amazon link), or add a jersey into the mix too.
Essentials during winter are windproof and waterproof clothes and accessories like bike tights and mittens or gloves. Your hands and feet will bear the brunt of the cold, and paying attention to their protection from the elements will make you more comfortable during the commute. On top of mittens and tights, you can also consider knee-length socks.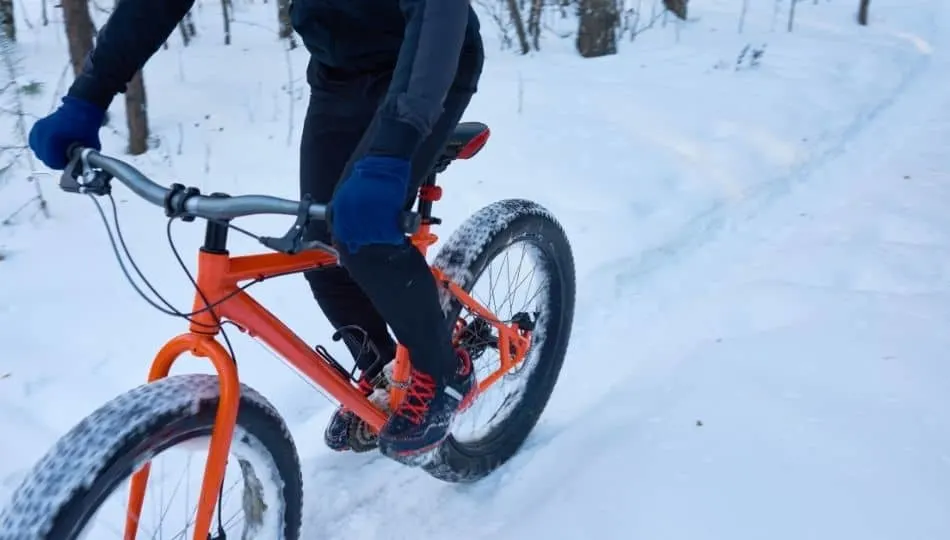 If you have to deal with a lot of cold temperatures, you can add a hat to keep you warm under your helmet. Make use of whatever type of face-covering you have available, like a bandana or a scarf, to keep your nose from running. Remember to keep your neck protected from the cold too. (This neck warmer on Amazon is great because it can be used to cover your face when it's windy too).
What to Wear in the Spring
In spring, conditions will improve, but you may continue to face fickle weather as winter's cold leads to summer's heat. This season will also call for adaptable clothing to wear on your cycling commute. One of the star items is the wind vest, which will keep you warm in the mornings. The vest can easily be tucked away when you get warmer.
You should have some warmers made from lycra on hand that you can place around your arms, knees, or legs if you need them. These are accessories that can be very useful with the temperature changes during spring days, and they're easy to pack when not in use. You can also opt for a lightweight jacket or a jersey with a short-sleeved base top underneath.
Another great clothing item for the spring is the gilet. The gilet is a sleeveless jacket that provides windproof protection while keeping you from overheating during the ride. Gilets can be added on top of long-sleeved or short-sleeved layers, depending on the temperature and the strenuousness of your commute. Here's a great value gilet on Amazon that's great for Spring weather.
If you prefer bike shorts for cycling to work, you can start transitioning back to them during the spring. If you have to face chilly mornings or evenings, you can pair the shorts with warmers around your legs or knees. If shorts are too much of a leap, you can opt for three-quarter shorts that combine the best of both worlds.
Check out my article, "Are Cycling Shorts Worth the Money?" if you're in two minds about if you want to invest in cycling shorts or not (it's not always worth it!).
What to Wear in the Summer
In the summer, you'll get to shed some of the layers you've had to use during the rest of the year. You'll also have to contend with the heat and how that will affect your pace and the clothes you wear. This is one of the most essential seasons for keeping a stash of changes of clothes at your workplace so you can freshen up when you get there after the ride.
Despite the other benefits of cotton, it's not a recommended material for cycling to work as it has little breathability. Instead, use breathable materials like the ever-popular merino wool and use activewear explicitly designed for cycling whenever you can. Using cycling shirts and tights will prevent overheating and keep you as dry as possible.
Lightweight and breathable materials are also recommended for summer cycling shoes. You can keep this choice casual but make sure your shoes work well with your pedals and avoid options that can slip off your feet easily, like certain types of slippers and sandals. 
Summers may bring storms and occasional unpredictability too. You should make sure to have a rain jacket on hand just in case you're caught in a sudden downpour on your way to work. If you can wear them, shorts are the best option when it comes to cycling this season. Avoiding overheating is an essential part of riding in summer.
The Best Accessories for Cycling to Work
A cycling commute can add numerous accessories to your wardrobe that can help make the experience easier and more comfortable. Choosing most of these items will depend on personal preference and what they can add to your gear, but there are plenty on offer.
Cycling glasses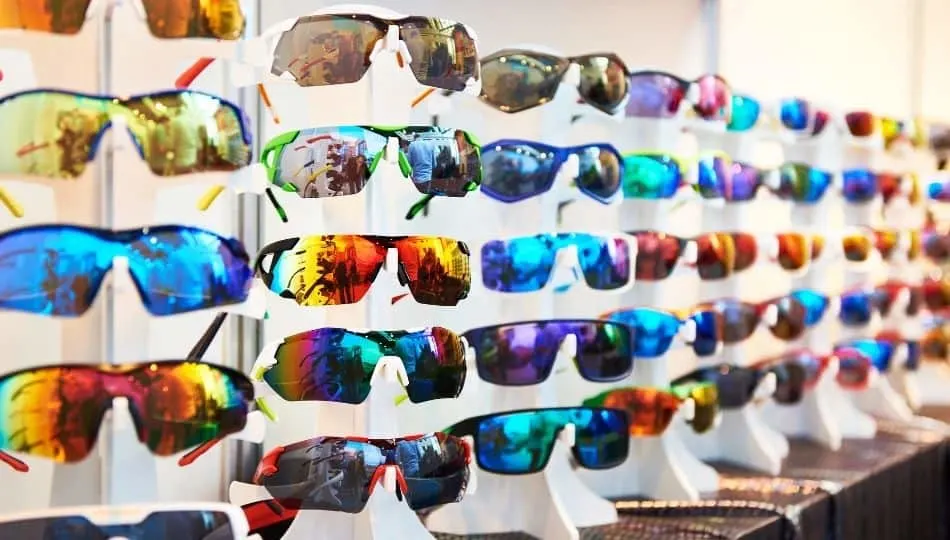 No matter the season, glasses are a versatile accessory that can make your commute easier. Depending on the type, they can shield you from the glare of the sun and allow you to see better on the road. They can also keep dust and other particles from reaching your eyes when you're cycling.
Here's a great pair available at Amazon that comes with interchangeable lenses.
Bags
From backpacks to pannier bags and saddlebags, you should always have storage available when you're cycling to work. You will use these bags to carry changes of clothing and other items you'll need during the ride. Cycling bags come in many shapes and sizes and plenty of materials. 
To prevent weather conditions from getting to your stored items, make sure you either buy bags made from waterproof materials or that you add waterproof covers to them when it rains. If you prefer other storage options, you can also consider bike baskets or courier packs.
Check out my recommended gear section for my top picks for bike accessories.
Headbands
Headbands are handy items, especially when you're cycling in warmer climates. They can keep sweat from forming and dropping into your eyes, and they can keep your hair back from your face. They also fit neatly under your helmet and absorb all moisture. (These ones on Amazon are great value and fit really well under a cycle helmet).
Padded underwear
This type of underwear can make things easier on you, especially if you have a lengthy commute. There are many options for all genders, and there is no added bulk, just some extra protection to keep you comfortable. An excellent casual choice if you don't want to buy cycling shorts/bibs. (Here's an example on Amazon if you're curious).
Cycling gloves
Regardless of the weather conditions, gloves are always a great addition to the cycling experience as they keep your hands safe from chafing while gripping the wheel. They can also protect your hands from scrapes and bruises if you fall off the bike. There are a ton of options out there, such as these available at Amazon.
Rainproof bike cover
You can keep yourself protected with weatherproof clothes, but your bike may remain exposed to the elements while it's parked. To keep it as dry as possible, make use of some rainproof bike covers to shield it from the worst of it. Here's a great durable option available at Amazon. If you'd like more info about how to best store your bike, check out my recommended gear section.
Conclusion
Cycling to work can present many challenges, particularly when it comes to weather conditions. Regardless of the seasons and the length of your commute, there are plenty of options for what to wear. From the base layer to the accessories, your cycling clothes will adapt to your needs, even if you have to be work-ready the moment you get off your bike.