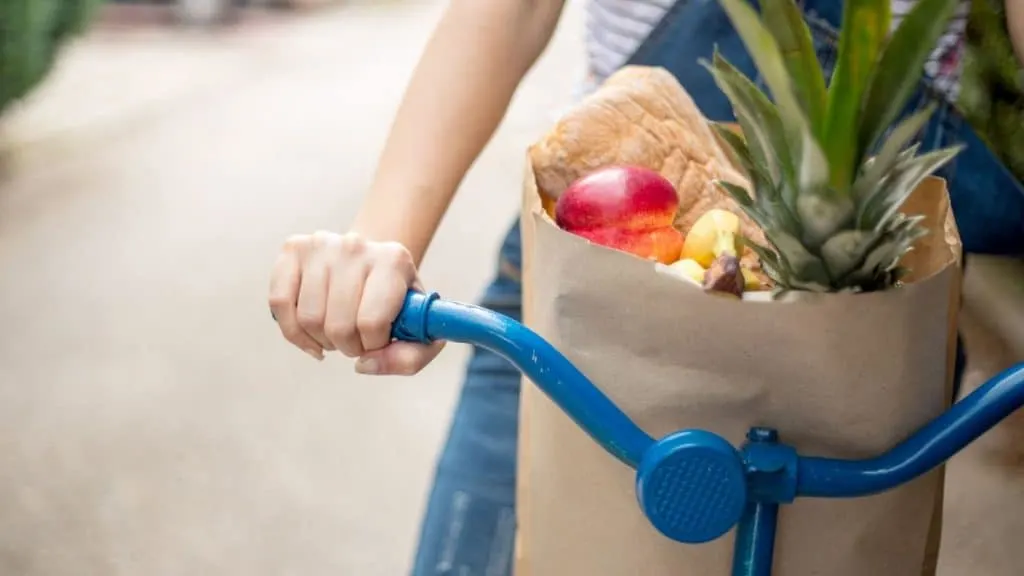 Once I got into cycling, I started to think of ways to include cycling into other parts of my life, such as grocery shopping. But thinking about the practicalities of carrying groceries by bike made me a little hesitant. So, what is the best way to carry groceries by bike?
There are several methods to carrying groceries by bike, including:
A backpack
A handlebar basket
A rear-mounted crate 
Saddlebags 
Trailers
There are pros and cons to each method and it comes down to which method will work best for your needs.
If you're new to biking with groceries or just want to cut down on gas from your vehicle, you're probably going to want to take a look in more detail at all the options when it comes carrying groceries by bike. 
In this article I'll take you through several different ways to travel by bike with groceries and the pros and cons of each method. It'll help you figure out which option is best for you.
But first we need to discuss what you need to consider before deciding on a solution…
What to Consider when Carrying Groceries by Bike
There are a few things you should consider when deciding on the best way to carry groceries home on your bike. It's important to take a look at these factors and assess how often they may occur during your visits to the store. These include:
your typical grocery volume
the type of traffic in your town or city
the type of terrain you'll be biking in
your own comfort levels
Let's take a look at the specifics to consider with each one before looking into the possible options…
#1: What's your Typical Grocery Volume?
The amount of groceries you need to carry and how often you take a trip to the grocery store should factor in to your decision of how best to carry your groceries on your bike. Ask yourself:
Are you likely to take many trips with a smaller amount of groceries, or fewer trips with a larger load?
This will determine how big/small a storage space you'll need, (which we'll discuss later).
#2: What Type of Traffic You Will Encounter on your Bike Journey?
What type of community do you live in? Do you live in a busy city with bustling traffic or a smaller town where you barely encounter another car (or even another bike) during your trip to the grocery store? 
This can – and should influence your method of grocery transport on your bike. It also often comes down to a decision as to what you're comfortable with within each of these possible environments.
It's important because you'll need to consider things like:
how much physical space you'll have to ride the bike
how many times you may have to start and stop on your journey
how fast/slow will you be able to ride
These will help you determine the best option for carrying groceries in your situation.
#3: What Is Your Travel Terrain Like?
During your trips to the grocery store, will you encounter hills, or is it mostly flat? Will the terrain be bumpy or mostly smooth sailing?
These factors will very easily be factors when determining which technique to utilize when carrying your groceries on your bicycle. 
You'll need to think about the fragile items in your grocery shop and whether they can withstand the type of terrain you will encounter, and this in turn will affect the type of bike storage you choose.
#4: Consider your Comfort Level during the Bike Journey
Lastly, though possibly even most importantly, it's crucial to assess your own comfort level with this task.
Sure, a trailer may seem like the most logical solution if you'll be carrying a large load, but if you're not comfortable towing several hundred dollars of groceries behind you in an attached trailer through rush hour traffic in a big city, that's probably not the best solution for you.
So when exploring the options below, bear in mind that your comfort level when it comes to using some of these solutions is important.
Techniques for Carrying Groceries on Your Bicycle
Now that you have an idea of the things you need to think about, let's take a look at the different options that are available. I've listed out the different ways you could carry groceries on your bike, along with:
pros and cons
who the method is best suited to
some basic tips and hacks to make the bike journey go even smoother
Method #1: Use a Backpack to Hold Your Groceries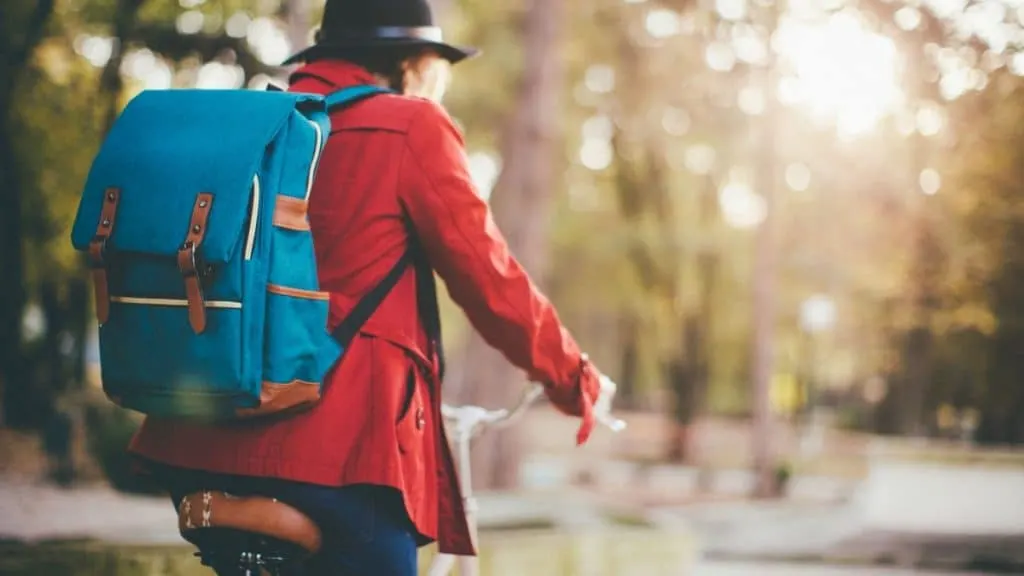 This is probably the easiest one to do because it won't necessarily require anything extra. You can simply use a backpack that you already have at home, and then later purchase a better suited one if you decide it's going to be a regular way to carry your groceries.
If you are going to be making many quick trips for just a few groceries at a time, it's worth investing in a great backpack for bicycling. If you live in a town where it rains a lot, waterproof is a must. 
Even if it's generally sunny in your area, a waterproof backpack might be the way to go to prevent any catastrophes with your groceries, causing you to repeat the trip!
For great capacity and waterproof features, I love the Earth Pak Waterproof Backpack (here's a link to it on Amazon). It's a really practical shape for holding groceries comfortably, and it's essentially a dry bag, so it can also be used for other purposes when you're not fetching your groceries.
QUICK TIP: When using the backpack method for your grocery shopping, pack heavy items on the bottom, and an evenly distributed weight on each side. There's nothing worse than bicycling with what feels like a weight pulling you to one side!
Backpacks are best for:
small grocery volume
heavy traffic routes
tricky terrain
The disadvantage is that you will be carrying the load of the groceries on your back, not on your bike. However, it is also the easiest option to take up.
Method #2: Attach a Bicycle Basket to Transport Groceries
Is there anything quite as pleasing as a handlebar-mounted basket on your bike, cruising down the bike path to the local farmers market for your fresh produce? Probably not. But before you decide on this method due to its adorable nature, make sure it's the right logistical fit for your needs!
The basket technique works best when dealing with items that can mold to the shape you need them to. You can fit a lot of produce in a handlebar basket, but a box or two of cereal will take up all of its space!
Think about what kinds of items you would be shopping for before deciding on this method. You'll need to make sure the basket will be big enough for your typical grocery items.
It's also best to only use this method if you're not going to be travelling on many inclines/hilly areas because the basket is usually open, and you don't want to be worrying about anything falling out while trying to ride uphill on your bike!
Fortunately, e-commerce and the rise in bicycles for transport has led to a great deal of innovation for handlebar-mounted baskets for bicycles. Here are a few great options that are available on Amazon:
Homee Folding Bike Basket – If you're not tight on space at home, a folding version is a great option. I like this one because it easily collapses and can be mounted to either handlebars or to the rear of your bike (more details on that option to follow).
Anzome Bike Basket – With a rigid frame and adjustable mesh canvas, this one's a little more 'formable' than the previous options. It's also easily detachable and includes straps for either carrying or securing your load.
Baskets are Best for:
Small grocery runs
little traffic
easy terrain
dry weather
The disadvantage is that it's only suited to quieter, flatter routes and dry weather conditions. However, it is an easy 'hop on – hop off' type option with little to no fuss.
Because the basket is in front of you, it's really easy to just pop your groceries in and not worry about locking up or securing your groceries too much before riding home.
QUICK TIP: Think about investing in a waterproof cover like this one (Amazon link) for your basket to protect your groceries from the rain!
Method #3: Mount Rear Crate Storage for Grocery Hauling
If you have a slightly larger grocery volume that requires more delicate balancing than what you're equipped to do via a handlebar basket or backpack, a rear crate is an excellent option. 
However, this method does require a little more investment. But, if you're planning on making this a regular occurrence, it may be well worth the investment!
Finding the Right Crate for Your Bicycle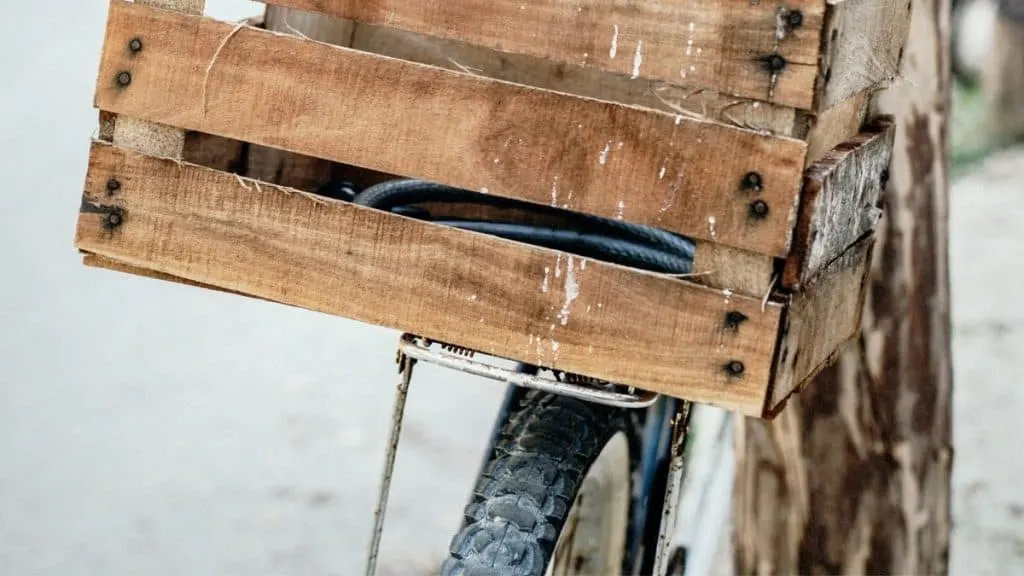 In order to mount a rear crate onto your bicycle, you need to:
Make sure you have the capability for racks – Rear crates can be mounted on bikes with either pressure brakes or disc brakes. A popular option is the Topeak Explorer (Amazon link). 
Find the right size – These racks come in many different shapes and sizes to fit a wide array of bikes, so we recommend taking your bike to a local shop to find the best fit if you're unfamiliar with the options. 
Ensure the right fight – It's critical to find the right fit to ensure the proper working capability of your ride. But once you have your racks mounted, it opens up many options for carrying cargo on your bicycle; like a rear crate. 
There are so many options for rear baskets, from upcycling materials to fancy attachments to your bike. The most important factor is making sure whatever option you choose is safe and secure.
And really, as long as it's secure, you can mount almost any type of crate (even a milk crate!). Though if you want something that is specifically designed to carry a good amount of groceries, here are a few options that are available on Amazon:
Axiom Basket Rear Ractop Market Basket – This one's a great option for sheer volume over features, and will fit onto almost any bike. It also has a greater length than the option above, which makes it a little more versatile, depending on what you're shopping for.
TIP: If you'll be riding at night, make sure to also attach additional lights and reflectors (like these available at Amazon) in case your rear seat lights and reflectors are no longer visible.
Mount Rear Crates are Best For:
Medium grocery volume
medium to heavy traffic
medium to heavy terrain
The advantage to having this types of bike storage is that it carries more than a backpack would, and the weight of the groceries is a burden on the bike rather than on you.
Crates will also tend to protect your groceries more as it is a sturdy place to keep your things, but you would have to be willing to invest in a rack for your bike.
Method #4: Attach Bicycle Saddle Bags
If you've attached rear vehicle racks to your bicycle, another option is to attach saddlebags to those. One of the best benefits of using saddlebags is they come in many different sizes to suit your needs, and you can attach either one or two to the back rack.
A Few Drawbacks to Using Saddlebags for Groceries
Saddlebags are a really popular choice given the variety of styles, sizes and types that are available. But they can be a little tricky when it comes to more rigid options, as they are harder to find.
Also, saddlebags require a closure at the top, so it's important you don't have any items poking out at the top (such as a large baguette), as they won't be secure when riding.
Bulky items in saddlebags can be dangerous if you're biking through heavy traffic or highly populated areas. So you'll need to make sure you pack vertically to ensure the saddlebag doesn't get too wide.
A quick search on any sports or e-commerce site will display many options, but it's best to go with something that has large capacity and is fully waterproof, like these on Amazon.
TIP: If you're new to saddlebags, check that they are compatible with your rear wheel rack before buying!
Saddlebags are Best for:
Medium capacity
medium to heavy traffic
medium to rough terrain
It's a great option if you occasionally need a smaller or larger capacity for your grocery runs. The advantage of saddlebags over other options is that they are very versatile, but you do have to make sure everything is secure before riding home.
Method #5: Hitch a Trailer to Your Bike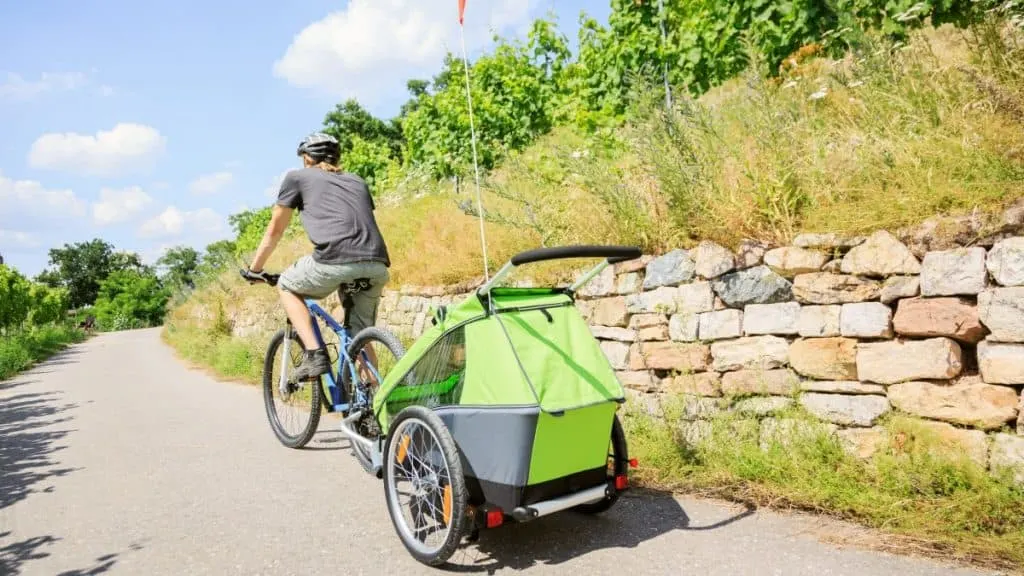 If you need a lot of grocery capacity, another option is to attach a storage trailer to your bike. This option tends to be best for advanced riders who are comfortable towing an attached vehicle behind their bike.
These are the costliest option, but the most versatile and well worth the investment if you're feeling very passionate about hauling groceries or other purchases via bike. 
These attached trailers can take many forms, such as a wagon, but my favorite are multi-purpose, like this Schwinn Joyrider Trailer (link to Amazon).
They have plenty of room (and flexible room!) for all types of groceries and can also double as a carrier if you have a toddler or small dog (bonus!).
QUICK TIP: Make sure you're confident in your riding or be sure to get comfortable with towing a bike trailer before you hit heavy traffic or take this option on the road with you.
Trailers are Best For:
Large grocery capacity
highly skilled riders
Here's a handy table summarizing all the pros and cons of the different options:
Storage Method on Bike
Best For..
Pros..
Cons..
Backpack
-Heavy traffic
-Tricky terrain
-Low cost
-Easy to start
-Weight on rider
-Carry small volume
Basket
-Dry weather
-Low traffic
-Easy, flat terrain
-Lower cost
-Low fuss usage
-Carry small volume
-Not ideal in wet weather
Rear Crate
-Heavier traffic
-Trickier terrain
-More versatile
-Carries a larger amount
-Requires securing
items carefully
-Higher cost
-Able to carry more
Saddlebags
-Heavier traffic
-Tricky terrain
-Many types available
-Carries a larger amount
-Items must not be too wide
Trailer
-Experienced riders
-Easier terrain
-Carries largest amount
-Harder to ride
-Large investment
The above should help give you an idea of what to look for when deciding on an option. But it's also important to get a feel for what you're comfortable using. The following tips will help you out…
Tips for Finding Your Best Method for Carrying Groceries by Bike
Especially if you're new to this, it can be difficult to decide on the best route to go. Having trouble deciding? Here are some additional thoughts on how to determine which method is best for you.
#1: Talk to Fellow Bikers
Don't be afraid to tap into your local bike community to see if they have any recommendations for your area. You'll be able to find out first hand what's working for different people in your community, and fellow bike commuters may even be willing to let you try out their gear.
#2: Try a Few Different Options
Be open to trying out different methods before committing. You may find a backpack in your closet you've neglected does the trick for your small grocery runs or that you do, in fact, need to look at options with a larger capacity. 
Many times local bike shops are happy for you to try out different methods to see how comfortable you find them before committing. Which takes me on to tip #3…
#3: Visit Your Local Bike Shop
Bike shop owners and employees will have good knowledge about what is working for other bike owners in the local community. They'll no doubt carry at least a handful of each of the outlined options, so you can take a look at them in person.
#4: Test Ride before your Grocery Shop
Especially if you're new to bicycling (and especially if you're new to bike commuting in a large, high-traffic city), be sure to take your cargo container with you for a test ride in a parking lot or other vacant area. 
And it's a good idea to also make sure you know the route really well too before you haul a bunch of groceries home and encounter mishaps that you weren't expecting.
Remember: It's your safety and everyone else's, too! Make sure you're feeling confident on the road in order to navigate your way with other vehicles on the road or bike path.
Tips for Making Certain Techniques Work for You
There's, of course, no "one size fits all" way about this dilemma. However, there are a few additional tricks you can utilize to make any of the above methods work better for you. Let's take a look at some of them…
Bungee Cords are Useful to Secure Items on your Bike
Especially when using crates and baskets, carrying a few bungee cords with you can be an absolute lifesaver, (or at least avoid a few headaches!)
When you're navigating some rough roads, or you just packed your crate or basket to the tippy top, a bungee cord can be the difference between feeling secure and confident on your bike versus insecure and nervous.
Many sporting goods stores and e-commerce websites offer bungee cords of all different lengths and sizes for relatively cheap. Carry a few with you at all times, and you'll be surprised how useful they are!
Reusable Bags that are Suited to your Bike
Sure, many stores already encourage shoppers to bring their own bags. But finding the right reusable bags to best suit your chosen grocery transportation method can make your life a lot easier.
Something thin, flexible, and not very rigid will allow for optimal versatility for whatever you might be shopping for that day. And don't forget to choose something waterproof if you live in an area that sees rain often!
There's nothing worse than investing in the trip to the grocery store, securing your items, and getting home, only to find your groceries are soggy and ruined!
Choosing the Right Method for You
Above, we've outlined some methods for carrying groceries on a bicycle and some methods to determine how to find the best technique for you, depending on your load and the route you take in your specific area.
There are many options to consider and it's important that you think about all your options before making an investment in any particular carry solution. 
If you'l like to see some of my favorite bike solutions and gear, check out my Recommended Gear section.