Whether you are a cyclist that is just getting started or a veteran of the sport, one thing everybody can agree on is that safety should always be your number one priority. What is the best way to guarantee your safety?
Use one of the best bike commuter helmets, especially if you ride in busy areas. Because of the millions of options available on the market, this can be a challenging decision. Here's a guide to the top options you should consider. 
What are the best bike helmets for city commuting? Although there are cycling helmets that have a large price tag, this does not necessarily mean they are superior. In short, the best helmet for your city commutes is one that:
fits your style
optimizes your visibility
offers sufficient ventilation
is not too heavy
feels comfortable for long rides
fits your head
There is a reason for a large price tag… right? Aside from the clear-cut "superior" quality, there are various benefits to some helmets. Read further for a full, comprehensive guide on the best helmets for city cycling and commuting by bicycle.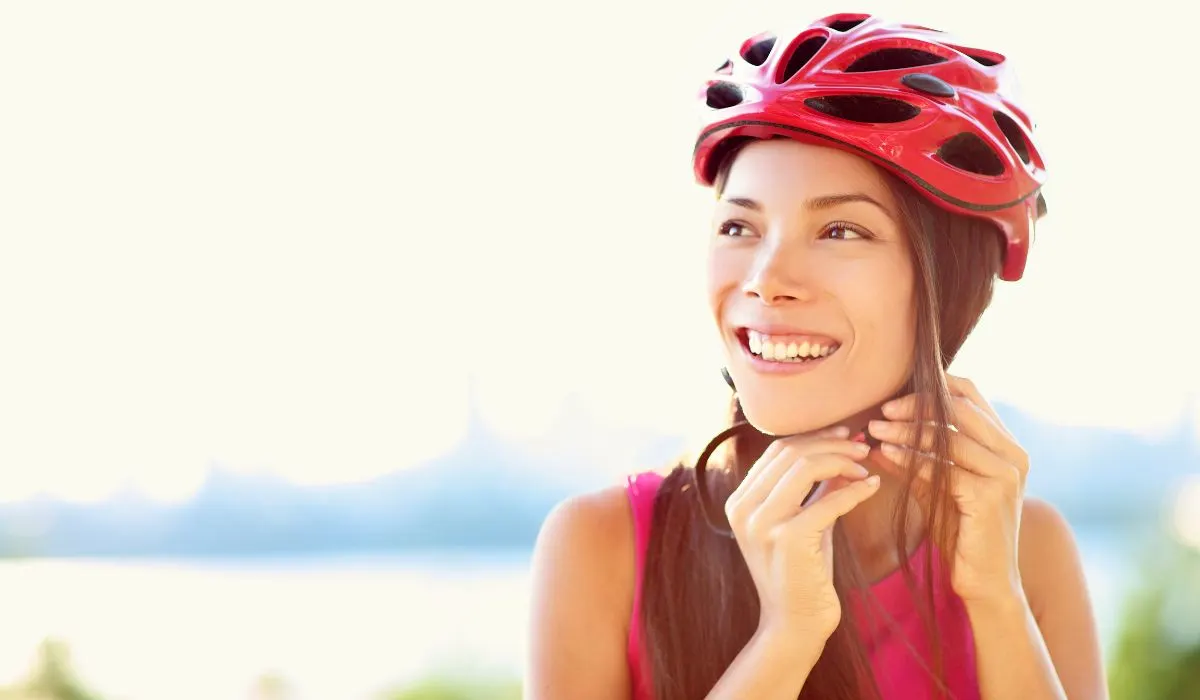 Best Bike Commuter Helmets Reviewed
Table of Contents
What to Consider When Buying the Best Bike Commuter Helmet
Picking out and purchasing a usable cycling helmet can be a walk in the park. However, picking out and purchasing the optimal helmet for your city cycling endeavors, on the other hand, can be significantly more challenging.
There will always be a perfect helmet for you, regardless of your:
head size
sensitivity to heat
fashion style
#1: Ventilation
Personally, the most important thing I consider when purchasing a new cycling helmet is its ventilation capabilities. If you live in a hot, humid place or if you are sensitive to heat, it is strongly recommended that you look into helmets with good ventilation.
NOTE: This includes, but is not limited to, different types of materials and gaps in the headpiece.
On the other hand, if you live in a chilly place, it may also mean that you will likely wear some sort of head warmer underneath your helmet like this one sold on Amazon. So, it is strongly recommended that you pick a helmet that is designed with extra space available. 
Expensive helmets usually have more ventilation, or in some cases, more efficient ventilation where the openings are usually denser and evenly spread out. They also use materials that wick:
#2: Visibility 
Some helmets offer benefits that can help boost your visibility when cycling long distances or in low-visibility conditions.
Visors can protect your face and eyes from:
debris
bugs
excessive sunlight
Some helmets have built-in light sources, similar to flashlights, that are made for cycling in low-light conditions. If you plan on cycling during the early morning hours or late in the night, these helmets are a must! 
Usually, more expensive helmets are tested for comfort. This means that their visors are effective means of blocking out extensive sunlight and protecting your forehead and face from excess debris and dirt.
On the contrary, cheaper helmet visors are usually there for "decorative" purposes. In other words, they are not big enough to efficiently do the job. 
#3: Weight
If you plan on city cycling on a weekly or daily basis, helmet weight is a significant factor when it comes to efficiency and comfort. If your commute is long, get a light helmet so it doesn't bear down on your head too much.
On the other hand, you may opt for a foldable helmet that is easy and quick to store away when you get to work. 
NOTE: Expensive helmets are typically lighter because they are designed with aerodynamics and energy efficiency in mind.
With that being said, this does not mean that all expensive helmets are as light as a feather. For various purposes, some helmets may weigh more than others. 
#4: Comfort
For cycling long distances, comfort is a big plus for any helmet. Some helmets have pads on the tops and sides of your head during the ride.
NOTE: This also means extra insulation to your head, which may make it hotter. 
#5: Technology
On occasion, some helmets are built with something known as MIPS technology, a type of lining that coats the inside of your helmet to mitigate any possibility of severe brain injury or brain damage in the case of any accidents or falls. Even better!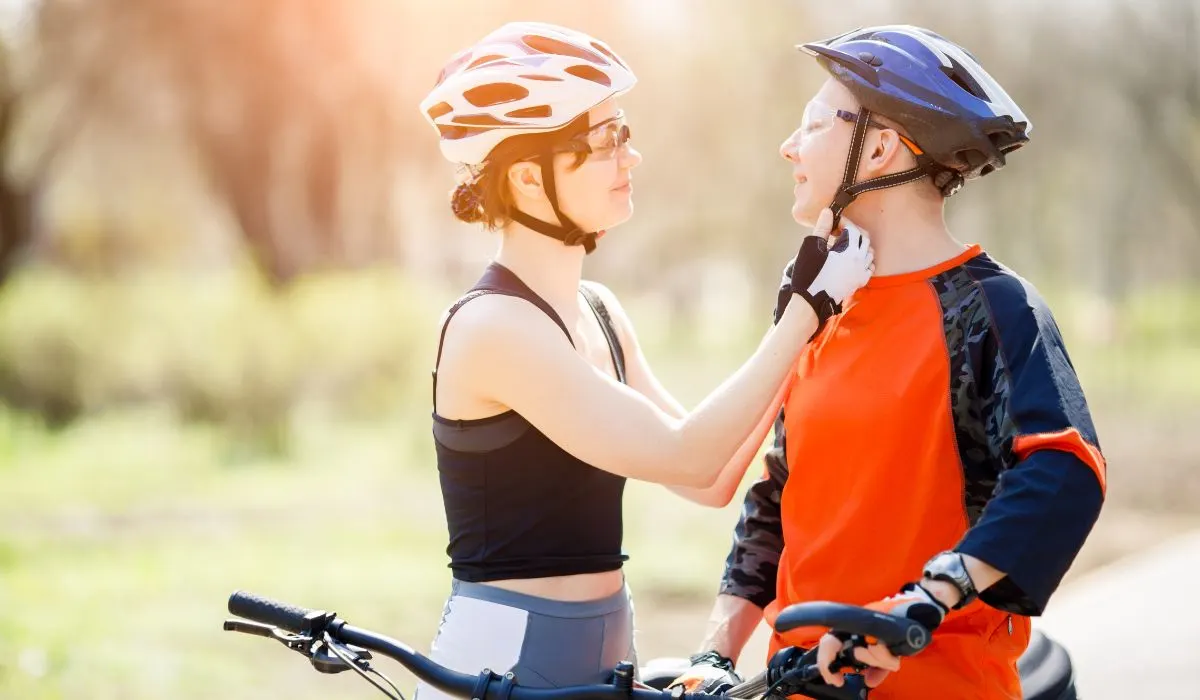 #6: Style
The least important factor to consider choose a cycling helmet that fits your style and your taste.
Although cycling helmets look more or less the same, there are differences in:
#7: Fit
Your helmet must fit your head comfortably and easily. By that, I mean whether the helmet fits your head shape.
If your head shape is narrow, consider a helmet that can tighten enough to fit snugly. On the other hand, if your head shape is wide, consider a helmet that has sufficient padding so that the chosen helmet is spacious and comfortable. 
In the end, you want a helmet that fits comfortably around your head. While it should stay secure even in the case of extreme movement, it should also have sufficient room for you to comfortably rotate and move your head around.
NOTE: All helmets should have adjustable straps that allow you to change the tightness. However, expensive helmets also have other sizing adjustment systems that can even change the "height" of your helmet.
#8: Price
Price can play a role when choosing the best bike commuter helmet. Generally, it is recommended to use a cheaper option if you cycle infrequently or travel on short city trips.
Why? While expensive helmets are more efficient and more comfortable, cycling experts have often agreed that helmets on the cheaper end are just as reliable and protective as the high-end options. 
On the other hand, if you cycle frequently or on long journeys, it is recommended to invest in a more expensive option.
Why? In the long run, they are more comfortable and lighter. More expensive options also have a longer lifespan, meaning that you won't have to replace them for a long time. 
The Best Bike Commuter Helmets on the Market
#1: Giro Camden
This bicycle helmet sold on Amazon is one of the safest options on the market. Although casual cyclists might consider this model to be too expensive, it is designed to ensure safety to the highest level.
NOTE: This helmet is built with MIPS technology to prevent any significant harm from being done to the rider. 
It has passed numerous tests and met various standards as an everyday commuter's helmet when it comes to:
safety
efficiency
comfort
It also offers an extensive amount of ventilation for hot summer days. For those that plan to ride in low-light conditions, the model even offers a rear light to increase visibility. 
The only notable downside is it does not have many options for design or color, so it may not be as stylish or fashionable as other helmets on the market.
#2: Bern Macon
This helmet found on Amazon is both lightweight and comfortable. It offers liquid foam construction for maximum comfort during long rides and snuggly fit heads of various shapes and sizes.
On top of that, it uses a dial system that can both tighten and loosen the fit of your headgear, adapting to any head size. 
In terms of safety features, it offers MIPS technology, and the helmet also extends to the lower back of the head, which is not common in standard cycling helmets. 
#3: Giro Register
If you are looking for a cheaper yet equally reliable option, this helmet found on Amazon is among the best bike commuter helmets. The Giro Register with MIPS technology is extremely safe and reliable, with a fitting system that adjusts to all head sizes.
There are also various colors to choose from, whatever fits your style. 
It is also extremely well-ventilated with multiple gaps in the helmet. While it does not offer a full-sized visor, it offers a detachable smaller visor that attaches to the front of the helmet. 
#4: Bell Annex
This helmet model sold on Amazon offers the most ventilation out of all of the helmets on this list. It has fifteen vents in total!
In the case of cold weather conditions, the helmet gives you the option to cover the vents using a slider function. This helmet is one of the most comfortable options when it comes to insulation and temperature control. 
In terms of safety, it offers a MIPS liner, as well as an attachable light on the back of the bicycle helmet for better visibility.
NOTE: This is not an integrated or built-in light; it has to be manually removed it if is not needed. 
The visor that this model offers protects your eyes from:
debris
weather
sun and glare
#5: Lumos Ultra Smart
To cycle in low-light conditions (before sunrise or after sunset), this helmet on Amazon is undoubtedly the best option available.
The helmet is designed with not one, not two, not even three, but 94 built-in LED lights that shine through durable lenses. There are 30 white lights on the front and 64 red lights on the back of the helmet for a 360-degree light. 
The batteries on these lights are rechargeable. They run for up to 10 hours and can be easily recharged using Universal USB Type-C charging cable.
The helmet is quite lightweight while offering a total of 22 vents. Like most of the other helmets on the list, it also uses a dial system to adjust tightness and comfort.
Unlike other options, however, it even offers a set of removable pads.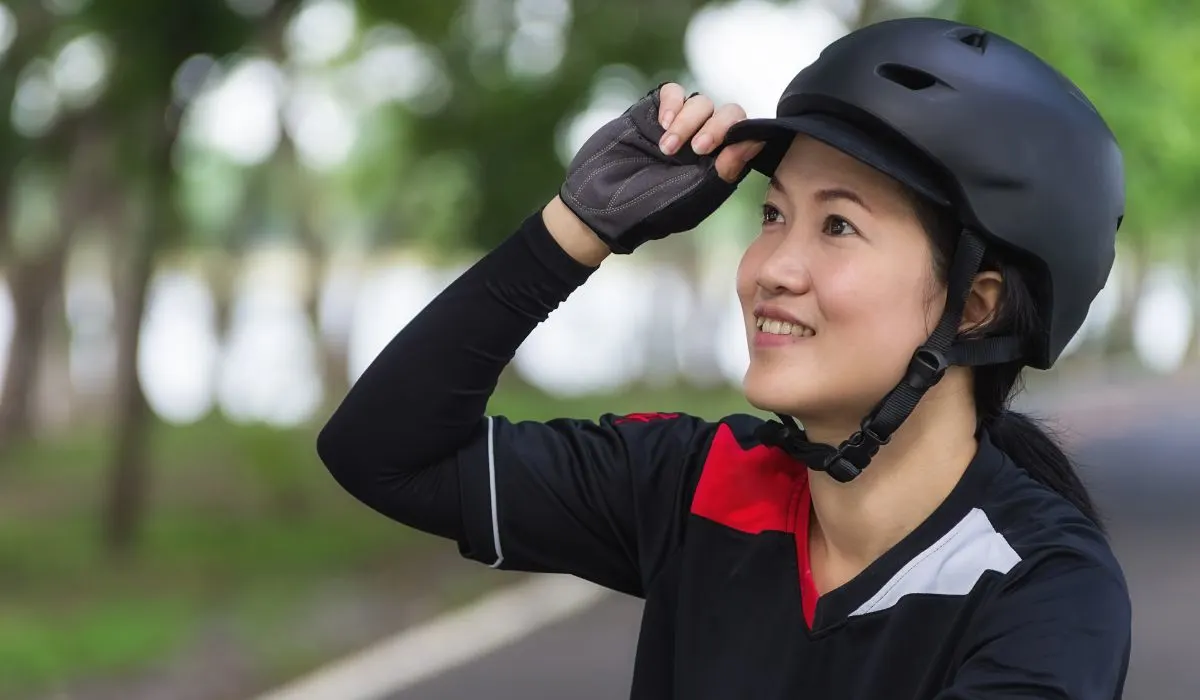 #6: Smith Signal
If you have a low budget but are still looking to purchase an equally reliable and well-rounded cycling helmet, look no further than this model sold at Amazon.
With the VaporFit adjustment system and its moderate weight, it is designed to be suitable for any cyclist.
Even at its low price, it does not forego any of the safety features that the other helmets have. It is manufactured with MIPS technology and EPS foam, both of which are designed to keep you safe in the event of an accident.
Likewise, it has sufficient ventilation for hot summer days and offers a large variety of different colors to choose from. 
#7: Kali Protectives Saha
For a very stylish helmet, this one sold from Saha is your best bet. Why? Rather than having a dull and bland plastic or metallic finish, it uses denim on its outer layer. Not only is it stylish, but it is also environmentally friendly. The manufacturers claim that the helmet is made completely of recycled materials. 
While it notably does not have MIPS technology like some of the other options on the list, it does still have standard EPS foam to absorb any shocks or vibrations in the case of accidents. It also has a miniature visor that can occasionally block out the sun when needed. 
In comparison to other cycling helmets, this model can be significantly heavier. Because of its design, it can weigh down pretty heavily on your head during long rides and extensive commutes. Lastly, it is also quite cheap for its design and capabilities. 
#8: Thousand Adult Anti-Theft
The name of this helmet, which can be bought from Amazon, says it all. If you are a frequent city commuter that leaves their bicycle in public spaces, this helmet is definitely your best option.
The piece is designed with a type of "pop lock" system that will ensure that your helmet stays safe on your bicycle when it is unsupervised. 
This model even uses vegan-friendly straps and magnetic clasps, making it both sustainable and easy to use. This helmet is stylish with a minimalistic and smooth design. It is important to consider though, that this model does not have as much ventilation as the other options.
#9: Oakley ARO5
Much like a road cycling helmet, this helmet, sold on Amazon, is designed with aerodynamic purposes in mind. For long-distance commutes, this helmet will significantly lessen your energy expenditure.
It is also designed with MIPS technology to prevent any permanent brain damage in traffic accidents. As a product of Oakley, it has a compartment to store eyewear in a docking slot at the front of the helmet. 
How to Take Care of Your Cycling Helmet 
After a long ride around the city, sweat collects inside the helmet, and dust sticks on the top. The next time you need to use the helmet, it may smell foul.
This is why it is necessary to maintain your helmet in good condition. Helmet care consists of a few things:
cleaning the helmet
storing the helmet
when it is time to replace it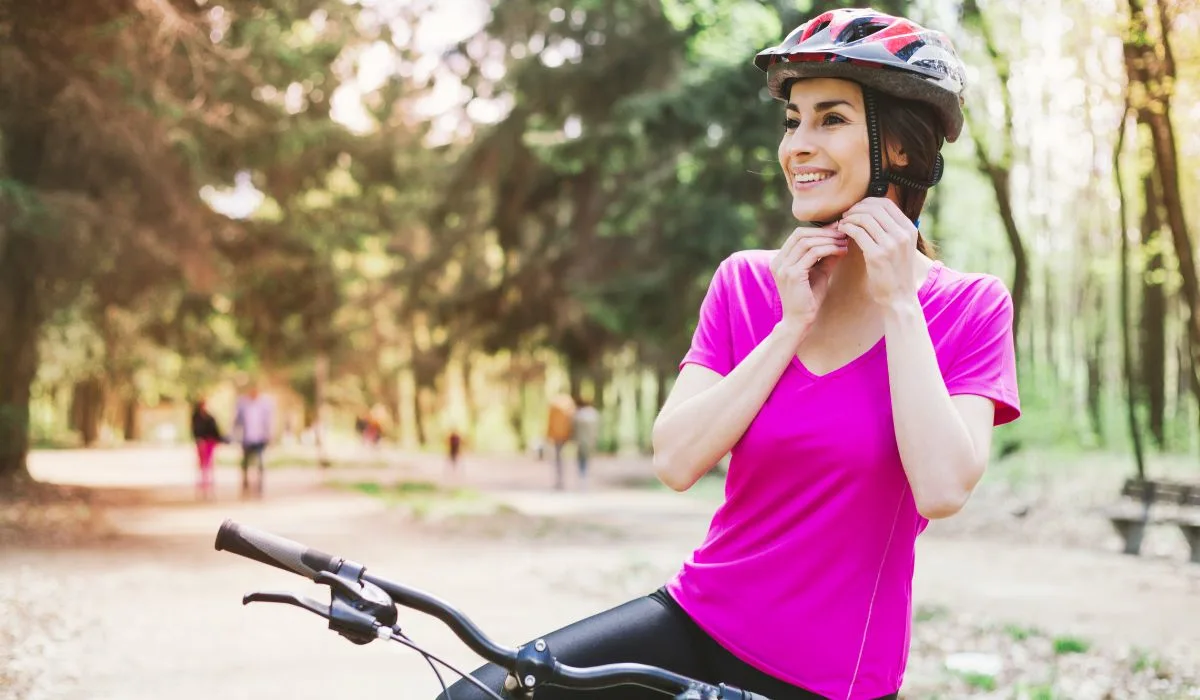 #1: Cleaning a Helmet
To clean a helmet, first, refer to the manufacturer's instructions. Normally, following these instructions can guarantee long-term use after every clean/wash, excluding external factors such as bicycle accidents.
If the manual is lost and there's no digital copy online, there is a common method of washing any helmet. Usually, the instructions include washing the helmet with a cloth or sponge using mild soap and water.
Under the helmet, there may be removable pads that should be removed and washed separately. Even if there are stains on the helmet, heavy chemical solvents should be avoided so they don't break down the adhesive that holds the helmet's structure.
It is important not to soak the helmet in water for too long because it may seep through and damage the adhesive material.
#2: Storing a Helmet
Extreme heat is not good for the helmet. High heat can melt the glue holding your helmet together, cause bubbles in the foam or pads, and may damage the helmet parts decreasing the safeness of the helmet.
If you are parked outdoors, make sure to keep the helmet away from direct sunlight when possible. At home, make sure you do not store your helmet in an attic, garage, or any other area where heat can accumulate over time, especially in the summer.
#3: Replacing a Helmet
If your helmet is in rough condition, replace it. Never wear a damaged helmet as it will not protect you.
If you have been using the same helmet for over 7 years and it appears to be in good condition, chances are, it is not. The helmet parts will wear over time and repeated use. Experts recommend replacing your helmet every three to five years depending on how often you use the helmet.
When to Replace a Bicycle Helmet
After a helmet is damaged to the point it looks like a flattened pancake, of course, replace it.
However, after using it for a few years and taking care of it, the helmet may look like it is in perfect condition, but the inside degrades over time.
Biking outside may continuously damage the outer shell of the helmet, but not enough for us to see. So, what signs may suggest replacing your helmet?
#1: Visible damage
Inspect the hard outer shell. Visible damage usually occurs on the exterior shell. It must be replaced if anywhere on the helmet there is:
Then, inspect the sides, including the:
buckle
straps
inside the helmet
If you notice the padding wearing off or any component out of place, replace the whole helmet or get a repair.
If an accident occurs while you are wearing a damaged helmet, chances are it may break before it protects your head. This is very unsafe, so make sure to do a quick check every time you use it.
#2: Internal Damage
You cannot see the inside of the helmet, but you can feel it. Press the outer shell to check if it can get pushed in and naturally pop back into place.
Normally, this occurs all over the shells on cheap new helmets, but never on good quality helmets. If the effect is great, then it may indicate the foam beneath the shell is damaged and needs a replacement.
#3: Manufacture Date
Although helmets do not "expire" after a specific date, as it depends on the owner and their care, it is still necessary to know when it was made and track how long the helmet has been in use.
If the helmet was made back in the 70s, replace it even if you have never used it before. Helmets made during that time did not have the protection that meets the current standards. In 1984, the American National Standards Institute (ANSI) established a bike helmet standard that ensured helmets reached the required impact protection, which includes styrofoam liners and plastic covering.
These "safer" helmets should have a standard sticker inside of them, so make sure yours does too. Even if you own a certified helmet with a sticker, ask yourself, is there a better, affordable helmet on the market? If so, then you should replace your current one.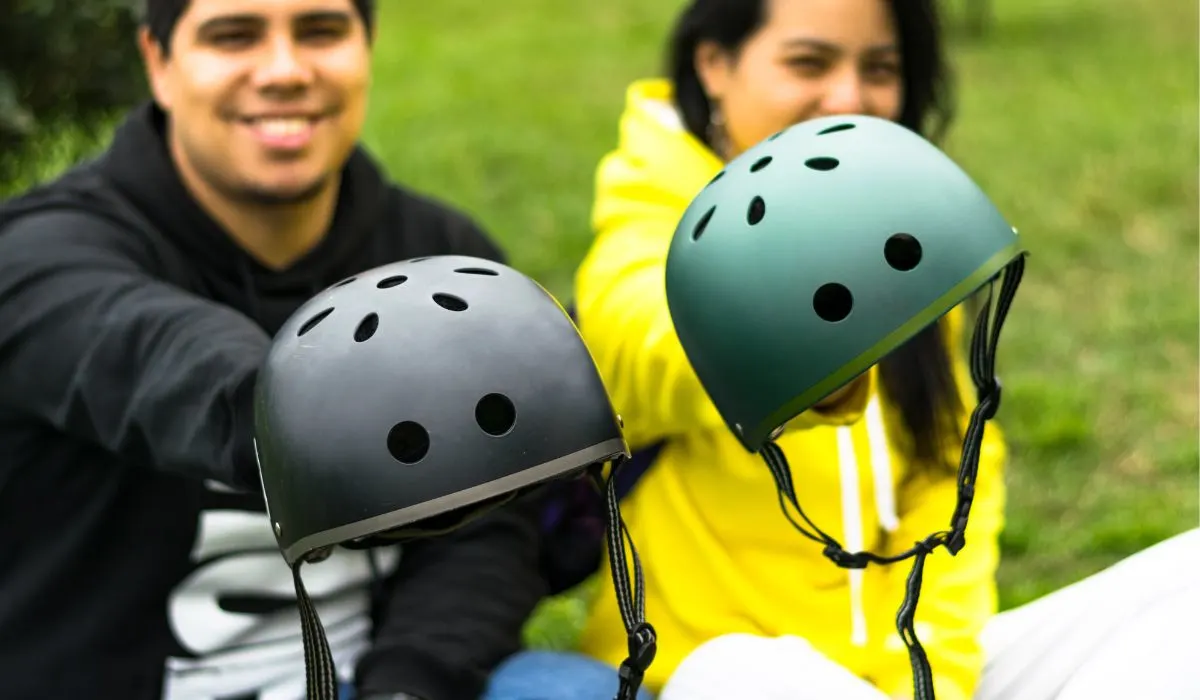 Final Thoughts: Best Bike Commuter Helmets
With thousands of options available on the market, choosing the right bike commuter helmet can be hard. I hope that this comprehensive guide helped you make the right decision.
Regardless of which helmet you decide is the right one for you, at the end of the day safety should be your number one priority.
You might also be interested in: