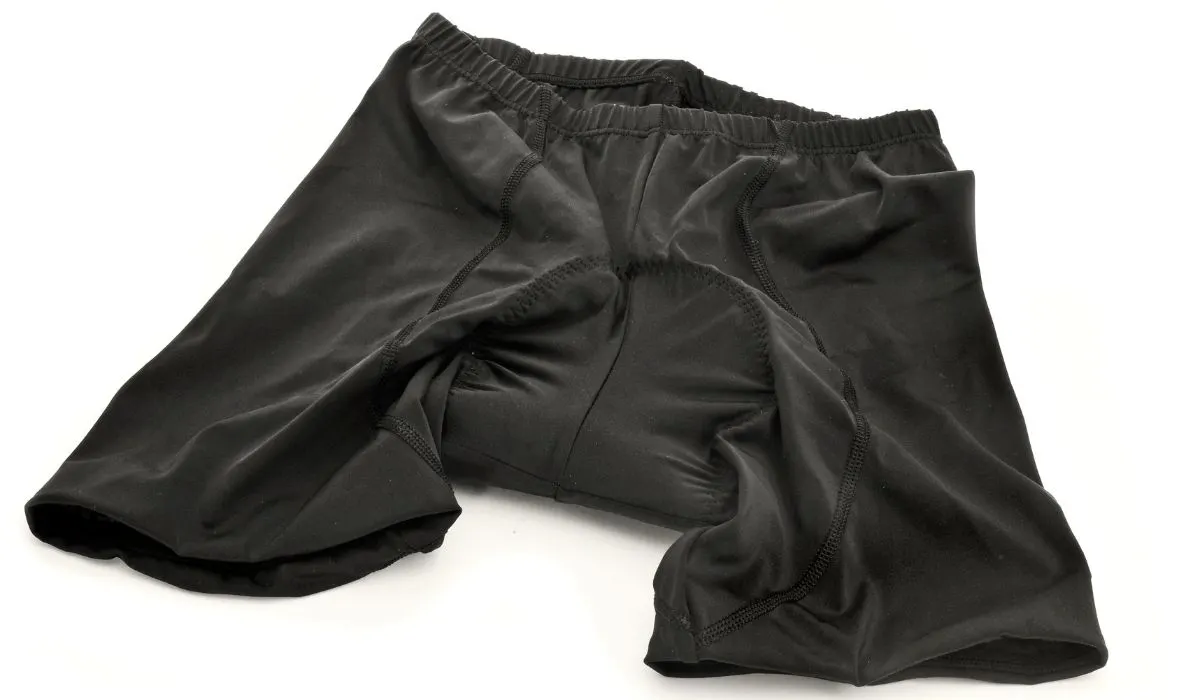 Cycling has evolved considerably over the many decades it has been around. Everything from the bicycles themselves, the clothing that cyclists wear, and the culture surrounding the activity have grown and changed with the times.
Most clothing designed for cycling use is constructed of various synthetic materials, usually some combination of spandex, Lycra, and nylon, with additional expensive choices available as well. However, with all of the options available, it can be a little daunting to figure out what the best choices are for use on your daily cycling path. 
One area that is often neglected when discussing cycling apparel is the choice of cycling shorts. As such, this guide will focus on:
how to select the right style of cycling shorts
layering clothing for your ride
tips and tricks for your commute
What are Cycle Shorts?
In terms of gear for your bike ride, whether that be to work in the morning and home in the evenings or on the trail in your off-hours, cycling shorts are near the top of essentials—right below the bicycle itself and perhaps a helmet.
Cycling shorts are the primary layer between you and the saddle of your bike, and quality cycling shorts allow you to ride for hours without chafing or sores that come from extended periods on your bike.
There are two different styles of cycling shorts:
traditional waist shorts
bib shorts
We'll discuss the differences between the two in the next section, but first, it's vital to go over the commonalities between the two to understand why this piece of apparel is so essential for riding.
The Chamois
While the term chamois is sometimes used interchangeably with cycling shorts, they are distinct, although the former is part of the latter.
Chamois is actually the term for the padded crotch section of cycle shorts. When cycling-specific apparel was initially being developed in the '80s, the chamois was constructed of unpadded leather.
Fortunately, technology and clothing have advanced significantly over the last four decades, and now the chamois is made of foam or gel of various densities.
The entire purpose of the chamois is to help alleviate pressure in your nether regions and fight against friction in the location where the most friction-based pain occurs. Due to the potential for bacteria in the area of the body that the chamois brush up against, they often have antimicrobial properties as well.
Male and Female Chamois
Before going out to buy a pair of cycling shorts, you should be aware that there are some discrepancies between chamois for men and women.
Since chamois are designed with different foam densities to help approach alternate pressure points, the variations between male and female-specific shorts are often significant.
Generally speaking, the primary difference between male and female-specific chamois are as follows:
Chamois Cream
Lastly, it is worth taking a moment to mention chamois cream. This substance is not something that cyclists will need for most rides. However, for longer rides that are frequently back-to-back, this cream can help the pain from chafing. 
If you do find that you require chamois cream, only apply a small amount as too much will cause more friction. Overall, if you find yourself using chamois cream regularly, you should consider reassessing your equipment:
your shorts
bike saddle
bike fit
If everything is fitted to you correctly, you should be able to ride for an hour or more without needing chamois cream at any point.
Cycling Shorts Without Underwear
Though it may seem counterintuitive if you are unfamiliar with cycling clothing, it is essential not to wear underwear with bike shorts. Here's why:
The chamois is a smooth and frictionless zone that helps prevent painful sores from the friction of riding, and wearing underwear renders that completely irrelevant.
Chamois work by trapping the harmful bacteria that can lead to excruciating sores, and most traditional underwear (especially cotton) is incapable of helping in this way.
Underwear leads to saddle sores that you most definitely want to avoid by introducing:

chafing
heat
humidity
a damp environment

Always wash your cycling shorts after every single ride. There's no sense trapping all of that bacteria unless you intend to wash your shorts as soon as possible, or you will be setting yourself up for failure on your next ride.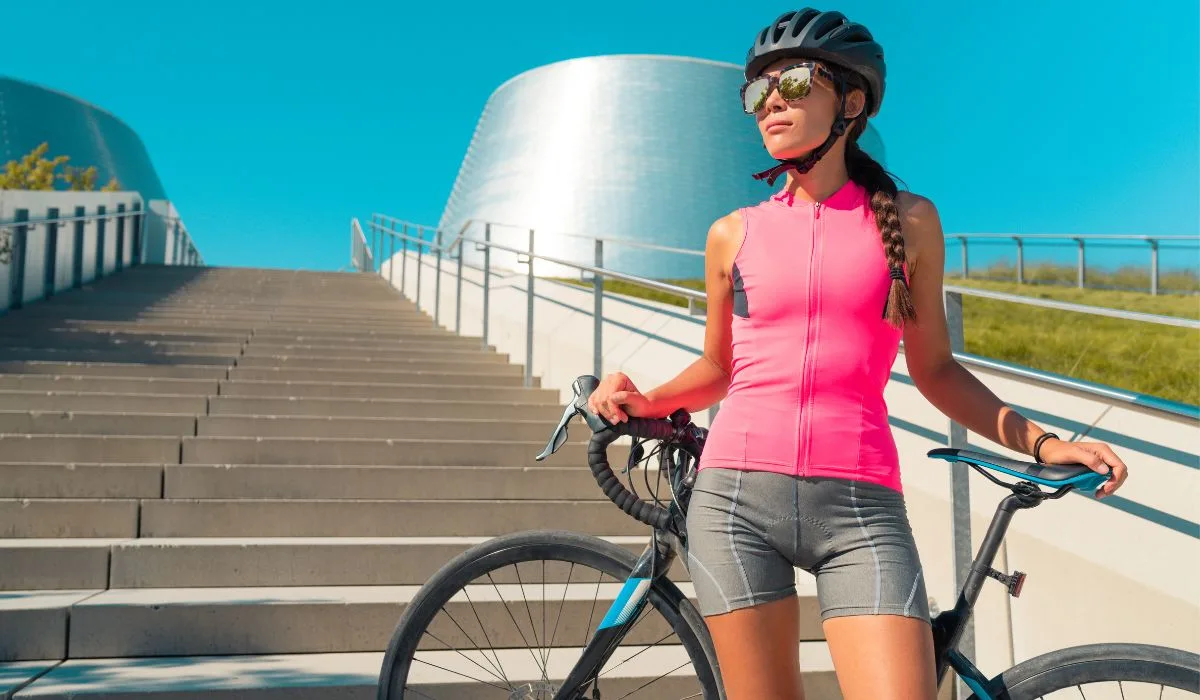 Waist Shorts vs. Bib Shorts
Each type of cycling shorts has advantages and disadvantages, but it is worth noting that most riders who switch to bib shorts like these sold on Amazon, from waist shorts never go back.
TIP: Waist shorts tend to be cheaper and are often a more common choice for newer and more casual cyclists.
The biggest hurdle for many riders considering bib shorts is their look. Bib shorts are named for their leotard look, as though a standard pair of cycling shorts had a set of suspenders added to them.
That comparison is a pretty apt one as old-fashioned racers would actually rip out the drawstrings of their standard shorts and use traditional clip-on suspenders to hold their shorts in place instead.
Thankfully, the suspenders that hold up bib shorts today are integrated right into the shorts and are constructed with either Lycra or mesh to be:
easy on your shoulders
lightweight
breathable
Overall, as long as you wear cycling shorts of one kind or another, you will find significantly increased comfort and performance while riding. To make the decision more straightforward, we compiled a list of each style's pros and cons below.
Bib Shorts
Pros:
#1: No Waistband
This pro may seem like an oversimplification but is one of the primary reasons for cyclists to move from classic shorts to bibs. The whole body moves while riding, and the combination of the drawstring and elastic cutting into the abdomen can feel restricting, especially on long distances.
Also, a traditional waistband collects and retains moisture, which is best avoided to prevent chafing throughout your ride. Bibs leave the torso free and without any constriction.
#2: The Chamois Don't Move
Anyone who has cycled in standard cycling shorts knows that they inevitably slip downwards over time. A chamois drops out of position as well, causing:
chafing
discomfort
potential sores
Bibs avoid these issues by being incapable of falling due to the suspender-like aspect at the top of the shorts, keeping the chamois in place at all times.
#3: Greater Overall Comfort
The straps or suspenders that bib shorts loop over the shoulders are advantageous for many reasons, but most of those reasons boil down to simple comfort.
With bib shorts that fit correctly, they are hardly noticed while riding. The design essentially turns them into an extension of your body. With padding in the most critical spots, the fabric won't bunch and chafe on any part of the skin.
#4: Better Aesthetic
If you are turned off by the leotard appearance of bib shorts, this point may be hard to believe!
For many riders, especially taller ones, traditional cycling shorts may create a bare midriff when off the bike. Cycling jerseys are cut to be shorter in the front to reduce bunching and create a more aerodynamic fit.
Bib shorts are cut higher than traditional cycling shorts, so a cycling jersey will make a seamless transition. As far as onlookers are concerned, the bib shorts and jersey will look just like a standard pair of shorts.
Cons:
#1: Ease of Changing
Bib shorts are ultimately designed for riding longer distances for extended periods of time. For a work commute or shorter journeys, the process of changing in and out of bib shorts may frustrating. 
#2: Bathroom Breaks
This answer differs slightly for men and women. Most bib shorts have enough stretch to be pulled down in the front to provide enough access to make it easy for men. Women need to remove the jersey and the bibs entirely.
However, advancements from some companies like Velocio and Giro have created systems for their bib shorts that make it easier to break for the washroom without removing the jersey and everything else first!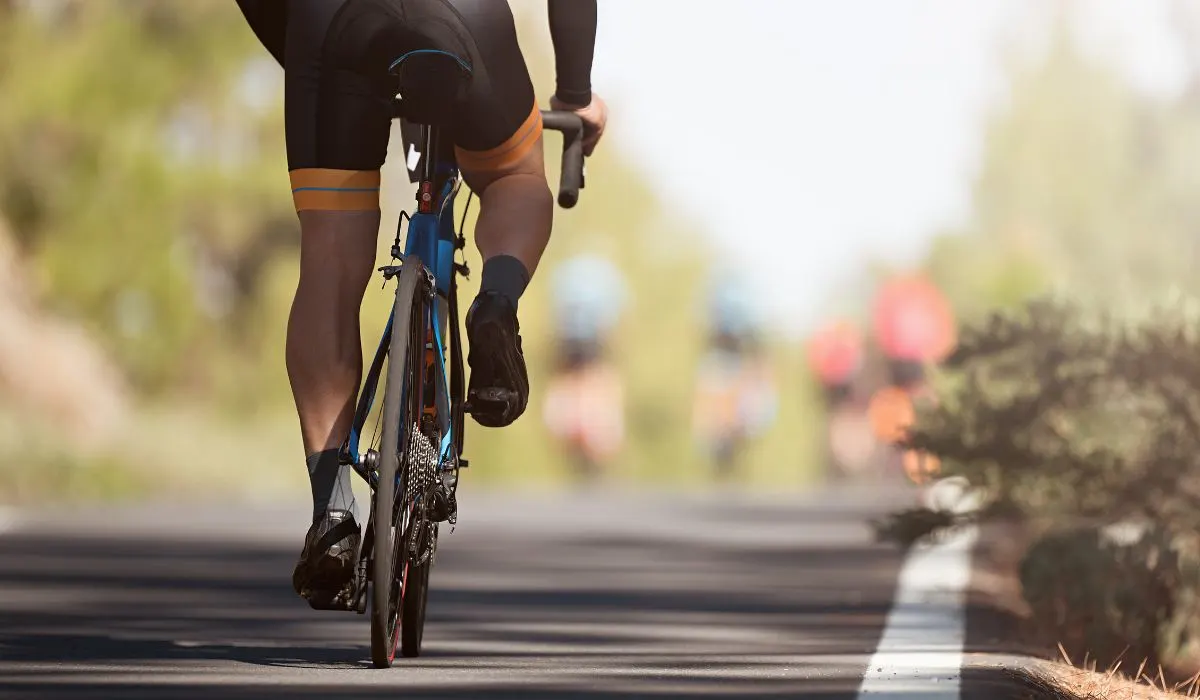 Traditional Cycling Shorts
Pros:
#1: Easy to Put On and Take Off
The simple drawstring that most classic cycling shorts use means that they are more comfortable to get into and out of at the start and end of your ride.
For those who cycle to and from work or ride casually, these shorts may provide sufficient comfort without the commitment that bib shorts require. 
#2: Generally Cheaper
While standard cycling shorts have expensive versions, you can purchase adequate shorts at many cycling stores for a reasonable price.
This cost difference can be an important consideration for newer riders or those getting into cycling on a budget.
Cons:
#1: Quality Can Differ From Price
Cycling shorts are usually cheaper than their bib cousins but, they can get extremely expensive for more comfortable or practical options.
As an example, some cycling shorts by Rapha do away with the drawstring entirely by using silicone grips at the ends of the legs and around the waist. It is a way around the difficulties that drawstrings introduce, but it does incur a higher cost.
#2: Not as Effective For Dedicated Cyclists
The reason that most riders who switch to bibs never go back to classic cycling shorts is that most traditional cycling shorts are incapable of providing the same level of comfort across long times and distances.
Summary
At this point in this guide, you likely have some idea of which style of shorts is the right one for you. Traditional waist shorts cannot come close to bib shorts' efficacy in:
long-term usability
comfort
style
breathability
For a commuting cyclist, the convenience of waist cycling shorts may be enough to keep you using that style.
For new riders who are just getting into cycling, it may be worth starting with cheaper traditional cycling shorts. Once used to cycling, decide if upgrading to better quality cycling shorts is worth it in the long term.
TIP: Make the best choice based on your own personal preference, and remember that you can always upgrade later on.
Understanding Layering Your Cycling Apparel
Cycling shorts are undoubtedly one of the essential aspects of a cyclist's wardrobe. Many other elements also go into selecting the perfect set of apparel to cover you through different:
TIP: This kind of preparation is not unique to cycling and can be applied to virtually any outdoor activity. 
Layering optimally allows cyclists to enjoy their ride and to stay:
warm when it is cool out
cool when it is warm out
dry in wet weather
Here is a cycling specific checklist for optimal layering. You won't need to have all of these items on at all times, but keep them accessible. Carry these with you to be prepared for any and all conditions:
Cycling Base Layer (sold on Amazon): This layer includes cycling shorts (bib or traditional) and a jersey. This layer wicks away sweat and is suitable for most rides in good weather.
Insulating Layer (sold on Amazon): This layer is for cooler days to keep a bit warm on your ride.
Outer Water/Windproof Layer (sold on Amazon): As the name would suggest, this layer exists to keep you protected from the elements:
With a good selection of clothing that covers all potential needs, you will be ready for any weather that your ride can throw at you. Here is a breakdown of essential considerations to make when purchasing your riding apparel.
#1: Cycling Jerseys
As part of a cycling base layer, a jersey is an essential piece of apparel to consider. All cycling jerseys are made with:
moisture-wicking material
very form-fitting design
pockets for keeping tools and snacks
quarter or full-length zippers for ventilation
Some cycling jerseys have reflective material woven into the fabric to provide extra visibility. For city or night riding, this can be vital for safety on the road.
Lastly, some jerseys come in long-sleeve variations constructed from slightly heavier fabric for insulation while still maintaining sweat-wicking properties.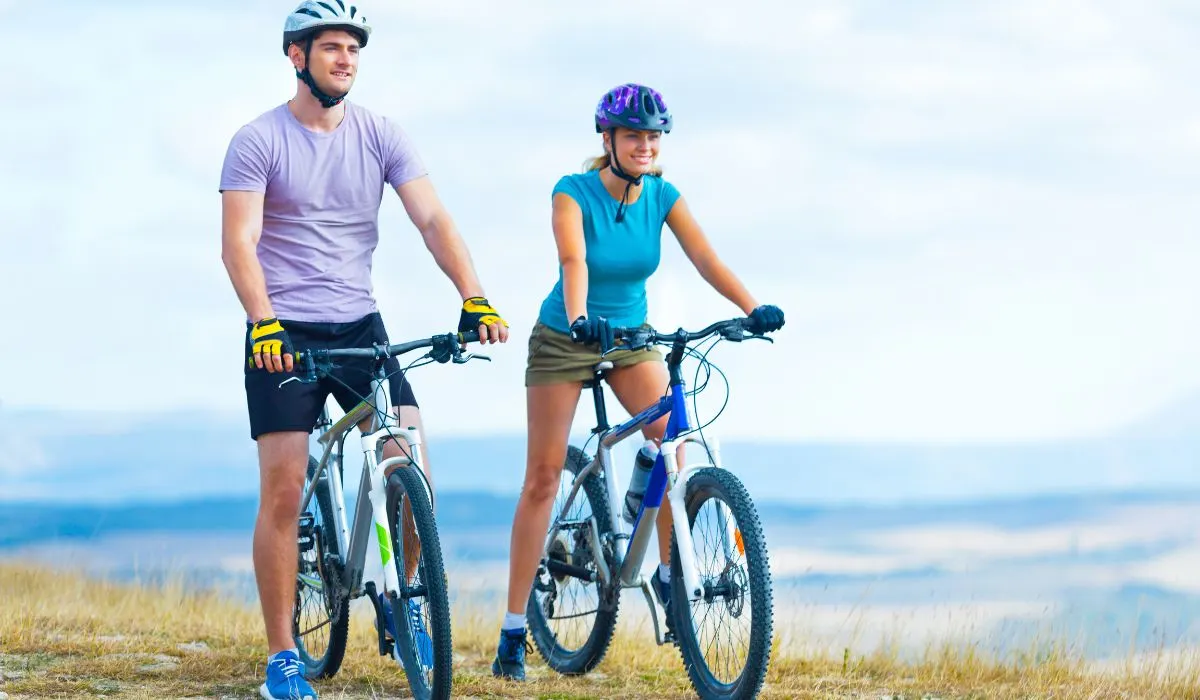 #2: Cycling Shorts
As this guide already includes extensive information on cycling shorts, you should already understand the ins and outs of this part of your apparel. However, there are some other variations of cycling shorts beyond just traditional and bibs that may be of interest during different activities.
Skorts like this one sold on Amazon, are basically bike shorts that have a skirt built into them. They possess all of the same wicking materials and the ever-important chamois but are designed for cyclists who wish to wear a skirt.
Mountain Bike Shorts, sold on Amazon, are very similar to typical cycling shorts but are generally a bit baggier and include a padded spandex liner or a bib liner for increased comfort on rugged trails. Additionally, the outer shorts usually have pockets and durable materials that can handle the trickier terrain.
Cycling Tights, sold on Amazon, are the long-pant version of bike shorts, ideal for cycling on cold days. These tights have form-fitting ankles to prevent mishaps with bicycle gears.
#3: Cycling Jackets
Cycling jackets come in varying styles, take your location into account to determine if you will need a coat focused on keeping you warm, dry, or both.
Soft Shell Jackets like this one from Amazon are ideal for keeping the wind from cutting through your clothing and packing easily into a bag. While these jackets have some degree of water resistance, they are usually not sufficient for heavier rain and can soak through.
Fully Waterproof Jackets like this one on Amazon, keep you dry in any condition with taped seams, but they are not always warm unless they come with insulated linings.
There are jackets that can do all of the above. They are usually more expensive and bulkier, so carrying them around can be frustrating.
Ultimately, no one jacket fulfills everyone's needs, so think carefully about the weather and conditions you are likely to encounter while riding and make as educated a choice as possible.
#4: Cycling Socks
In terms of overlooked apparel, very few things come close to socks. Only high-quality socks will keep your feet:
warm
dry
free of blisters
The best options for cycling socks are either synthetic moisture-wicking bike socks or merino wool socks, both sold on Amazon.
The latter is more expensive but will:
wick sweat
dry quickly
keep feet warm even during soaking conditions
As with all of your other cycling apparel, avoid cotton material at all costs.
#5: Helmets
Everyone is aware that a helmet will help keep you safe, but it can also keep you warm or cool. Generally, helmets fall into three categories:
Multiuse Helmets like this one on Amazon are usually the least expensive type available and are ideal for commuters or riders who don't stick to a specific niche at all times.
Road Cycling Helmets like this one sold on Amazon are focused entirely on being lightweight and aerodynamic with excellent ventilation to maximize speed and efficiency. They do come with a higher price tag as well.
Mountain Biking Helmets like this one on Amazon generally include visors built into their construction and more coverage at the back of your head, but lose out on ventilation thanks to their additional protective qualities.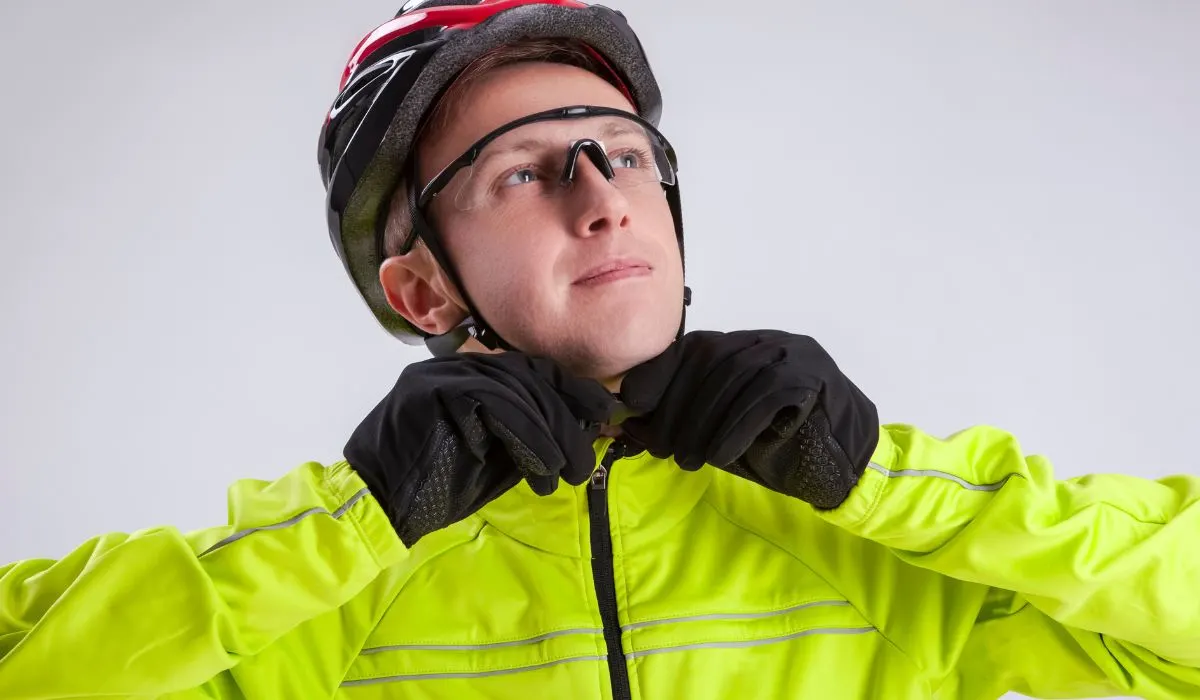 #6: Cycling Accessories
Along with all of the necessary elements listed above, sometimes there are outlying conditions that require additional accessories.
Not everything in this section is necessary for cyclists to have a comfortable ride during most seasons of the year. If you live in rainier or windier climates, consider throwing some of these accessories into your Amazon shopping cart:
Gloves come in many different variations and are not only for cold weather. Fingerless gloves can provide additional padding on the palms of your hands to protect them from the abrasions of the handlebars, and fingered gloves are ideal for those cold days and mountain biking in particular. Most cycling gloves are constructed of synthetic materials and leather and are all designed to provide a more comfortable ride. 
Helmet Covers are a unique product that can help when you don't require much ventilation for your head or during cold weather. These items are generally constructed out of synthetic materials that easily stretch over your helmet and offer a bit of extra protection.
Shoe and Toe Covers are ideal for those cold, rainy rides and easily slip overtop of your bike shoes to help overcome wet and unpleasant conditions. Sometimes all you need is a bit of extra insulation to keep from being too cold, and these accessories help enormously in that way.
Whether you are new to cycling or a long-time rider, having a proper understanding of necessary apparel will give you greater enjoyment of cycling. As any professional rider will tell you, there is no glory in chafing.
So take the time to visit a local cycling store and speak with an expert to find the right kind of cycling shorts and other apparel for you. Remember that there are no perfect items for every single person, and take the time to try things.
Most knowledgeable staff will be familiar with the inner workings of cycling apparel will help you walk out of the store with cycling gear that will last you many years.
You might also be interested in: