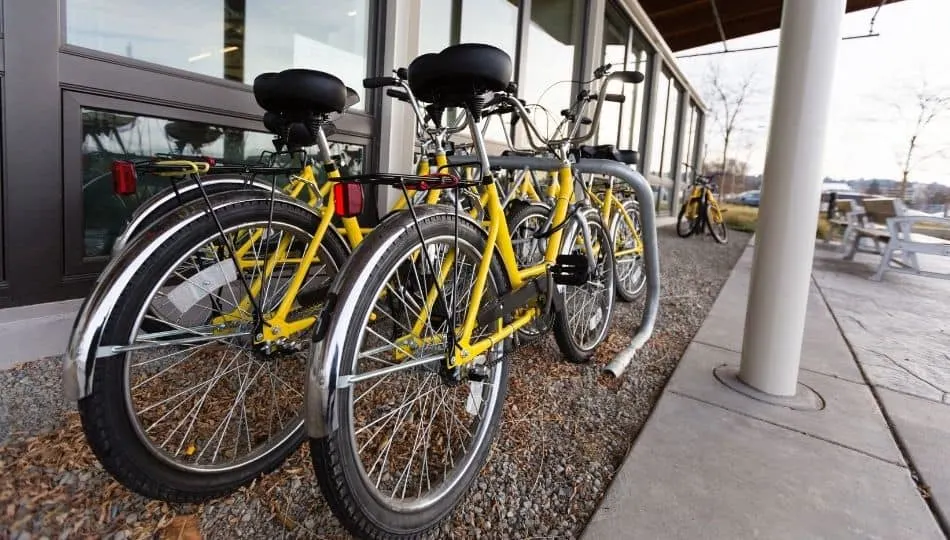 Whether you are a newbie cyclist with just one bicycle or an experienced cycling connoisseur with multiple bicycle's for different purposes, it is undeniable that bicycles take up a lot of space, especially if you reside in an apartment or a small home.
There are a large variety of options available in terms of bicycle storage solutions including:
floor mounts and racks
vertical wall mounts
horizontal wall mounts
ceiling mounts
free-standing mounts
bicycle sheds
Of course, the storage option you choose will have to be suited to your own personal circumstance. This article will go through what you need to consider before deciding which option will work best for you, and I'll also include my top picks…
What to Consider When Purchasing Bicycle Storage
Searching for the most suitable bicycle storage can be quite puzzling; after all, there are thousands of similar, yet different models of bicycle mounts out there. To make your life easier and to efficiently streamline your decision-making process, there are seven questions you should ask yourself… 
Are you planning to store your bicycle indoors or outdoors?
There are specially-designed bicycle storage systems for both the indoors and the outdoors. Consider both what you prefer and what is safer for your bicycle. If you live in what you think to be an unsafe neighbourhood, you probably want to keep your bicycle indoors. If you live in a small home, you probably want to save some extra space for yourself inside. If you live in a high-rise apartment complex, you probably do not even have the choice of storing it outdoors. 
How accessible is your ideal bicycle storage?
While some cycling connoisseurs may like to have their bikes tucked away, others may rather opt for accessibility and efficiency. There are certain bicycle storage solutions that offer a more accessible, easy-to-use approach, while others may be more aesthetically-pleasing, but harder to use.
An important thing to consider is how often you plan on using your bicycle. If the answer is "on a daily basis", it's probably best to choose something that is super easy to access.
How tolerant or proficient are you when it comes to installation?
Like the second question in this section, there are large variances in storage options depending on your installation and building capabilities. While some storages come fully intact and ready-to-use out of the box, others require significant building processes with long instructions.
At the same time, some storage solutions are free-standing, while others require installation to your walls or your ceilings. Consider what tools you have readily available at your home to meet the demands of building your bicycle storage. 
How much space do you have available?
Considering the amount of space you have readily available for your storage system, whether that be indoors, or outdoors. Some bicycle storages are very, very large and require a significant amount of space; these storage options are usually designed to fit on a large surface — like your ceiling, and are capable of holding two or more bicycles. Similarly, there are smaller options that are designed to be used in an indoor, in-home environment where space may not be the most plentiful. 
Is the bike storage compatible with your specific bicycle?
Of the hundreds of different bike storage options out there, there are also many models that are specially-designed for a specific type of bicycle. In most cases, bicycle-specific storage is designed for certain types of bikes, such as road bikes, mountain bikes, commuter bikes, folding bikes, cyclocross bikes, electric bikes, and touring bikes. Ensure that the solution you choose is compatible with your bicycle. 
How portable is your ideal bicycle storage?
This is a crucial point that many cyclists forget to think about. While some bicycle storage systems are permanently installed or mounted to the wall, the ceiling, or the floor, there are also free-standing options that can easily be carried around or moved from place to place. Consider whether you are looking for a permanent storage solution or a temporary option that will need to be relocated frequently. Portable options give you more versatility. 
Who will be using this bicycle storage?
Are you the only person that is going to be making use of or interacting with this bicycle storage? Or are you planning to find an option that is suitable for both you, your kids, or even the elderly?
If that's the case, you may need to opt for solutions that are child-friendly and easy to engage or disengage. Likewise, consider how easy or difficult it would be for children or seniors to use the same device. 
8. How many bicycles do you need to store?
This is an obvious one, but how many bikes do you need to store? Remember, all your bikes don't need to be placed in one area. You may opt for an easy access storage type for your most frequently used commuter bike, but have a different area where you keep your weekend mountain bike.
Or you may have daily bicycle users and occasional bike users in your house, or simple have a lack of one spot where all your bikes can fit. In which case, it may be better to split where you keep your bicycles, rather than have one large area.
Bicycle Storage Solutions for Indoors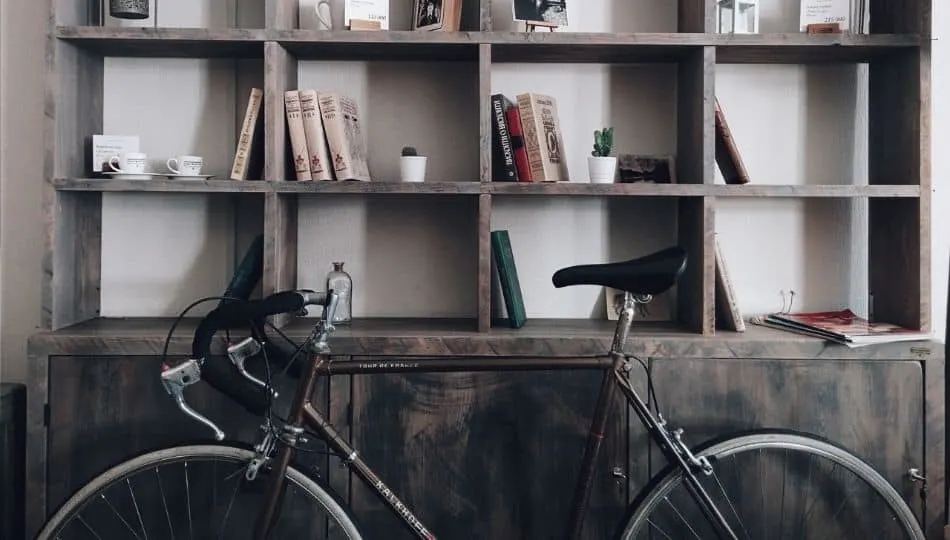 Now that you some idea on what things to consider, let's take a look at some of the best solutions out there depending on your needs. We'll begin with the indoor bicycle storage solutions out there. But first, here's something to think about if you are still deciding whether to store your bike indoors or outdoors….
Storing a Bicycle Indoors vs Outdoors
On the whole, cyclists prefer to store their bicycles indoors, or at the very least, under a roof or some sort of covered facility. And there's a couple of reasons for this…
Indoor storage solutions offer your bicycle the most security, preventing any unfortunate cases of theft.
They protect your bicycle from heavy weather conditions that can cause damage, and possibly early wear and tear to your bike.
There tends to be more flexibility and more options to choose from when it comes to indoor solutions.
The biggest downside of keeping your bike indoors however, is space. But there are quite a few clever ways to store your bike so that it doesn't necessarily take up too much space in your home. Let's go through some different options when it comes to storing your bike indoors…
Floor Racks for Bicycle Storage: Pros & Cons
The most common and simplest type of floor rack is the metallic bicycle floor rack. These are similar to (or even the same as) the bicycle racks you can spot in public spaces; outside school buildings, offices, and malls.
While they are quite simple, they certainly do hold your bicycles really well. And note that these racks are not limited for either indoor or outdoor use; they are suitable for wherever is most convenient for you. There's a reason for their popularity, and here are some of the benefits of this type of bike storage…
They are extremely easy to install. In fact, there are usually zero installation processes. They can be used as soon as you unbox them; just place them anywhere on stable, flat ground and you're good to go! If you hate building or large installation processes, this may be exactly what you are looking for. 
They are quite stable… most of the time. There are two things to watch out for. It is highly recommended that you choose a bicycle stand with a wider base or larger metal beams. This will guarantee optimal stability. Secondly, floor racks usually have a maximum capacity when it comes to the number of bikes you can store. Be careful not to surpass this number, as this can cause instability!
They are well-suited for kids or the elderly. Usually, floor racks require little to no effort to use. You simply just roll the bicycle in place and you're done, nothing complicated. As a result, it is quite suitable for kids or seniors to use. 
They are very accessible. Unlike other bicycle storage options, floor racks usually do not have complicated locking mechanisms and such. Likewise, they are much more accessible and they require much less time to operate and use in comparison to other options on the market.
However, there are two notable downsides that you should watch out for if you plan on purchasing a metallic floor rack for your home or for your space…
Most metallic floor racks are extremely large. This means that they can take up a very large amount of valuable space on your floors, whether you use it in your garage or front yard. Most cyclists tend to avoid such racks for this very reason. Unless you are tolerant of its large size or you have plenty of space, you  may want to reconsider. 
They are not compatible with all bicycles. Because it is such a common storage solution, you may think that it is compatible with all sorts of bicycles. However, that is not the case. Some metallic floor racks are not compatible with smaller bikes that have smaller than 20" wheels. Likewise, wider wheels may not fit and narrower wheels may make the structure unstable.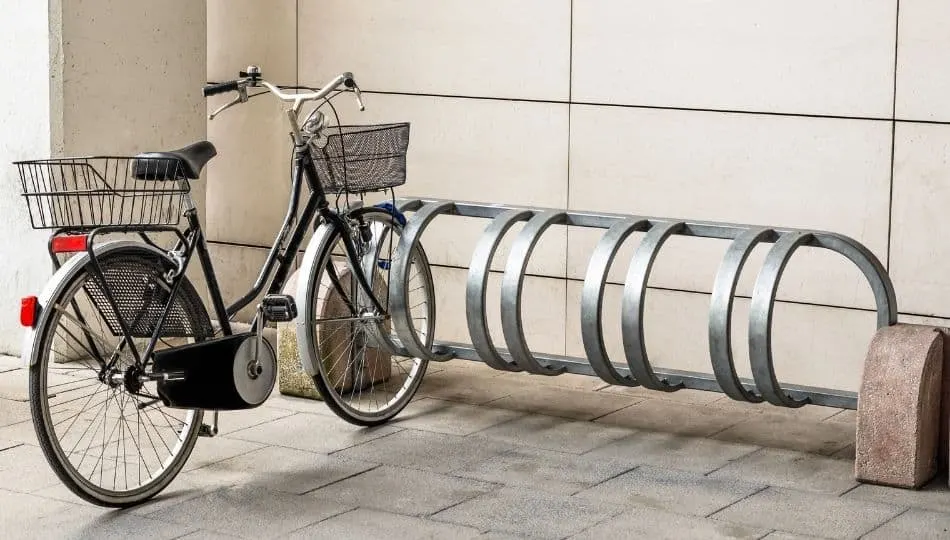 You can check these types of racks out on Amazon here.
Adjustable Bicycle Stands: Pros & Cons
Adjustable bicycle stands are usually designed for and are optimal for only one bicycle, as they only have one slot for a bike. Many cyclists prefer to use this type of storage at home due to its size and portability. With that being said, let's take a look at some of its benefits… 
They are extremely small in comparison to other bicycle storage solutions. Not only are they small, they are also very light and very portable, meaning that you can bring them along with you on any road trip, flight, or cycling journey. For the same reason, cyclists also like to use them in homes, as stated above. Lastly, their small size makes it easier for you to store away when not in use.
They are adjustable. This means that they are compatible with bicycles of all shapes and sizes, regardless of what you use. Next time you purchase a new bicycle, you can breathe a sigh of relief. Adjustable racks can, as their name suggests, adjust to any size you need. 
For a similar reason, however, this can also make them frustrating and unreliable when it comes to storing and securing larger bicycles. Thus, it's downside is… 
They are quite unstable. Because of their small size, they can be quite imbalanced when it comes to holding down large-sized wheels. However, this downside can be offset by ensuring that the rack is adjusted in a way that it very tightly grips your wheel. 
Here's an example of a reasonably priced, durable one on Amazon.
Spring-Loaded Cradles as Bike Storage: Pros & Cons
If you don't fancy the previous option, but would still like a relatively small and portable bicycle storage solution, this option may be your next best choice.
Spring-loaded stands are similar in price to the adjustable bicycle stands, but work quite differently. It utilizes a cradle, in which you can roll the wheel of your bicycle into, which then pushes the bicycle forward into a spring-loaded support. Again, let's first take a look at the benefits of the spring-loaded storage for your bicycle…
They are very accessible. Because of how the contraption works, these bicycle stands are very suitable for anyone to use; children and senior citizens alike. Because the spring mechanism is very low to the ground, the user does not need to lift the bicycle off the ground at all to insert it into the stand. This eliminates any difficulty or strain, and makes it super easy and quick to place your bike in position.
They are extremely stable, even when it comes to holding larger bicycles. Again, because of how the stand works, the bicycle's wheel — when held by the stand — largely sits within the stand. This means the stand gets a much firmer grip on your wheel, ensuring stability. It also supports your bicycle very well. 
On the other hand, the downsides to this sort of stand are less noticeable, but can still create some discourse in the long-run. If you are looking into buying this type of bicycle stand, you should keep in mind that… 
The spring can malfunction after significant use. After some time, the spring in the bicycle cradle tends to malfunction and lose its capabilities. Like any other spring, it also tends to "squeak" or produce other similar noises near the end of its lifetime. This also means that it can lose stability after significant use. 
They do not support all types of bicycle wheels. Again, because the contraption uses a spring to do its job, it cannot support any size of bicycle wheel. That means you can't use the same spring-loaded cradle on different bicycles at home. With that being said, however, they do usually come in a very large variety of different sizes. The only issue is that you must buy many different models if you have a variety of bicycle sizes. 
You can find them on Amazon here.
Horizontal Wall Storage for Bicycles: Pros & Cons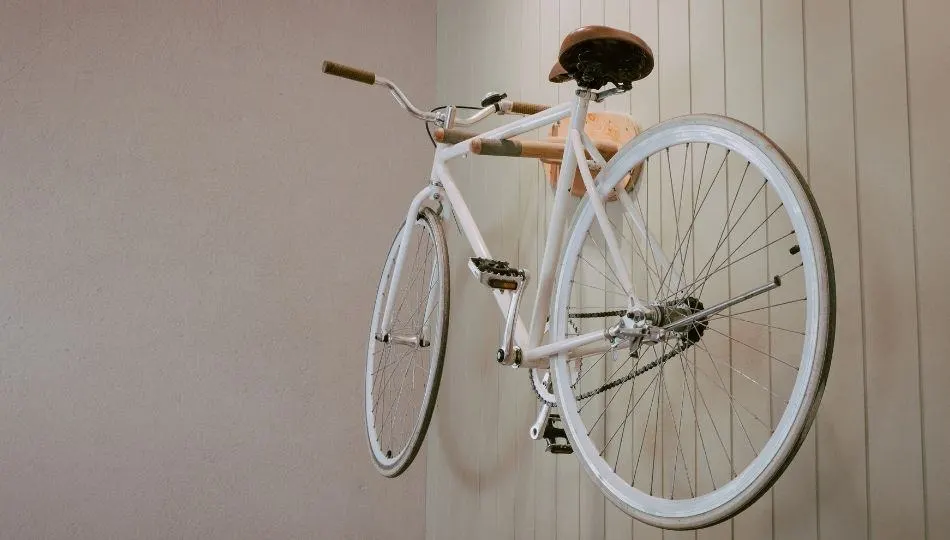 If you believe that you have extremely limited floor space or that your floor space is much too valuable to give up, you may opt to use a horizontal wall storage system. In other words, you can hang up your bicycle along the wall, as you would a shirt or a jacket in a closet. If you also enjoy putting up your bicycle or bicycles for the sake of display, this is probably a good choice as well.
So, what are the benefits?
They take up almost no floor space at all. As the first sentence of this subsection suggests, you may want to consider a horizontal bicycle storage if you have little floor space available. They barely intrude into the room and can be installed higher up if they are still in the way. In doing so, it will also leave you a lot of space for other gears, equipment, other storage, or even furniture on the floor. 
They are very accessible if you have only one bicycle. If you have one bicycle, they are quite easy to use; you simply lift your bicycle off the ground and rest it into the contraption, which will sturdily hold up your bicycle. With that being said, this also means that they are not very good for children or people who struggle to lift their bike (or if you have a really heavy bike for that matter).
Some models require no installation. If you are worried you might potentially damage your walls or you are not very proficient at installation and building, some models offer variants that allow your bicycle to simply lean against the wall, rather than on a high platform. 
They are… beautiful. If you value your bicycle as you would a work of art, this would be the best option to display it like one as well. This storage solution offers an unobstructive, easy-to-see, open view for you and others' viewing pleasure. Some designs are also very aesthetically-pleasing, with the options to match your bicycle or the surroundings. 
As the saying goes, one man's loss is another man's gain. Horizontal wall storages for your bicycles have some significant downsides because it does not occupy your valuable floor space any longer. To note a few… 
They take up a lot of wall space. Although your wall space is arguably less valuable than your floor space is, you also have to keep in mind that you have significantly less wall space available to you. If you wanted to set up some sort of wall design, book storage, or a sort of display, then a horizontal wall storage for your bicycle may cut those dreams short, especially if you own multiple bicycles that you plan on storing in the same manner. 
They are difficult to use if you plan on holding a second bicycle. While they are quite accessible if you only plan to hold a single bicycle on the rack; racking the second one is significantly harder. Why? The second bicycle goes above the first one, meaning that you have to lift it high up above the first bicycle in order to get it safely secured onto the rack. This makes it absolutely impossible for children to use, and very difficult if you struggle to lift your bike high. (Although I did find this clever solution on Amazon which hangs your bike vertically rather than horizontally)
Check them out on Amazon here.
Ceiling Storage for Bicycles: Pros & Cons
If you like the idea of your bicycle just completely disappearing while you're at home, then a ceiling rack might be a great option for you. Here are some of the benefits:
They take up no floor or wall space. It really something you will only notice if you looked up, so this can be a great solution if you're tight on space indoors. Just as long as you're ceilings are high enough!
The pulley system allows easier lift. They usually have pulley systems that allow you to carry even heavier bikes up, which means it is easier than you think to send your bicycle up high.
It does of course have it's downsides…
It only allows for one bike. Each pulley system only allows for one bike to be stored, so this may be a problem if you want to store more than one. Unless you have enough ceiling space to install more systems, or you use it for just one of your bike storage solutions.
You need to install it properly. Due to the nature of where the bike will be, you need to confident that the system is installed effectively. It is a safe system, with mechanisms in place to prevent accidental release, but it does depend on proper installation.
You can find these system available at Amazon here.
Bicycle Storage Solutions for Outdoors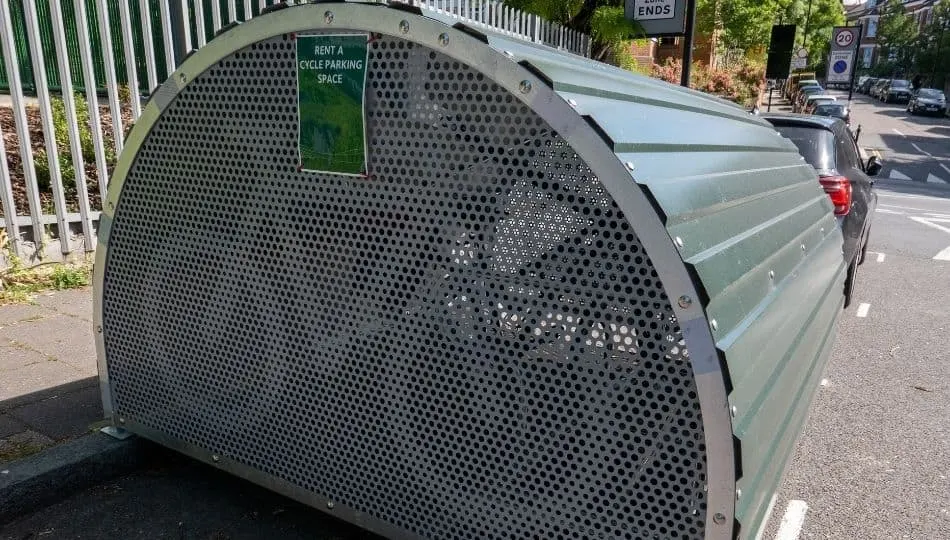 If you believe that none of the indoor storage options are suitable for your needs, you may want to consider using an outdoor bicycle storage. A fair amount of cyclists actually prefer this method because it leaves you, the cyclist a lot of extra space indoors; this method might suit you if you have multiple bicycles, since they can take up an extremely large amount of space.
These bicycle storage options are usually locked — so that it prevents any possibility of theft — and weather-resistant — to keep your bicycle nice and dry, preventing it from rusting in the long-term. Here are your options… 
Bicycle Storage Tents: Pros & Cons
Bicycle storage tents are good options when it comes to outside storage systems for your bicycle. If you are curious as to how they work… they not only work the same as a human tent does, but they also look it. They are a relatively quick and easy option for those that want a cheap solution for their cycling needs. Here are the benefits of using a storage tent… 
They are very cheap. Out of all bicycle storage options you have, this may actually be the cheapest option out there. If you are tight on funds or do not need a beautiful-looking storage for your bicycle, this is your best bet. 
They are relatively easy to set up. Many of the bicycle storage tents on the market require very little set up, as you would imagine a normal tent to be. They are also very easy to take down or disassemble, giving you extra opportunities when it comes to taking it along on cycling trips, road trips, or camping trips and setting it up as you go along. 
They protect your bicycle from the weather, but only to a certain extent. The tarp that covers the tent is designed to be water-resistant, protecting your bicycle from snowfall, rainfall, and almost any type of precipitation. Likewise, they are also said to be UV resistant, preventing any damage to your bike from the sun. 
Because of its cheap price, it also comes along with a handful of shortcomings. While these shortcomings are not detrimental to you, the cyclist, or the bicycle itself, it may push you to consider other, better options. 
They are… ugly. Bicycle storage tents usually consist of a basic vinyl or plastic material. They crinkle up really easily and they can be extremely difficult to clean. As a result, dirty marks caused by the outside elements will likely be long lasting and very visible. 
They are not completely water-resistant. In order to prevent condensation on hot summer days, bicycle storage tents offer a meshed hole or door to allow sufficient airflow into the housing. As a result, you may find traces of water, snow, or ice in the tent after a heavy storm. 
They are compact. While its size is also a significant benefit, it can also be a downside. If you have multiple bicycles… you will need many tents. Most tents are only designed to house up to two bicycles, meaning that they can be very cramped if you attempt to fit three. 
You can get more durable ones that are designed to last longer (like this one on Amazon), but there if you're looking for a cheap outdoor solution, then this one is a great choice (Amazon link).
Bicycle Storage Units & Sheds: Pros & Cons
Although these two storage systems (bike units and bike sheds) are named differently and slightly different in practicality, they are quite similar in terms of use. If you are looking for an outdoor storage solution to your bicycle that outperforms the bicycle storage tents, these may be for you.
They offer a much safer environment for your bicycle and they last significantly longer. These may be your best option if you are looking for a long-term solution. What are the benefits?
They are lockable and durable. A vast majority of bicycle storage units and bicycle sheds are able to be locked, so you can rest assured that your bicycle will not be stolen. These units are also very, very durable, especially if you choose an option that is constructed from metal. Some units are even guaranteed to be fire-resistant and corrosion-resistant. 
They are quite spacious. Oftentimes, these units are large enough to store up to three bicycles, with extra room to store other bicycle gear, equipment and tools, allowing you to keep all your cycling needs in one place. At the same time, if you only need to store one bicycle, there are models on the market that come in much smaller variations. 
However, there are a few downsides you should consider, as they can be quite significant to you personally. 
Some units require a large amount of construction. Unless you somehow purchase a pre-built unit, they require you to construct it on your own. In these cases, you probably also need more than one person for the job, as some parts can be heavy and hard to maneuver.
They are basically immovable. Unless you plan on moving it across your lawn, these storage solutions are practically immovable, meaning that you cannot bring it anywhere for portable use. 
They are expensive. As you might have guessed, because they are a long term, durable solution, they are also expensive, but the upside to that is that you probably won't have worry about ever paying to replace it, as many other solutions require.
Although there are hundreds of bicycle storage solutions on the market, hopefully this guide helps you narrow down your choices and choose the best option for you. Remember to consider all the questions listed before you make your purchasing decision. Be patient and happy searching!