Feeling pain in your lower back, having a hard time walking after getting off your bike? Yes is the answer we get from the majority of the people and the sole solution to that is a "suspension seatpost". In recent years, suspension seatpost have gained popularity. Moreover, the design has improved substantially in recent years. As a result of them, cycling on uneven terrain such as gravel is now a lot more reliable and offers a much smoother ride while you are on the bike. The best suspension seatpost for electric bike may be exactly what you are looking for if you love riding your bike, if you are tired of being sore after riding it. Keep reading the article and discover some of the best suspension seatpost available and choose yours.
What is a suspension seatpost?
A suspension seatpost is an integral part of a bike with suspension and the majority of electric bikes come with a standard seat post that is not equipped to absorb shock well, so you feel every bump and every sudden movement that happens during the ride. Although many electric bikes have wider seats for comfort, this does not mean that the seat posts are suspended.
So, you can minimize the impact that bumps have on you and your seat during the ride by opting for a suspension seat post. As a result, vibrations are dampened and bumps, holes, and rocks are absorbed more effectively.
Top 5 Best Suspension Seatpost for Electric bike
The suspension seatpost isn't a new concept. From the beginning of cycling, bicycle saddles were suspended and cushioned using various tools. Nevertheless, many of them were regarded as devices. However, with time everything got changed and now it's not just devices as they are built with top-notch quality components. Learn in detail below.
Best suspension
seatpost
Diameter
Travel range
Maximum rider weight
  Perfect for
Cane Creek Thudbuster ST
27.2, 30.9, 31.6
50mm

330lbs / 150kg
This seatpost can be used on road bikes, bicycle, gravel bikes, e-bikes (electric), commuter bikes, and adventure bikes
Kinekt 2.1 XL2
25.4mm, 27.2mm, 30.9mm or 31.6mm

0 – 35 mm
320lbs /145kg
Heavy riders
Redshift Shockstop Suspension Seatpost
27.2
35mm
242 lbs 110 kg
Riders wanting full suspension adjustment  
DJC Bike Suspension Seatpost
27.2 30.9 31.6 mm
42mm
220 lbs 99 kg
Those who are looking for best budget suspension seatpost
Cane Creek Thudbuster ST
Thudbuster ST has an innovative design that makes it a smooth performer. In place of a telescoping shaft, the Thudbuster uses two parallelogram linkages which make it unique.
The seat post therefore moves up and down the same way that the seat position moves up and down. In this way, motions feel much more relaxed. Cane Creek's Thudbuster ST comes with an easy-to-adjust single bolt saddle clamp.
Exclusive features:
This bicycle seatpost is designed for exceptional shock absorption while cycling with a travel of 50mm (1.97in).
With the Thudbuster suspension seatpost, you can absorb bumps, turns, and drops. By doing this, you will have a smoother ride, which will increase the enjoyment of biking and allow you to ride for a longer period of time.
A completely new design improves durability and suspension travel over the previous model.
Easy seatpost adjustment with no tool-free elastomer replacement.
With this suspension seatpost, you will have optimal comfort and performance for your road bike, gravel bike, e-bike, commuter bike, or adventure bike.
With a range of elastomer spring rates available, you can choose what fits your weight and riding preference.
Note – Why Are Road Bike Seats So Small, Thin, Hard, And High?
KINEKT 2.1 XL2 Aluminum Bike Seatpost with Suspension
The KINEKT 2.1 XL2 Aluminum bike seatpost with suspension is the perfect addition for the heavier riders who wish to improve their riding experience on their bikes. With KINEKT, you will find comfort and control are improved, and you will feel more confident on your bike. It's the perfect addition to improve the riding experience of heavier riders. Overall, this suspension seat post is very comfortable.
Exclusive features:
Using two springs placed into a sliding mechanism, this allows for a 35mm vertical travel with no friction. Moreover, suspension can be adjusted according to your preferences.
You can adjust the cushioning by manually tightening the lower spring according to your weight.
With this suspension seat post, there is a little bounce, but you can reduce it by tightening the lower spring. Especially when riding off-road trails or other uneven terrain, this product will make cycling more comfortable.
With a strong aluminum construction, this seat post will provide you with added control and confidence when cycling. It ultimately helps isolate your body from vibrations and impacts.
Redshift Shockstop Suspension Seatpost
As with many others, the Shockstop Seatpost is available in a 27.2mm post with additional shims. It fixes to the saddle in the same manner as any other seatpost. You can use it on most bikes and it's very affordable. Here look at its features.
Exclusive features:
Besides being lightweight, Redshift Shockstop is available in sizes ranging from 90 mm to 120 mm.
Choosing the level of firmness is possible thanks to the elastomer's ability to control the suspension.
The suspension is fully adjustable and the seat clamp is secured by two bolts. A second spring can be added to make it more comfortable and custom fit for you. You can also fit a saddle bag with the removable mudguards.
Additionally, your body will be relieved of fatigue and improved efficiency thanks to the 35mm of tunable travel.
DJC Bike Suspension Seatpost 
A popular reason for the popularity of this suspension seat post is the reputation of its manufacturer. The high-quality aluminum of the seat post helps keep your body comfortable even over the bumpiest paths, preventing you from feeling fatigued and vibrating. There are other reasons as well, check them out!
Exclusive features:
Suspension seat posts have a built-in coil of springs, as well as rubber dampers, which prevent vibrations from occurring when riding. The way it absorbs small bumps makes it a good choice for road bikes
This product is easy to install and works well with any bike.
The materials are high-quality and it's extremely durable.
Multilayer sealing ring, waterproof and dustproof, effectively prevents the inner tube of the seatpost from becoming dirty, prevents internal oil from leaking, and maintains the internal lubrication.
With double nails and rails, you can adjust the saddle angle to meet your needs, and your cycling comfort will be greatly enhanced.
SR Suntour Sp12NCX
Comfort and performance are the hallmarks of the NCX seatpost. Designed with a parallelogram shape that has a total travel of 50mm, it ensures smooth small bump compliance. Overall, it is built for utmost comfort, low maintenance, and enduring durability, this post will give you a long lasting impression. SR Suntour Sp12NCX seat posts are the best in class when it comes to value and performance.  If you are looking for the ultimate in comfort on your electric bike or bicycle, this is the accessory you need.
Exclusive features:
SR Suntour NCX Suspension seatposts absorb bumps and vibrations, allowing you to ride smoothly and comfortably.
This high-quality suspension seatpost from SR Suntour is designed to last for years to come.
A spring tension adjustment is available on the NCX Suspension Seatpost from SR Suntour, so you can customize the ride to fit your needs.
This suspension seatpost is compatible with all Euphree City Robin models.
Why use a Suspension seatpost?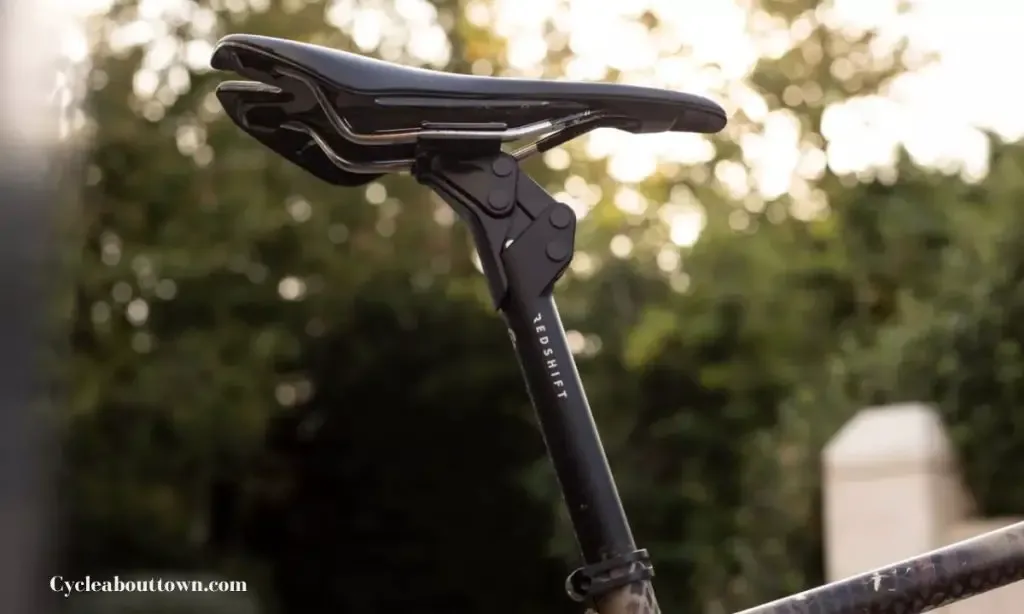 Comfort can be improved
It absorbs larger impacts and dampens vibrations arising from the road as well. Your body will feel better and experience less strain while you ride at the end of the day or easily allow you to able to ride longer!
Sitting can be more comfortable
A suspension seatpost lets you pedal even on terrain that normally requires you to stand up while pedaling. The legs often feel fresher when you aren't standing up as much on the same bumpy climb as with a rigid post.
Pain in the lower back can be reduced
Many people who have suffered back injuries have said that they would not be able to ride a bike without a suspension seatpost because of their injury. With this, you will be less likely to strain your lower back by isolating vibrations and bigger hits from your body.
Boost narrow tyre bikes' performance
By using a suspension seatpost, you can ride narrow tyre bikes on more difficult terrain. The situation isn't exactly perfect, of course, but you would be surprised how well the vehicle performs off-road when it's fitted with 38mm tyres!
Weight or height is not a factor
Whether you will find a regular seatpost comfortable depends on your weight, as well as how much of the seatpost sticks out. A suspension seatpost upgrade is most beneficial to smaller riders because their body weight is lower and their seatpost is less exposed.
A full-suspension bike is heavier, affordable, and simpler
A suspension seatpost can be fitted to a hardtail to achieve similar levels of comfort without adding any weight, price or complexity to the bike.
Buying Guide:
There are a number of different products that we have tried out and have been able to narrow down our choice down to these 4 important factors. Make sure to consider these factors before buying one.
Load capacity
Basically, load capacity refers to how much weight the suspension is able to hang onto while still being able to provide you with an enjoyable ride. We have searched for suspension seatposts that would be suitable for the majority of riders in the above section. Check them out!
Travel suspension
A comfortable ride depends on how much movement the seat posts have while peddling.
Weight
The suspension seat post was designed to be lightweight while still being able to support a person's weight. So make sure you choose the product accordingly.
Material
In general, stainless steel, nylon, aluminum alloy, and aluminum are the most commonly used materials. We have a wide array of choices below, so select based on your preferences.
FAQs about Best suspension seatpost for Electric bike
Q1 – Is suspension seatpost really worth it?
Ans – On rocky paths, suspension seat posts allow you to sit for longer periods of time, which can help you conserve energy. In addition to absorbing bumps and vibrations, suspension seat posts also provide greater comfort so that you don't have to exert as much energy pedaling. Overall, it is totally worth it.
Q2 – Are there any suspensions that are better than others?
Ans – Suspension setups with a firm suspension are more rigid than those with a soft suspension. Firm suspensions often result in a jiggly ride at low speeds due to the passenger feeling every bump and irregularity. In contrast, a vehicle with a firm suspension setup will handle better.
Q3 – How effective are suspension seat posts?
Ans – It is true that suspension seat posts absorb vibration and shock when riding. The easiest way to make your bicycle more comfortable is to install a suspension seat post.
Wrapping up!
As mentioned in the article, we have reviewed some of the best suspension seat posts on the market right now. Now you know that when cycling over a rough or bumpy terrain, a suspension seat post is highly beneficial.
Getting a suspension seat post will change the way you live for the rest of your life. You can now buy the most comfortable suspension seat post you have ever experienced by choosing from the above choices.