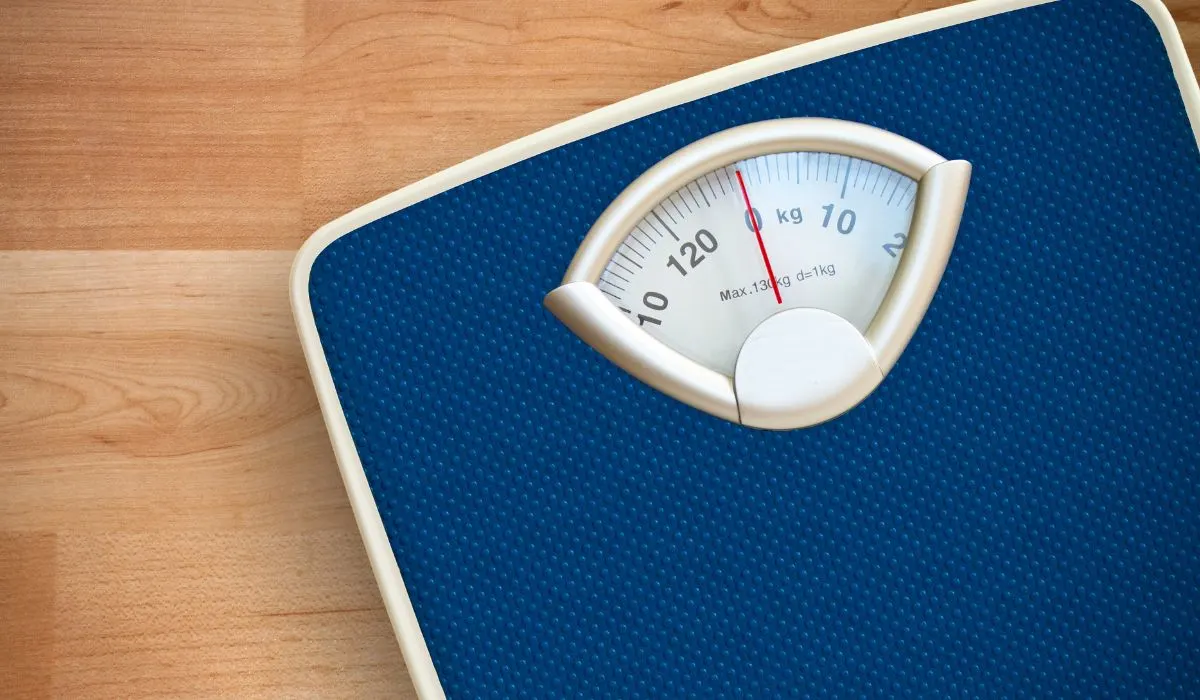 Many people started riding bicycles as children, and generally, the only thing that was ever considered was if the bike was too large or too small. If bicycle riding starts at a young age, children's bicycles are used, and as the child grows older, the size of the bicycle increases to accommodate the growing child. But what about weight limits? Do bikes have weight limits?
Bicycles commonly have a weight limit, and most bicycles will only safely hold a weight of between 265 lbs to 300 lbs. This is a generalization as many factors come into play, including the bicycle:
Of course, there are specialized bicycles made for people who exceed those weight limits.
In this article, we will look at:
Why do bicycles have weight limits?
How weight will affect your bike.
Which factors influence how much weight a bicycle can carry?
Provide a guide to the best bicycle to choose for heavier riders and those wanting to carry weighty luggage.
Do Bicycles Have Weight Limits?
Most mechanical objects have weight limits, like:
Bicycles also have weight limits. The average weight limit of a bike made for an adult is usually from 265 lbs to 300 lbs. This does make finding a bike for heavier people quite tricky.
What is Meant By Weight Limit?
The weight limit for a bicycle is the maximum amount of weight the bike can safely carry without being damaged or breaking. This includes both the weight of the cyclist and their gear and luggage.
Weight limits must be considered if you are:
a larger–build
heavier than the bike's weight limits
considering carrying cargo or luggage with you on your bicycle
Why Do Bicycles Have A Weight Limit?
Bicycles have a weight limit for a few reasons. The main reason is safety. Much like other forms of transportation, a bike can also be overloaded, causing a reduction or failure of various mechanisms and components of the bike. This could lead to nasty accidents.
Manufacturers also provide weight limits to provide themselves with cover in the case of lawsuits. However, this does also boil down to ensuring that their customers are safe and have sufficient information as to how much weight a bicycle can safely carry.
How Does Too Much Weight Affect A Bicycle?
To fully understand why bicycles have weight limits, let's look at how too much weight can negatively affect a bike.
Weight limits will help protect various mechanisms and components of a bicycle from:
overloading
breaking
malfunctioning
Most people know how much weight they can personally carry before it becomes a danger to themselves. Too much weight and a person's knees, back, or arms may give out. The same goes for the components of a bicycle with too much weight.
With too much weight, any given component of the bike may:
This is damaging to the bicycle and could put the rider in danger. If not leading to an immediate threat, overloading a bicycle may also end up leaving a bike with a shorter lifespan due to overworked components.
This may make it seem like bicycles are limited in their weight capacity, but there are ways that manufacturers can increase the weight limit for a bicycle.
Look out for these things if you're in the market for a bicycle that can carry more than the average weight.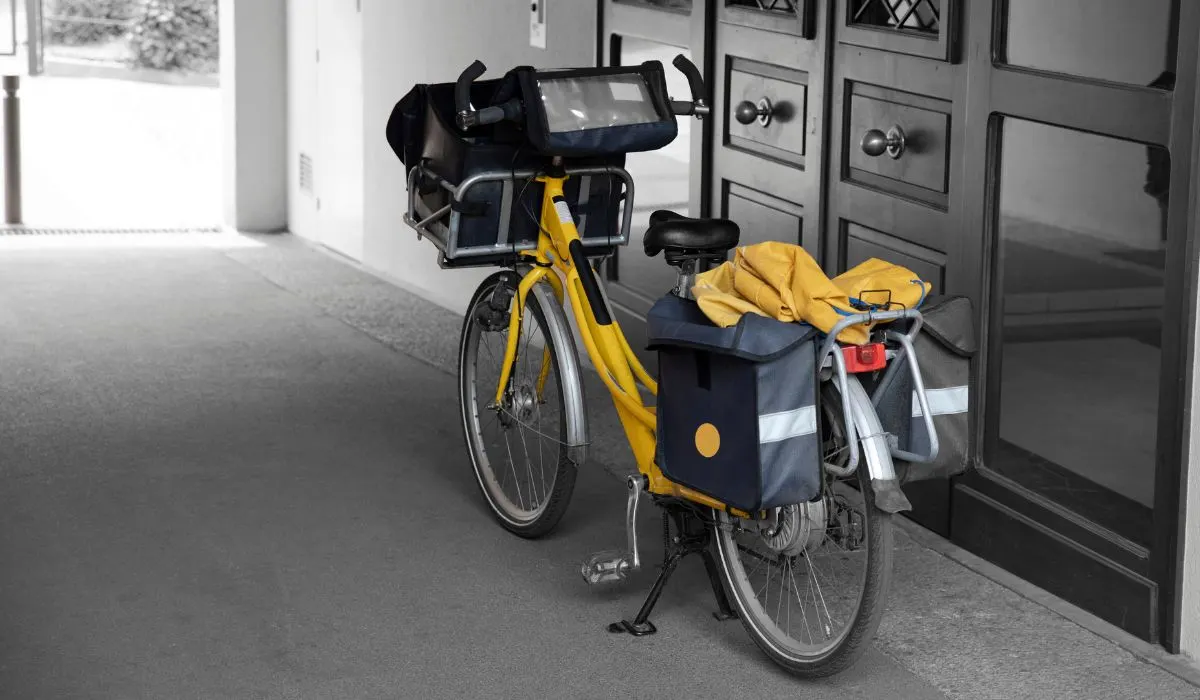 Factors That Influence A Bicycle's Weight Limit
The following are the factors that influence how much weight a bicycle can carry:
Seat
Handlebars
Tires
Wheels
Brakes
Bicycle Frame
While the bicycle frame may seem durable and generally sturdy, it can determine how much weight a bicycle can carry.
The material from which the frame is made is the first consideration, as there are a variety of different materials that frames can be made of, with each material having different strength.
Steel frames can take more weight than aluminum frames. Steel alloys will also have a greater load-bearing capacity. Steel alloys also have greater flexibility, making them great for larger loads.
Carbon fiber frames, while strong, are more brittle and may crack if subjected to a heavy load and uneven surfaces.
Suspension
The bicycle suspension will be taking on a lot of the stress from the road surface, it absorbs most of the bumps, which will be more intense if your bicycle is carrying a heavier load.
A bicycle with a more rigid suspension system is best if you are a heavier rider or intend to travel with heavy loads. A rigid suspension system will provide additional capability, making your bicycle stronger.
Seat
The seat will be the area of the bicycle that will take a large proportion of the cyclist's weight. It should be large enough and provide sufficient room for the rider to be comfortable, which will play a significant role in weight distribution.
Handlebars
The handlebars are another central contact point between the cyclist and the bike. Their distance from the seat can be a factor in the weight capacity of a bicycle.
A further distance will provide a significant weight distribution over the bike, which may allow for a greater weight capacity.
Tires
The tires of a bicycle are essential when it comes to weight capacity. The wider the tire, the greater the weight distribution, which allows for a heavier weight.
Wheels
The wheels of a bicycle are what will take the final weight of the:
If there is too much weight, the wheel's rims may become damaged. Opting for wheels with a smaller diameter and more spokes is advisable, which will better handle the pressure of a heavier load.
Brakes
Brakes are an essential safety feature of any bicycle and are the most integral feature in getting the bike to stop. The more weight on a bicycle, the more the brakes will have to work to bring a bicycle to a stop.
That said, if you're looking at heavier weight loads for a bicycle, you should consider investing in a sound braking system that can withstand working against the greater force of motion that a heavier weight will cause.
Guide To Suitable Bikes
Whether you want to carry more luggage with you, or if you are heavier than the weight limit and concerned that you may not be able to take up cycling, there is no need to worry. As seen above, there are ways to customize a bicycle to work with larger weight loads.
When in the market for a bike, it is important to know what your cycling needs are.
Will it be for a simple commute or exercise? What surfaces will you be riding on? These will play a role in determining the best bike for heavier cyclists.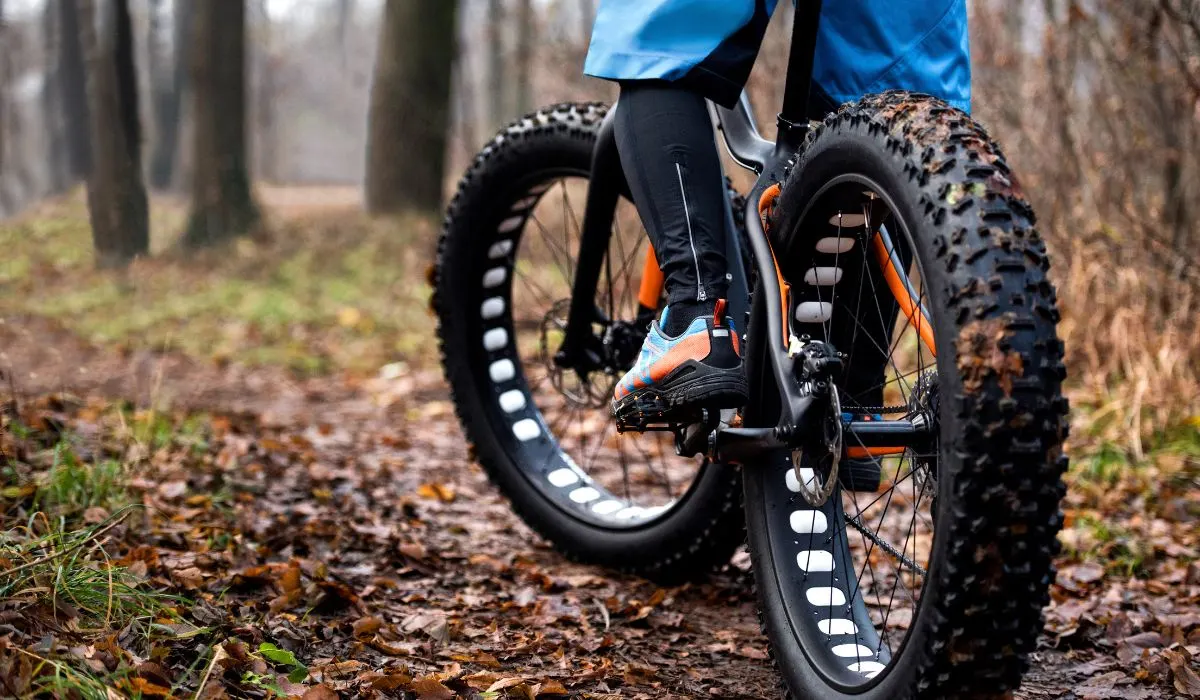 To ease your decision-making, here's a list of the eight most suitable bikes for taking on heavier loads, and most can be purchased from Amazon at great value (I've provided a link to the bike on Amazon where possible):
Mongoose Fat Tire Malus
Mongoose generally makes really sturdy and strong bikes that can take the maximum impact, so they immediately spring to mind when considering a bicycle for heavier riders.
TIP: Their fat tire range is perfect for those on the upper end of the weight limit, and the wider tires provide a larger weight distribution allowing the bikes to cater to larger riders.
The Mongoose Fat Tire Malus is an excellent option for heavier riders. With an alloy steel frame, it is hardy and robust. It also comes with rigid fat tires with a 4.5-inch width giving them fantastic weight distribution, and it has seven speeds.
With rigid suspension and a 330lb weight limit, this bicycle is right up there for heavier riders. It additionally comes with a kind price tag in the region of $450.
The only cons of this bike are the fat tires which do require more leg push, but with seven speeds, there is at least a bit of help.
You can find it on Amazon here.
Mongoose Fat Tire Dolomite
The Mongoose Fat Tire Dolomite is a further offering from Mongoose, and they are consistently one of the best manufacturers of bicycles that can handle larger loads.
The Dolomite is also a fat tire bicycle and also shares the 7-gear range of the Malus. It's a sturdy bike that produces a smooth and stable ride.
It has a steel alloy frame and lightweight but strong alloy rims that are perfect for taking on larger weights. The bikes come with all-terrain tires that can easily be ridden on the road or trails.
The bike retails at around $450, so it's a great deal for many bikes. It's available on Amazon here.
Schwinn Bonafide Men's Mountain Bike
The Schwinn Bonafide Men's Mountain Bike is a well-designed bike that offers a comfortable ride. It's on the pricier side, but a solid, strong bicycle that can take considerable wear and tear provided you take good care of it.
The Schwinn Bonafide bicycle is built for heavier riders and has a strong aluminum frame. With 24 speeds and front suspension, this bicycle offers a comfortable and solid ride.
The maximum weight capacity is 300 lbs, and as a mountain bike, it can take on a variety of terrain from smooth to bumpy with ease.
You can find it on Amazon here.
Diamondback Hardtail Overdrive 29
Diamondback offers three versions of the Diamondback Hardtail Overdrive 29 (1, 2, and 3). These are sturdy, hardy mountain bikes that are excellent bicycles for heavier riders. They have frames made from aluminum and hydraulic disc brakes that can handle additional force.
All three bikes offer a weight capacity of 400 lbs, as well as being able to cater to taller riders. These durable bicycles come with at least a 5-year warranty on the frame, which is always a good thing to have.
The prices vary among the three and are related to different tiers of components, with the Hardtail Overdrive 29-1 being the entry and budget option. Each subsequent option has additional features, but all three bikes are solid and perfect for larger and heavier riders.
You can find it on their site here.
Gravity Bullseye Monster Men's Fat Bike
The Gravity Bullseye Monster Men's Fat Bike has huge fat tires, and with those come fantastic weight transfer. This bike can take up to 400 lbs of weight. This is an entry-level fat tire bike, but it's definitely at the top of its tier.
This bicycle is fantastic for riding whatever the weather and can even handle mud and snow. It is lightweight but sturdy, strong with an aluminum frame, and handles well.
FUN TIP: This is a surprisingly fast fat tire bike, which will give the rider a lot of fun out on a trail.
The only downside is that the brakes are not quite strong enough for their size, and it's a heavy bike. It's available at Amazon here.
Firmstrong Bruiser Man Single Speed Beach Cruiser Bicycle
The Firmstrong Bruiser Man Single Speed Cruiser Bicycle is a great bike. Its steel frame makes it strong, and its overall design is trendy and comfortable as the extended frame offers more space for the ride.
This bike can take a weight of 350 lbs and is fantastic for cycling around town. It also comes with an extra-width seat, perfect for taller individuals, ensuring maximum comfort during your ride. Aluminum wheels and rims add to the strength and durability of the bike.
The Bruiser Man Cruiser comes in a few tiers with a:
single-speed
3-speed
seven-speed
The only con this bicycle has is that it's made for riding on asphalt and smooth surfaces, so you won't be able to take it to the trails or explore off-road. You can find it on Amazon here.
Sixthreezero Around The Block Women's Beach Cruiser Bike
The sixthreezero Around the Block Women's Beach Cruiser is easily one of the best women's bikes for larger or heavier riders. This bicycle can handle up to 380 lbs, putting it amongst some of the major heavy lifters currently available.
These bicycles are offered in 24″ and 26″ options and cater to shorter and taller women.
Both Bicycle sizes of the Around the Block Women's Beach Cruiser come in three-speed options:
three-speed
seven-speed
21-speed
The Around the Block Women's Beach Cruiser has a steel frame making it a strong bicycle, and its rigid suspension helps it manage extra weight. Back and front hand brakes give it perfect stopping power.
This bicycle is also attractive and is perfect for everyday use, plus it has an affordable price range. Check it out at Amazon here.
Sixthreezero EVRYjourney Men's Hybrid Cruiser
Sixthreezero also produces the EVRYjourney Men's Hybrid Cruiser, another great offering for heavier cyclists. Like the ladies' beach cruiser bike, the men's EVRYjourney Hybrid Cruiser comes in 3 iterations based on the gear capacity.
The EVRYjourney Men's Hybrid Cruiser comes in:
single-speed
3-speed
21 speed
This bicycle can carry up to 300 lbs and has classic styling, with the frame made of aluminum, thus making it lightweight but strong and durable.
The EVRYjourney Hybrid Cruiser is the perfect roundabout town ride with rigid suspension and upright seating, providing a comfortable journey. Check it out on Amazon here.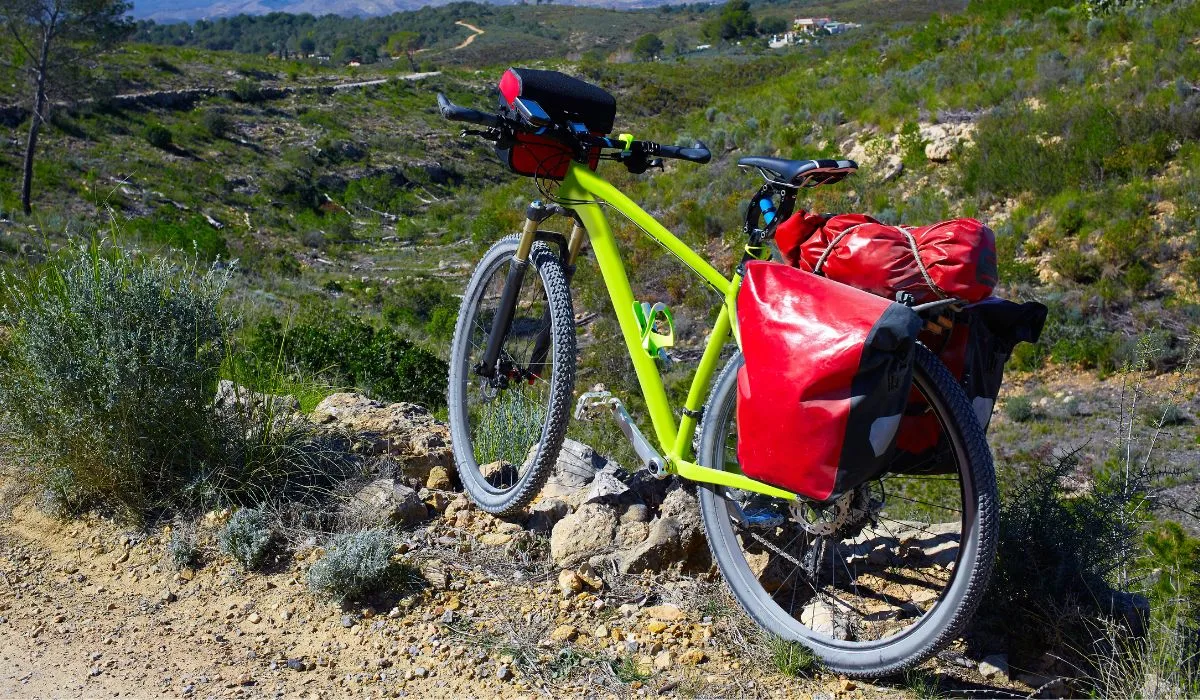 Conclusion
Bicycles have weight limits, which is necessary for the rider's safety as the various components and materials may fail if too much weight is experienced. There are various ways a bicycle can accommodate more weight, with the:
frame
seat
handlebars
brakes
suspension
tires
wheels
More and more bicycle manufacturers are building suitable bikes for larger or heavier people. Generally speaking, mountain bikes are always a good option for heavier individuals due to their overall sturdiness. Fat tire bikes are also a good option due to their brilliant weight dispersion and width.
You might also be interested in: