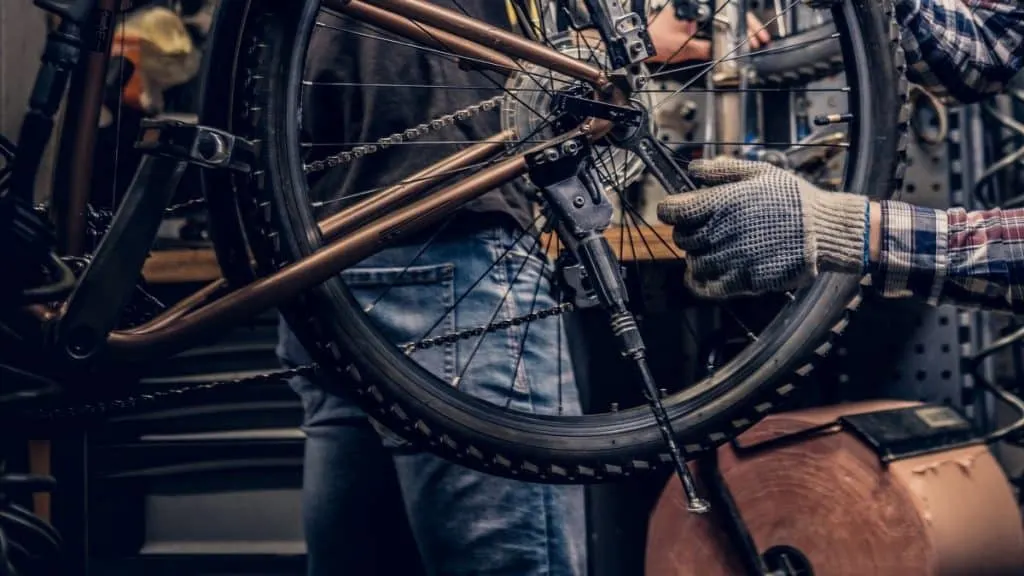 While bikes are fairly low maintenance, there will no doubt be some maintenance costs that come your way, and bike gear replacement is one of the first bigger expenses you're likely to need.
On average, the price to fix bike gears will be somewhere between $10 and $40 per part. However, the cost will be dependent upon the type of bike and the specific gear problem you have.
To get more of an idea of exactly how much it would cost to fix or replace your bike gears, let's break it down a little…
Firstly, we need to figure out if the whole gear system needs replacing, or if there is a specific part that can simply be replaced or repaired. Let's start at the beginning…
What Exactly are Bike Gears?
Gears are the little shifters found around the bike handles. They adjust to help you push the pedals, no matter what kind of terrain you are riding on.
Generally, the lower gears will help with uphill and rougher terrain, and higher gears will help with downhill and smoother terrain.
Depending on the type of bike you have, you may have simpler or more sophisticated gears. It goes without saying that the more sophisticated the gears and gear mechanism, the more maintenance it would require, and the more costly it would be to fix.
Do your Bike Gears Really Need Replacing?
If you are having trouble with your gears, try maintenance first, as sometimes is all it takes to get them back to working optimally again, saving you an unnecessary cost.
The first thing to try before replacing them is to give them a good greasing. You can adjust and lubricate gears in a matter of no time, and it takes little to no technical skills to do it.
This is great video showing you how to make sure everything is greased and in good condition when it come to the gears, chain and cogs (they are all connected):
As you can see, it takes 2 minutes to do, and keeping gears lubricated works wonders for your bike. It will keep you from having to pay high costs all at once.
If you've tried giving your gears a good clean and grease, and you find that the gears are still not working properly, then more than likely there really is some sort of repair that is going to be involved.
The cost will depend on what specifically need repairing or replacing, but let's take a look into this in a little more detail…
The Cost of Repairing Bicycle Gears 
Gears do not just consist of one piece. In fact, they work in a systematic way; tightening the chain and stiffening the pedals. If you have a problem with your gears, the price will vary depending on the issue.
Below, I've listed out some of the most common repairs along with their prices, which include the replacing and fitting of new mechanisms and full cable replacement, among other things.
It'll help you figure out what's going on with your gears and how much it should be costing you…
Cost of Adjustment (Indexing) of Bike Gears
The most common solution to issues with gears is an adjustment, also known as indexing. Over time, the cables in your gears naturally stretch out, and so the gears will need to be realigned so that they shift smoothly again.
Mechanics turn the gear shifters near the bike handles to test whether or not gears shift with each click. They may then use a tool to turn them and get them properly aligned. Once this is done, you should feel a smooth shift with each gear that you turn.
The cost and time for this repair are:
Average Cost: $10 per gear
Duration: About 30 minutes
It's a relatively easy problem to fix and rarely requires a replacement of any parts.
Replacing and Fitting New Gear Mechanisms on your Bike
If certain parts of the actual gear mechanism is damaged or worn out, then you'll need to get these parts replaced and fitted correctly.
Replacing a gear mechanism used to be a fairly simple job (and still can be if you have bike that is of an older design). Nowadays, however, it can get pretty complex. Modern-day bikes have a lot more going on and take some dismantling.
When replacing this part, there are special tools involved, which will be used to take apart the gear system and replace each shifting mechanism as needed.
The cost and time for this repair are:
Average Cost: $20 per mechanism
Duration: About 30 minutes
Full Cable Replacement and Adjustment for your Bike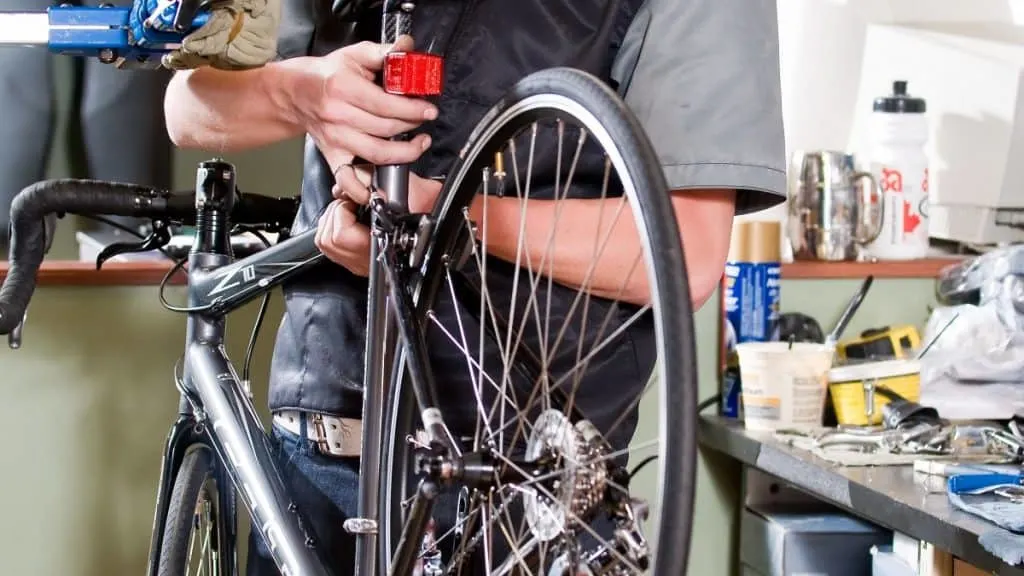 Earlier we talked about the common issue of the cable becoming stretched over time and needing adjusting. But sometimes the cable simply becomes too old and worn out, and you will never have a smooth shift.
If you feel that shifting gears is difficult and feels rough, your mechanic may suggest a full cable replacement and adjustment. While not a complicated process, it comes with the need to take a few things apart.
Mechanics will take the bike apart and remove the old chain. Then, they will add the new chain, making sure that it is lubricated properly before adjustment. Finally, they will test shifting to make sure your bike shifts smoothly and correctly without skipping gears.
The cost and time for this repair are:
Average Cost: $40 (includes front and rear gears)
Duration: About an hour
Replace Inner Gear Cable and Adjustment on your Bike
The inner gear cable is very thin and sits on the inner part of the gear shifting system. It is not difficult to replace, but it takes a great deal of patience and knowledge since it means messing with small pieces.
The replacement goes hand in hand with cable replacement and will usually take place along with it. You will know that the inner cable is acting up if your gears are sticking when you attempt to shift.
If you feel any tension when shifting, you should have a mechanic check out the inner gear cable, making sure it is working properly. As with other cables involved, a replacement will end with an adjustment.
The cost and time for this repair are:
Average Cost: $15 per gear
Duration: About 30 minutes 
Getting a Bike Diagnostic (Shimano Di2)
If you have a more sophisticated bike, you could let technology take care of the work for you. Di2 is an electronic gear shifting equipment that delivers smooth gear shifts on any terrain.
The Shimano Di2 system is known for accurate and point-in-time views of your gear system's health, meaning up to date information that shows where problems lie.
Use this information to see whether you need a replacement or just an adjustment. Investing in a system like this is like having a mechanic in your back pocket.
You will know exactly what is going on with all the parts of your bike at all times. If you are a serious bike rider, this could be a great option for you.
The cost and time for this repair are:
Average Cost: $550
Duration: Instant
Beware of a Worn-Out Drivetrain on your Bike
If you are an avid biker and always up for an adventure, your drivetrain probably gets worn out pretty fast. Imagine metal against metal, clicking and shifting to keep up with your most daring rides.
There will be some wear and tear after each ride, which is something you should be aware of. Keeping a healthy drivetrain is essential to achieving a smooth and safe ride. To keep gears, shifters, chains, and gear mechanisms healthy, you should make sure to maintain them properly. This includes:
Keeping them lubricated (especially in the winter)
Adopting a maintenance ritual after each ride
Finding a mechanic that you know and trust
Replacing chains and cables after every 1,000 miles (less if you are a rough rider)
The Importance of Getting to Know Your Bike 
Perhaps the best way of keeping your gears and drivetrain safe is to know your bike. Pay attention to early signs of wear and tear and try to tackle them as fast as you can.
If you are on your bike daily and rely on it for work, listen to and feel each shift. If you notice that it is becoming more difficult over time, think about a little TLC for your bike.
A little bit of maintenance goes a long way, but if you keep feeling the same jerks and tugs after you have given your bike some love, then it's time to hand it over to a professional.
Bike mechanics know what to look for and have all the necessary tools. Plus, they can usually get things diagnosed and done in little to no time at all. The only issue is, you need to choose a mechanic that you trust.
The best thing you can do to avoid costly bike fixes if to have a proper maintenance plan to keep your bike shifting smoothly and lasting longer. That way, gear replacement/repairs and other services will be needed far less often.
Check out my article here to learn about how much it would cost to replace/repair your bike wheel.