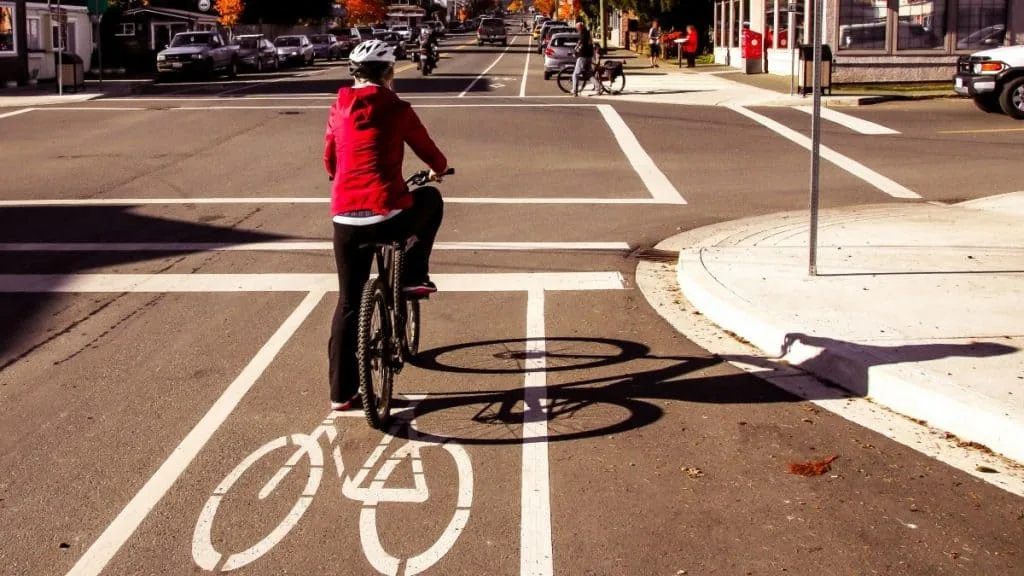 Cycling to work has become one of the most popular ways to commute due to its numerous benefits. You can stay in shape and save money on gas while reducing your carbon footprint.
But cycling to work takes a little planning in order to let it go smoothly. And many of us only learn this through making all the mistakes (which may or may not have been me…ahem)
In this article I'm sharing 20 of my favorite hacks that make cycling to work a breeze. You'll save time and hassle without having to go through a learning curve like I did!
#1: Carry at Least One Change of Clothes  
Cycling leaves you exposed to the elements and you should be prepared for the weather, no matter where you live. Whether it's hot or rainy, freezing, or muddy, you may find yourself in the situation of needing a change of clothes once you've reached your workplace.
You can bring at least one spare set of clothes with you at the beginning of the workweek and store it somewhere safe just in case. This will give you some peace of mind regardless of the weather conditions that will accompany you on your way to work. You'll be ready to face any sudden change without a worry.
#2: Remember to Accessorize
You can invest in plenty of gear for your cycling commute, but you should have some essential items from the start. Below you'll find some of the accessories you should stock up on as you prepare for your commute.
Always Bring Your Cycling Glasses
Cycling can be a relaxing activity, but it always comes with plenty of air friction. Protect your eyes with a pair of glasses that will shield you from dust, wind, insects, and whatever particles will be kicked up by your wheels that you don't want in your eyes. 
Sunglasses are great when you need to tone down the glare of the sun, and they can also keep the worst of rainfall away from your eyesight.
Customize Your Water Bottles
This may seem like it goes without saying, but water bottles are necessary companions on bike rides. They also have the perk of being highly customizable items that offer plenty of features, so you can always find the right one for you.
QUICK TIP: If you're looking to make your hydration time more enjoyable, add some lemon or lime drops to your water to add some flavor on the go.
Keep Safety First with Helmets
This item is compulsory for safety, and you should always have one before you embark on your journey. Spares are also a great idea, and remember to keep an eye on the condition of your helmet, especially if you've had a crash.
As long as it's in keeping with safety standards, you can personalize your helmet as much as you want. 
You can keep the design sleek or opt for colors and sparkles, or even switch it up with varied options that you can alternate depending on the day and your mood.
Make Liberal Use of Sunscreen
Your cycling commute will likely keep you under the direct light of the sun for extended periods. This can cause sun damage from tan lines to sunburns, which makes sunscreen one of your best companions on the road. 
To minimize carrying weight, you can use travel-sized shampoo bottles to store the sunscreen.
#3: Your Bike Choice Needs to be Ready for Everyday Use
There are numerous types of bikes on the market that fit many needs, but a commuting bike has to be able to withstand the wear and tear of everyday use while still providing maximum comfort.
Hybrid bikes are among the more popular options for commuting due to their durability, but you can choose whichever type best suits you.
Observe the way your preferred bike deals with everyday use, as well as its maneuverability, the comfort of its seat, and the quality of its brakes. Your commuting bike needs to provide you with safety, comfort, and durability for an extended period.
#4: Invest in Some Spares
Cycling equipment will need to be replaced on occasion, so it's best to keep ahead of that by having as many essential spares as you might need on hand.
From spare wheels to derailleur hangers to lights and hi-vis equipment, you should be ready to replace as many as you can without professional help, so that it doesn't disrupt your commute too much.
Tire pumps are also necessary items that you should have a replacement for, just in case something prevents your primary one from working. This is especially important if cycling is your only way to get to work.
#5: Practice Replacing the Bike's Inner Tubes
You don't have to replace your bike's inner tubes, even if they have had many punctures. Cheap patching kits are readily available and will save you some money on replacements.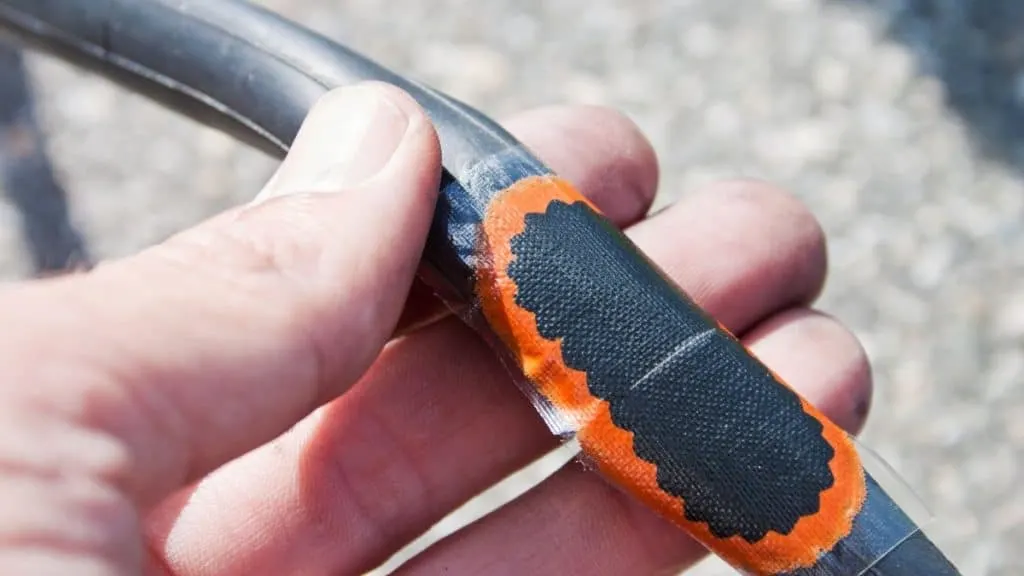 You can practice patching the inner tubes before you go on the road, but it's a straightforward process.
However, in my experience, it's actually easier and quicker to simply replace the inner tube with a spare that you carry (from hack #4) instead of taking the time to find the puncture on your current inner tube.
It's well worth practicing replacing the inner tube several times in your spare time before commuting by bike. Once you've practiced, you can replace an inner tube in a matter of minutes and avoid getting late for work.
Simply place the damaged inner tube in your bag, and patch it up when you get home. Once patched up, you can keep it as your spare replacement.
#6: Pack Some Duct Tape & Cable Ties
Between duct tape and cable ties, you've got yourself covered for most unexpected breakdowns!
Carrying Duct Tape for Bike Emergencies
Duct tape is a highly versatile tool that can come in very handy on your cycling commute. It's also easy to carry because you can place it on your seat post until you need it. Duct tape can help as an emergency solution for punctures, and it can assist with most other patches and holes. 
Duct tape is both durable and waterproof, making it a great companion to have on the road that can help out with unforeseen circumstances.
Carrying Cable Ties for Bike Emergencies
Cable ties are a great little tool that can be used as a make shift to hold any loose spokes, bulging cables and all sorts of bits and bobs that happen to happen during your commute.
They are insanely useful when you happen to need them as a quick fix and take up hardly any weight or space.
#7: Charge Your Lights at Work
If you use rechargeable lights for your bike, you can take advantage of your time spent at work by charging them up during your shift. This will avoid the risk of dim or depleted lights, and you won't have to waste any time waiting for them to charge. 
By charging your lights at work, you'll always be ready for your next cycling journey. There are many types of rechargeable lights to help out with your commute that can adapt to your specific needs and conditions. 
For more information on what kind is best to for commuting, check out my Recommended Gear section.
#8: Put on Some Mudguards
Mudguards are a useful addition to any bike. They're also known as mudflaps, and they are specifically designed to protect the bike and the cyclist from the ravages of mud and rainfall splashing up from the floor while you ride.
This can significantly increase the lifespan of your bike while reducing the need for cleaning after every storm. But more importantly, they protect your work clothes from getting dirty, so you don't have to worry about a big mud patch on your backside when you get to work.
Mudguards are great tools to prevent water damage from affecting your bike, especially when you're on the go. They are essential in rainy areas but can help make your life easier in any kind of weather conditions.
They will also reduce the time you spend on maintenance, particularly after you travel in the rain. 
There are many types of mudguards, but when it comes to commuting, your best bet is to go for the full-length options to protect your clothes as much as possible from getting dirty.
My recommended gear section has some options regarding what kind of mudguards would work for a city cyclist.
#9: Stock Up on Baby Wipes
This secret hack is immensely popular among cyclists, especially when it comes to commuting. Having travel packs of baby wipes on you when you're commuting by bike can help freshen you up on the go.
If you work up a superficial sweat and you don't have time to jump into a shower before work, a quick wipe will leave you feeling clean without the hassle.
Baby wipes are also useful if you get splashed with mud or to clear up any kind of dirt like dust that can cling to your face when you cycle. The wipes can help as a quick fix to eliminate dirt that accumulated on your bike too. 
Some wipes are explicitly made for post-workout relief, featuring cooling and freshening ingredients like aloe vera and citrus, and even essential oils such as eucalyptus.
If you want more tips on how to deal with sweat when you cycle to work, check out my article here.
#10: Invest in Two Different Types of Locks
It's recommended to have two locks for your bike rather than just the one to achieve the best safety level you can while you're at work. Usually, commuters will have only one lock, either a U-lock or a cable lock. Combining the two achieves better results.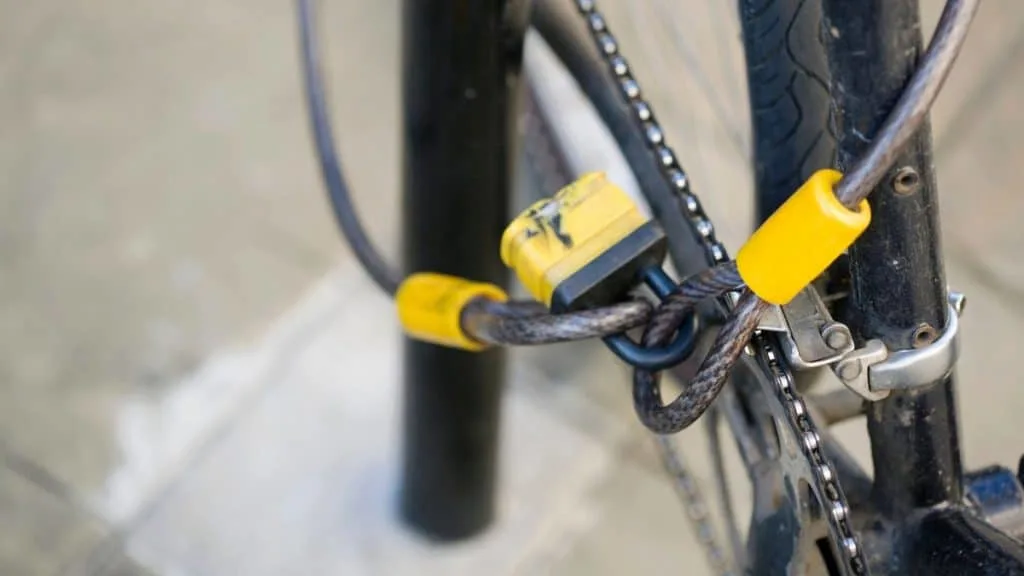 A U-lock is a thick U-shaped lock that tends to connect your bike frame to a bike rack. A cable lock is more flexible and can protect what the U-lock doesn't: the front wheel.
Bike thefts frequently involve removing the front wheel because the U-lock protecting the back isn't easily picked. Using a U-lock and a cable lock together gives your bike full protection, so you won't have to worry about its safety while you're working.
QUICK TIP: If the bulk of the U-locks out there are a hassle to carry, you can also find mini versions that do the same job. This one on Amazon is great because it's highly secure and durable, but not too bulky.
#11: Take Your Time
You can use your cycling commute as a workout, but you don't always have to follow an intense rhythm. You can make this time before and after work your own, and it can be highly therapeutic to unwind.
Riding a bike can be very relaxing, so allow yourself to take your time, go on detours, and explore the best of what your commute has to offer. This can greatly increase your wellbeing while minimizing the stress of the workday.
It also stops you having to worry about getting too sweaty by the time you get to work.
#12: Get a Bike Pannier
A pannier is a type of bike bag that makes a great addition to your cycling commute. Easily installed on a bike rack, the pannier provides storage space that means you don't have to carry any extra weight on you.
There are various sizes of panniers with many convertible options that give you the most benefits during commutes by turning into full backpacks. If you don't have a bike rack, you can still get commute-friendly backpacks that are lightweight and made of breathable materials.
Check out my recommended gear section here for specific recommendations.
#13: Don't Forget Your Bell
The importance of bells is understated but essential to the experience of the cycling commute. Adding a bell to your bike will help keep you safe, and it will make navigation far smoother by alerting others of where you are on the road so that they can adapt to your movements.
This'll mean less 'starting and stopping' for you, making a more efficient ride to work.
There are many types of bike bells with different sounds so you can pick whichever one fits you best, as long as it's loud enough to be heard on the road.
#14: Do Maintenance Checks on Your Bike
Unexpected issues can appear when it comes to cycling, but it's always best to know the basics of maintaining your bike. Keeping your bike in the best condition it can be will avoid most problems.
You should learn how to check your brakes, how to keep the chain well-lubricated at all times, and how to deal with it in case it breaks. Keep an eye on the state of your tires, on your wheel, and your seat.
Knowing the basics of bike maintenance will help you out in preventing sticky situations. If you need extra guidance on how to do this, check out my guide here.
#15: Pack Snacks for a Quick Energy Boost
Cycling can take a lot of energy that needs replenishing with an occasional boost. Whether you're heading to work or home, it's always good to have a snack or two packed in your bike bag.
There are many types of energy-boosting snacks, from energy drinks to protein bars. You can also have nut mixes, fruit, and cyclist-specific gels. Make sure to keep hydrated and energized so that your body can take the impact of the commute.
#16: Group Up for Extra Fun
Turn your commute into a social activity by grouping up with friends and coworkers. You can have fun while taking advantage of the time you would otherwise focus on pre-work rituals. You can make cycling to work a group resolution to get fitter and increase your wellbeing.
This can remove some of the routine aspects of commuting while increasing the chance of entertainment. You can go on bike trails or parks after work, maximizing your social time before having to head home.
In my experience, it's actually much easier to push yourself faster and further while you're cycling in a group, because you have the extra motivation to keep up!
#17: Check Out Folding Bikes
If you have a long commute, you may have to combine various transportation methods. If you'd like to stick to doing at least part of your commute on a bike, you should consider getting a folding bike to facilitate the process.
Folding bikes minimize weight and bulk, making them a great choice if you need to take them on trains or buses, or even fit them into a smaller sized car.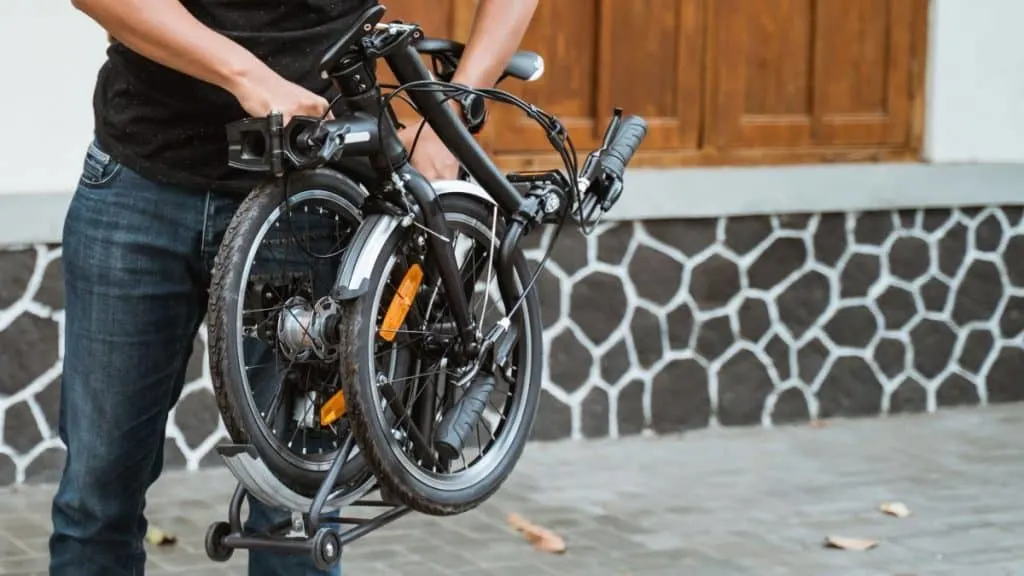 Folding bikes come in different types that vary in terms of size and weight. More expensive models will get you more ultralight materials, while cheaper models will still do the job but will be slightly heftier to carry. 
The folding process requires a little practice before you can quickly do it in the middle of your commute, no matter how crowded or hectic it can get.
You may need a short time to adjust to a folding bike because it usually has a heavier frame to cope with the strain, but it's a convenient choice. You can even bring them on road trips without needing a car bike rack.
#18: Always Putting Safety First Will Get You Far
Safety is the essential factor to keep in mind when cycling anywhere. Apart from wearing a helmet at all times, you should always make sure that your bike and brakes are in prime condition. Be aware of cycling regulations and keep your lights and reflectors up to date.
You should also have high-visibility clothing, particularly a jacket or a vest, at hand in case you have to cycle in low-light conditions. While on the road, you are responsible for your safety and that of others.
Make sure to use the correct hand signals to indicate your movements, and keep an eye out for the behavior of surrounding traffic. This is not only safer, but it makes for a more efficient and faster journey.
#19: Stretch Before Your Ride
Cycling can get intensely physical. This intensity will vary depending on:
Weather conditions
Inclines
Duration of your commute
But in general, you should warm up your muscles before starting each journey. Stretching will prepare your body for the demands of cycling, and it will help prevent potential over-extensions.
If your job involves sitting down for most of the day, your muscles won't be ready to jump onto the bike immediately after your shift. You can help your body out by taking a few minutes to prepare for your commuting journey with a few simple stretches.
#20: Upgrade if You're Looking for Speed
You may find yourself wishing for higher speeds once you get used to your cycling commute, especially if you'd like to use this time as a workout too. If you'd like to aim for a higher level that will also get you to work quicker, you should consider opting for a road bike.
Road bikes allow you to achieve greater speeds while still giving you excellent reliability and efficiency. They're also highly adaptable and very competent when it comes to staying in high gear. Their tires give you more speed per spin, so you expend less energy on getting to your destination.
Apart from speed, road bikes are light and require little maintenance because they can take a lot of wear. They're also suitable for cycling on city streets but can adapt to rougher terrain if needed.
Cycling to work has many advantages, and you can make this type of commuting as easy and enjoyable as possible by making use of several of the above tips.
Keeping your equipment in check and ensuring your safety and comfort is essential, and you can make the experience even better by using good storage space solutions, upgrading your gear, and having spares on hand.