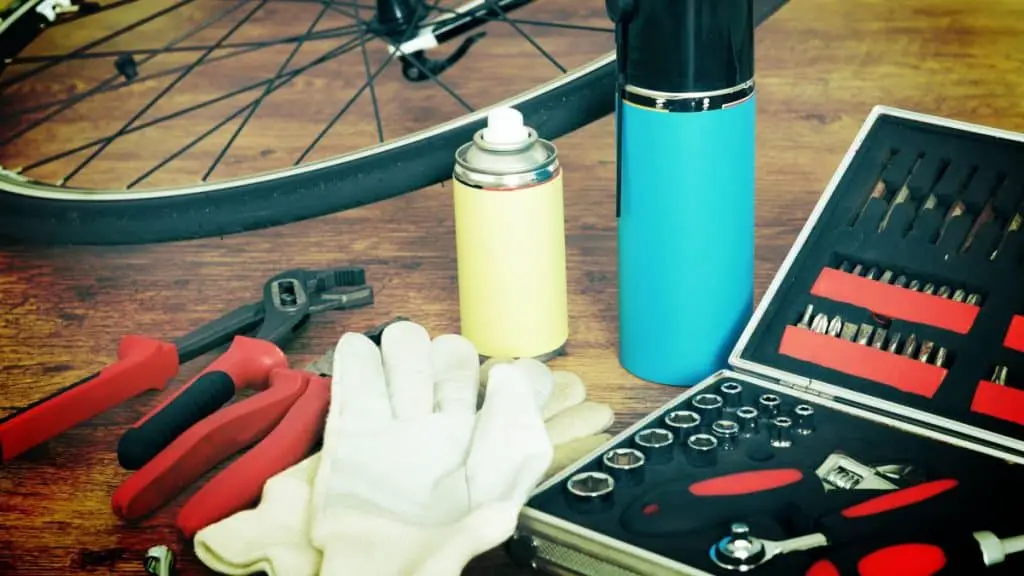 Bicycles are a popular, eco-friendly, and cost-effective mode of transportation. Fixing and maintaining this machine is simple, either by doing it yourself or utilizing a professional at a bike shop.
You can expect to spend between $15.00 and $100.00 on DIY parts from Amazon, or between $20.00 and $200.00 for an equivalent repair at a bicycle shop. The costs of fixing your bicycle will vary with the type of bicycle and the element that needs repair.
With proper maintenance and repair, your bicycle can service your transit or recreational needs for many years to come. In this article you'll learn:
how much it may cost to fix your bike
the individual costs of repairing/replacing certain parts of your bike
the cost of both doing it yourself and getting a professional to do it
some of the most cost effective and practical options available 
The Type of Bike you have will Affect the Cost of Repair
First of all, it is important to note that bicycle repair costs will vary widely based on the type of bicycle you have. Among many other options, the most popular bike types include:
Mountain bikes
Road bikes
Hybrid bikes
Children's bikes
The cost of these fixes will depend on several factors. Of course, high end bikes will cost more to repair than bargain buys, and there are always endless options for upgrades to the individual elements needing repair. But here's a really general look at the cost of fixing the different types of bikes:
Mountain bikes – Mountain bikes are slightly more expensive to maintain than others, due to the increased durability of components necessary to withstand rough terrain.
Road bikes – Road bikes, along with children's bikes are generally less expensive to repair than mountain bikes, with a less-demanding riding environment.
Hybrid bikes – Hybrid bikes as you may have guessed are middle-of-the-road in terms of cost to fix. And to make this as fair an estimate as possible for you, we'll use this type of bicycle when comparing costs for repair…
The Cost of Fixing or Replacing Bicycle Brakes
Brakes are an essential component of a bicycle. Not only is this an important safety feature, but effective and well-maintained brakes will make for a more comfortable ride. There are several types of brakes with varying costs. These include:
Disc brakes
Caliper (rim) brakes
Cantilever brakes
Linear-pull brakes
The most common type of brake on bikes is the caliper brake, which is also known as rim brake. These types of brakes are found on the most common styles of bicycle, and because of this, they are usually the cheapest to replace/repair.
As they're the most common, let's take a look at the cost of replacing or repairing these types of brakes, (but bear in mind that if you have different types of brakes e.g. disk brakes, they will probably cost you just a little more on average)…
Cost of Replacing Caliper Brakes Yourself
If you are saving money by replacing these parts yourself, there are a variety of YouTube videos available for guidance.
As this is an extremely important safety feature, be cautious with your brake system and don't risk accident or injury if you are not confident in your abilities to securely replace or repair the brake system.
The basic average cost of a set of replacement caliper brakes can be around $25.00-$35.00 (like these on Amazon), but you are on your own for installation and replacement. Most other highly rated sets remain in the same price range, minus the cost of the repair toolkits.
High-end rim brakes can run hundreds of dollars (think 600 to 800) for calipers. As with all repairs in this article, prices are dependent on the chosen parts, but many satisfactory replacement and repair parts can be found for a reasonable cost.
Replacing Caliper Brakes
Often only one or two components of the brake system will need to be replaced at a time, rather than a total overhaul of the system. There may also only be one set (front or rear) that need maintenance. 
Common brake components in need of repair are the cables, brake pads, and brake system levers. 
Cost of Replacing Brake Cables on a Bike
Cables that reach from the brake lever to the caliper gripping the rim may become worn or frayed, requiring replacement. It's not too difficult to replace the cables on your bike, as you can see from the video below. And the good thing is, you don't any particular specialist tools either.
Popular brake cables like this Eastern Power set (Amazon link) cost around $10.00 and include:
Cable
Cable housing
End caps
S clip
C clip
Cable end crimp
Cost of Replacing Brake Pads on your Bike
The brake pads that come on the bike brakes may need to be replaced as they become worn, like a car or truck.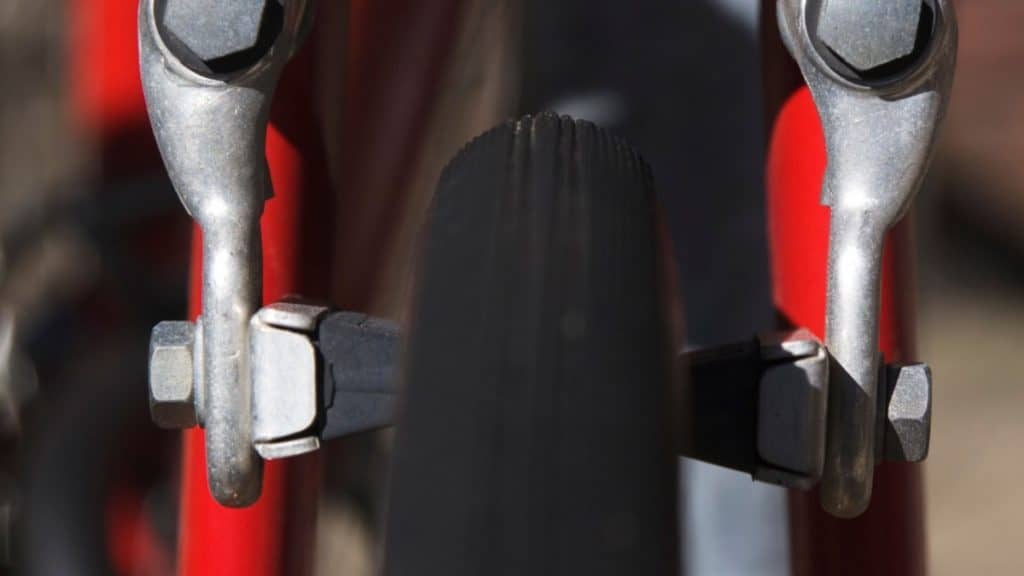 They generally begin with about 3-4mm of material and will need to be replaced when they are worn down to 1mm of material.
This is a simple process, and an allen wrench is the only tool needed (other than new brake pads, of course). These highly rated brake pads on Amazon average under $10.00 for the set of 4, two for each wheel.
To replace the brake pads, you simply loosen the screws on the outside of the caliper that holds the friction pad in place. Slide the worn brake pad out from under the caliper and replace with the new pad, screwing it back in securely with the allen wrench.
Cost of Replacing Brake Levers on a Bike
Brake levers are another component that may need to be replaced. Replacement brake levers are highly affordable, this set is very inexpensive on Amazon, with the average cost of most bike levers being around only $12.00. 
To exchange the brake levers, you simply disconnect the brake cables, remove the levers from the handlebar (you may need to remove handlebar grips as well). Place the new levers onto the handlebars where the old ones were, reconnect the cables and tighten the screws. 
Cost of Replacing Caliper Brakes at a Bike Shop
If you feel better sending your bike to a bike shop for caliper brake replacement, you can expect to shell out anywhere from $15-$35 per wheel depending on the elements needing replacement, these can include:
Full replacement of front and rear brake systems at a professional shop will cost an average of $80.00-$150.00, or more if you have a non-standard bike frame.
The peace of mind that comes with a professional completing brake repairs may outweigh the cheaper DIY option, but most of the components are the same.
The Cost of Fixing or Replacing Bicycle Chains
Bicycle chains are another important element of your bike. Replacing these chains can seem like a hassle, but realistically it's a simple and relatively inexpensive repair, whether you choose to do it yourself or pay a professional.
Cost of Replacing a Bike Chain Yourself
An average bike chain on Amazon, like this zonkie, will run you anywhere from $15.00-$20.00. And if you don't have the tools handy to replace the chain, then a kit like this one (Amazon link) will add another $15.00 on average.
If you choose to invest in a more durable chain brand, like the KMC, you are looking at upwards of $60.00 or more.
The consensus is to replace your bike chain roughly every 2,000 miles, but this will depend on your riding and storage environment as well.
Replacing your Bike Chain
The actual replacement of the bike chain itself is a very simple process. The following video is a clear and concise example of threading and replacing your own bike chain. And you can do it with an inexpensive toolkit like this one on Amazon. 
It Is recommended to lubricate and clean your bike chain once a month if your bicycle is used regularly. This helps protect the chain from rust and other dirt and debris that may cause problems.
For more detailed information about keeping your bike chain in peak condition to make it last longer, check out my article here.
Cost of Bike Chain Replacement at a Bike Shop
Chain replacement at a bike shop is very economical. It will average $10.00-$15.00 with installation included. 
This is cheap but considering the transportation of the bike to the shop, wait time, and overall hassle of the experience, you may be better off doing it yourself at home.
The Cost of Fixing or Replacing Bicycle Tires
Bicycle tire replacement is likely the most varied repair in terms of cost. There are unending options for bike tires, with differences in:
Sizes
Tread depth
Material
Tread type
Color
Inner tube
Cost of Replacing Bike Tires Yourself
Replacing your bicycle tire on your own is another simple and fairly inexpensive repair process. A highly-rated Schwinn tire like this one on Amazon, has many size options will cost around $15.00-$30.00 per tire, with an additional $10.00 for a tire replacement lever kit if you don't already have one. (Here's a link to a kit on Amazon).
If a full tire replacement isn't necessary but the tire isn't functional, there are cheap options for tool kits to repair flats. A portable and compact Park Tool flat repair will only cost around $4 or $5. Here's an example of an inexpensive one on Amazon.
Replacing Your Bicycle Tire
Replacing your bicycle tire is a simple process, and one that requires minimal tools. Generally, the tire replacement just involves replacing the inner tube part of the tire, but the outer rubber tread piece may also require replacement if it is severely damaged.
The following video details the changing and repairing of a bike tire from start to finish:
Cost of Tires at a Bike Shop
Getting your bike tires replaced at a bike shop will range from a flat repair of $5 plus the cost of a new tire if needed, to $20.00 to $60.00 for a full wheel replacement per wheel.
The Cost of Fixing or Replacing Bicycle Seats
Bicycle seats are a crucial component of a comfortable ride. There are a wide variety of options that will increase/decrease the cost of your seat, including:
Material
Shock absorbance
Width
Length
Included safety features
Based on your preferences, your chosen seat price will vary, but the basic process of replacing your bicycle seat remains the same.
Cost of Replacing Bike Seat Yourself
Buying a comfortable bike seat on Amazon comes with extensive options. This Tonbux seat is a great value option and contains:
Reflective material
Shock absorbers
Memory foam
Waterproof surface
Installation tools
There are other, more luxurious options for well over $1,000 if you are an avid or competitive cyclist, but for our purposes, let's talk about the mid-range choice.
Replacing Your Bicycle Seat
Replacing the bicycle seat is a fairly simple procedure, and all that is needed here is an allen wrench. You can find allen wrench sets for $10.00 or less, and they're readily available. Here's a set I found on Amazon.
To replace the seat, loosen the screw at the base of the existing seat. Do not remove the screw completely, but enough that you can remove the old seat. With the screw loosened, the rails should release enough to enable you to slide off the old seat.
Slide the new seat onto the rails into the desired position and tighten the screw at the base of the seat securely. 
If needed, the screw may be loosened to adjust the position of the seat. Simply tighten the screw once the seat is in the desired position.
Cost of Replacing Seats at a Bike Shop
At your local repair shop, seat replacements will cost around $10 for the installation if you provide your own seat. The cost of buying a seat at a repair shop is limited in options, and likely more expensive than bringing your own in for an installation, ranging from $45.00 to $100.00.
The Cost of Fixing or Replacing Bicycle Handlebars
Handlebars are another key component of both safety and comfort when riding your bike. Replacing or adjusting handlebars on a bicycle can be a simple process.
Cost of Replacing Bicycle Handlebars Yourself
A basic steel handlebar (like this one one on Amazon) can cost around $30 – $40, but does not include grips or clamps. For popular, middle-of-the-road grips,expect to add on another $6 to $8. (Here's a popular brand of handlebar grips on Amazon).
Replacing Your Bicycle Handlebars
To fit your new handlebars, first you must have access to the main handlebars. This requires loosening and sliding off, in this order, the:
End caps
Grips
Brake levers
Shifters
Using an allen wrench, loosen the bolt/s holding the handlebars to the post below. Once the handlebars are separated from the bike frame, simply replace the old handlebars with your new set, and work backwards, making sure all the parts have been wiped clean.
Attach the handlebars to the bike frame, then secure, in this order, the:
Shifters
Brake Levers
Grips
End caps
Cost of Handlebars at a Bike Shop
At a bike shop, expect to pay anywhere from $25.00-$45.00 for a handlebar replacement. This cost can increase or decrease depending on the materials used and other accessories added, such as:
Handlebar grips
Handlebar tape
Bar ends
The Cost of Fixing or Replacing Bicycle Pedals
Bike pedals are often an overlooked element of bicycles, until one (or both) need repair. Luckily, bike pedals are one of the most durable elements of a bike, and oftentimes will not need repair in the bike's entire lifetime. 
If you are choosing to replace bike pedals for an improved model, want clips, or simply want to change the look of your bike, knowing how to replace these pedals is important.
Cost of Replacing Bike Pedals Yourself
Bike pedals can be easily found from places like Amazon (like these), and can cost from as little as $25.00 for a set, but there are many bike pedals on the market that can rise well into the hundreds of dollars. There are variations in:
Size
Shape
Color
Material
Grip
Clips
Weight
Each of these options will increase or decrease the cost of the pedals, allowing for an endless combination of style and price.
Replacing Your Bicycle Pedals
Replacing your bike pedals on your own is a simple operation. Again, an allen wrench is the only required equipment for this repair.
Begin by loosening the screw on the inside of the pedal. This is easiest if the crank is extended toward the ground, and the bike is lifted off the ground.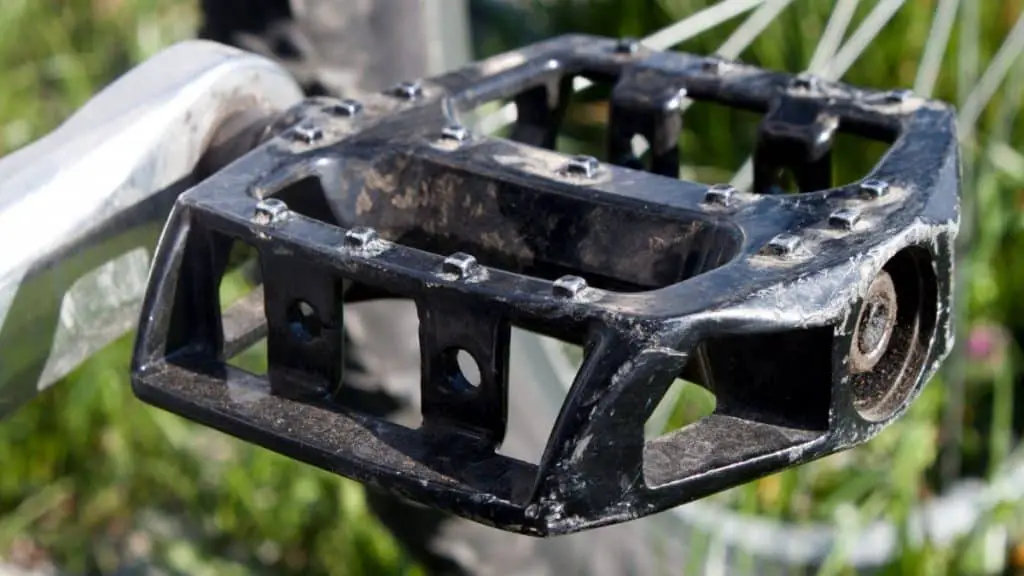 Make sure to clean the threads of the new pedals and grease them before screwing them into the crank shaft. Also make sure the hole in the shaft has been thoroughly cleaned out, this will allow for a more secure fit and keep the pedals tight.
Bike pedals are often secured very tightly, and many people report difficulty with removing them by hand. If this is the case, a professional bike shop may be the route to go.
Cost of Replacing Pedals at a Bike Shop
Pedal installation at professional bike shops ranges but will average around $10.00 for the set. This is a quick and easy procedure, and the price reflects that. 
Installing or Replacing Bicycle Safety Features
It's important to have up-to-date and effective safety features on your bicycle, especially when riding in residential or high-traffic areas. Some bikes may come equipped with reflectors and/or lights, but these are a necessary addition if yours did not.
There are many options for lights and reflectors, and most are easy to mount on your own.
Cost of Adding Bike Safety Features Yourself
A bike light like this (Amazon link) comes with a high powered front and rear light, easily installed without any tools needed. Most decent bike lights can be found for around the $15 mark. 
To add non-illuminated basic reflectors to your bike, like these found at Amazon, expect to spend another $8 to $10.
Installing Safety Features
Installing these lights and reflectors on your bike may well be the easiest installation/repair in this article. Many of these safety features are designed to mount quickly and easily with minimal (or no) tools required.
Most of the bike light options available are small, flashlight-shaped lights attached to a rubber belt that simply hooks around your handlebars and adjusts easily as needed.
Reflectors are often attached to a metal or plastic band that unscrews and fits around the front post and another below the seat. Simply loosen the screws with an allen wrench or Phillips-head screwdriver, place around the post, and replace the screws. 
Cost of Safety Features at a Bike Shop
Many bike shops will place and install these safety features for free, as a courtesy to the biking community. Some may charge a $5.00 or $10.00 installation fee for a more intricate system.
Why Regular Maintenance and Repairs are Important
Bicycles can last for decades if maintained and repaired regularly. There are many options for repair and maintenance, from DIY to bike shop professionals. 
NOTE: If you want to be prepared, check out my article "21 Bike Repair Tools: The Only Ones You'll Ever Need".
When deciding the best route to get your bike repaired, take the following into consideration:
Handyman skills
Budget
Timeline
Confidence level
Toolkit
Good Bicycle Maintenance for Safety
Effective brakes and a sturdy frame are essential in a lasting bicycle. Much like a car, bikes will run smoothly for years if routinely cared for, but a mishap with brakes or the frame can be a costly and dangerous issue. 
Visiting a professional bike shop for a basic bicycle fitting and adjustment after buying your new bike is a useful and effective strategy to make sure you are getting the most out of your bicycle, both in comfort and efficacy.
These "fittings" or "bike checks" often cost around $45.00 to $100.00 but may illuminate problem areas or spots for improved comfort, safety, and durability with your bike.
Good Bicycle Maintenance for Longevity
The average bicycle has a lifespan of 50,000 miles. Frames do wear out, and many avid cyclists choose to upgrade every five years or so.
But investing the time and money into a bicycle and having routine maintenance and repairs will extend the longevity of your bike, making it even more cost-effective over the years.
For a full guide on maintaining your bike to a good standard and how to go about it properly, check out my article "Bike Maintenance How-To Guide".
No matter your chosen route for bicycle maintenance and repair, there is sure to be an option for every budget and skill level, every style and model. Take good care of your bicycle, and it will take good care of you.