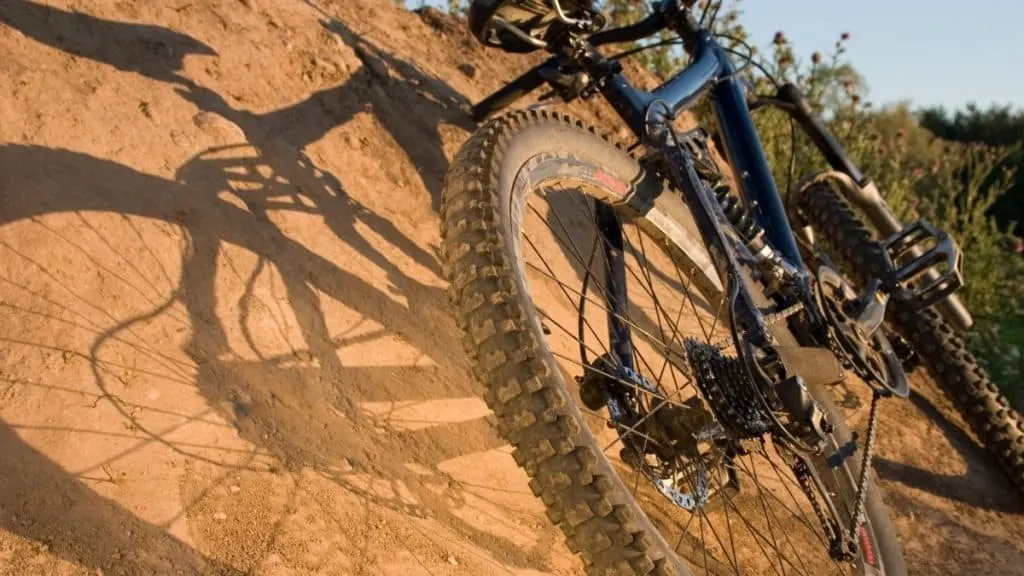 As more cities are becoming bike friendly, lots of people are considering making a bike their preferred method of commuting.  Right alongside the idea of commuting via bike comes the question, "What kind of bike is preferable?"
Most types of bikes, including mountain bikes can be used for city cycling, as long as the bike is in good riding condition. There are bikes that are more suited to city riding than mountain bikes, but it also comes down to personal preference. Mountain bikes are a common choice for city riders.
So, if you're just getting started with cycling, and you're wondering if your mountain bike is suitable, there's no need to sweat it. Your mountain bike will be perfectly fine out on city roads.
But if we're talking about whether it's the best type of bike for city riding….that's a different question. In this article we'll discuss:
whether mountain bikes are the best choice for city riding
how you can modify your mountain bike to make it more efficient and better suited for city riding
Is a Mountain Bike the Best Choice for City Riding?
Mountain bikes make an good choice for city riding, whether it is for commuting or along paved and improved paths. And the chances are that you will see as many people using mountain bikes to traverse the city as you will people with standard street bikes. 
For many it is just a matter of comfort and preference.  So don't worry that your mountain bike may be too clumsy on city streets. At the end of the day, if it's between you riding on a mountain bike or not riding because you don't have the ideal bike, then using your mountain bike to explore the city is a no-brainer.
But if you're looking for something that is ideal, then a hybrid bike is going to be officially the best suited to city riding. It's a cross between a road bike and a mountain bike, so it's good in parks, gravel roads and city streets alike. But of course, this is going to be largely dependent on other factors too.
To find your ideal bike, check out my article "A Beginners Guide to Finding the Perfect Bike for You". It will talk you through everything you need to think about before buying a bike to make sure you get the right one for your needs.
Buying a whole new bike just for city riding is expensive and can be wasteful if you already have a mountain bike lying around in the garage. You can modify your mountain bike quite easily to make it even better suited to city riding.
Mountain Bikes Vs. Road Bikes
It may seem kind of obvious that if you're going to be on the road, then a road bike is the number one choice, but there are some solid reasons why someone would choose a mountain bike over a road bike for city riding.
Road bikes are single purpose. They are light and streamlined, and built for speed. And, with their super skinny high-pressure tires, they are unequivocally built for the road.  You will not find someone on a road bike trying to navigate single tracks.
The mountain bike is the more versatile of the two, with it you are as free to explore the city as you are the nature trails. The big, fat tires a mountain bike uses to grab muddy terrain pose no serious difficulties on pavement.
If all you have is a mountain bike, then you are in luck.  Your bike can be as invaluable in the city as in the back country.  It is useful for running errands, shopping, commuting to work and school, and of course out on a dirt track or forest area.
A road bike however, would struggle on a dirt track without any tread on its tires to handle muddy areas. So to sum it up, a mountain bike can be much more versatile than a mountain bike, making it an good choice for city riding.
Making a Mountain Bike More City Friendly
Remember what I said about using a hybrid bike for city riding? That's because a mountain bike, although very versatile, won't be as efficient on a smooth road surface or when riding uphill. (meaning you'll be working harder to cycle the same distance when compared to a road bike).
This is where hybrid bikes are useful, as they are a cross between a road bike and a mountain bike. But with a few minor adjustments you can get your bike more street friendly which may save you some extra effort on the uphill and less exertion overall when out riding the city.
Here are some simple and easy modifications you can make to get the best out of your mountain bike when using it for city riding…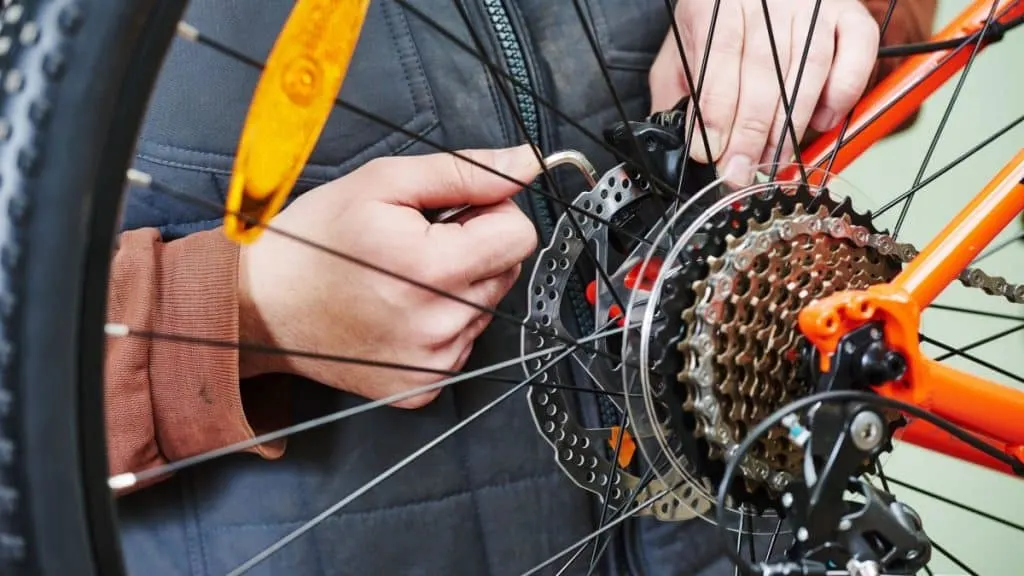 #1: Suspension Modifications
If you do not mind making some basic and simple modifications (that can easily be reversed) you will transform your bike into an efficient, easy handling and enjoyable workhorse for your urban riding needs.
The first thing to do is to tighten up any suspension if you have a hard tail (i.e., no shocks on the bike) you do not need to worry about this step.  Either lock out the suspension if you can or increase the air pressure in the front socks. By making your ride stiffer, you decrease your exertion.
#2: Tire Modifications
While some people do not mind riding on their all-terrain tires through town, this can have a couple downsides if it is done for too long.  First is that the knobs on the tires have limited surface are when compared to road tires thus making them susceptible to slipping.  Secondly is that the knobby tires are expensive, and asphalt breaks them down quickly.
Refitting your rims with road style tires will make your ride safer and speedier.  If you are planning to switch between off road excursions and urban cycling, then consider getting a set of front and back wheels already fitted with the opposite set of tires; this will save a significant amount of time in changeout.
#3: Consider Different Tubes
Having a set of tires ready to go for either street or off-road duty is the choice of many people who switch between road and off-road activities. 
Having this setup allows you to have the correct tubes in each set. For street riding puncture proof tubes are recommended (check these out on Amazon for a puncture proof experience); also, your street tires will be filled to higher pressure.
It is easy to see that having changeout tire sets may cost upfront but will save a lot of time and money on the backend, especially if you are commuting on the weekdays and trail riding on the weekends.
#4: Visibility Modifications
Increasing your visibility is critical when you are riding city streets.  Car and bike collisions are as common as they are preventable.  Ensure that you have reflective tape along the front forks and elsewhere along the frame.  Include blinking lights front back and side and consider LED spoke lights as they offer unsurpassed nighttime visibility.
This set on Amazon is my favorite as it includes front and back lights that are super efficient and great value.
TIP: Prior to taking your bike out on the road, inspect the reflective tape for cleanliness, remove any dust or debris that could negate its effectiveness.  Likewise ensure that all lights are functioning properly.
#5: Add Mudguards
Rock-hopping and single tracking are great and getting muddy is just half the fun.  However, city riding can get very wet and gritty which affects your safety and your attire. 
Even if you're commuting to work or school with your clothes in a backpack, those close can still get wet. Mudguards are easy to install, common sense solution.
Fitting a set of mudguards to your bike is inexpensive and quickly reversible so as not to hinder any off-road activity. Furthermore, they are so light and unobtrusive (like these on Amazon) and their presence won't bother you at all.
#6: Pedals
Depending on how you intend to ride your city streets, that is with street shoes or with your bike shoes, you may want to look at a set of new pedals.  Though most bikers opt for their clip-ins for the extra efficiency they offer, keeping their good shoes in a pack until they reach their destination.
TIP: Modifications to your bike fork can also make your bike more suited for city riding. You can opt for a steel fork or one made from carbon fiber. Here is an article I wrote on the difference between a steel fork and a carbon fiber fork.
When is it Better to Use a Road Bike Instead?
Whether you have an old mountain bike collecting dust or you want to make your current bike more versatile it is easy to do and well worth the time and moderate expense.  Having your bike street ready means that your commute will be easier and running errands like shopping will be more enjoyable.
When it comes to commuting, mountain bikes do have a small disadvantage over road bikes.  And that is because road bikes are designed to be ultra-efficient on the road whereas the mountain bike is designed to be a burly mud monster.
Nevertheless, the mountain bike prepped for the street has a decently comfortable range. Is your work commute roughly 11 miles or less?  Perfect. 
While a road bike can glide 25 miles with ease, there's only so much efficiency a mountain bike can acquire for road purposes. Within that rough radius a mountain bike is as good as a road bike.
Whichever Bike you Choose for City Riding…
A first and final consideration on urban and city biking is safety.  Ensure that your bike is in good repair and clean.  Of course, check the chain, the brakes, the derailleurs, and tires prior to leaving.  Always use a helmet and ensure that all your lights are functioning.
For more information on how to look after your bike properly, check out my bike maintenance guide here.
Look at maps of your area and find the most efficient route to get to where you want to go.  If there are designated bike routes, use them, as they will ensure a safe and speedy trip. And when on the road, always assume that people driving vehicles simply don't see you.  A defensive cyclist is a safe cyclist, no matter what type of bike they're on!