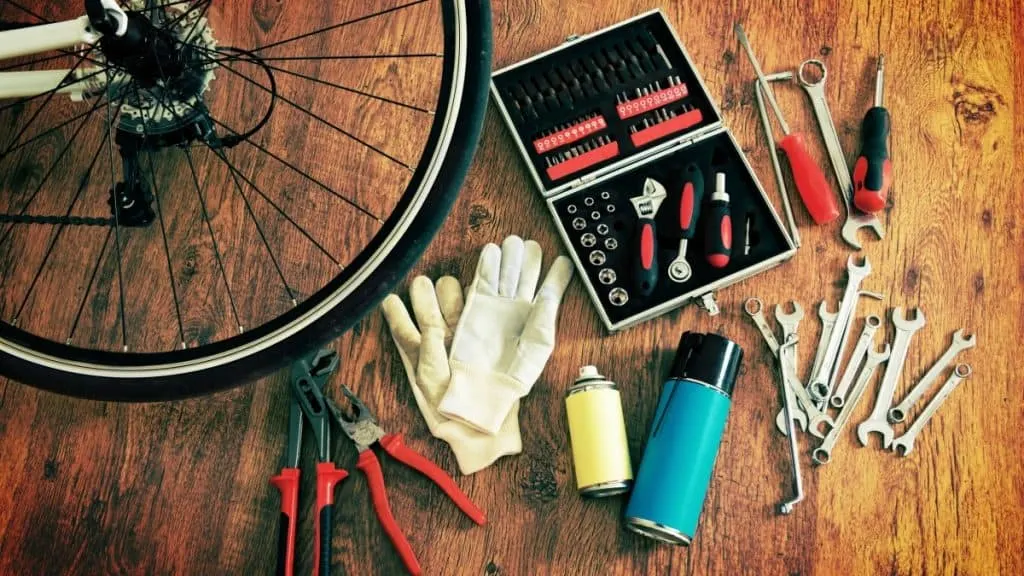 When I started cycling, I had to learn as I went along which tools were necessary and which weren't. As a result, I ended buying things I didn't need, and not buying things I did need.
So this article is all about making sure that you as a bike owner are covered in terms of having everything you need to fix and/or keep your bike in excellent condition, without wasting your money.
The tools I've mentioned in this post are all readily available from local bike shops and online places. Where possible, I've linked to the item on Amazon so that you can take a look at the product along with the current price.
This post contains affiliate links whereby I may earn a commission from qualifying purchases through. I only ever link to products I love and/or recommend.
While more specialized bikes will require specific tools, here are 21 bike repair tools that you cannot go without…
#1: Bike Tire Pump
One of the simpler items on this list is a tool that you will be using more than anything else. The problem you will often run into before you set out for a ride is low tire pressure.
Low tire pressure can lead to a lack of control, damage to the rim of the wheel, and even blowouts in extreme instances. This tool is the kind of tool that keeps little problems from becoming big problems.
In fact, preventive maintenance is the most important maintenance you can perform on your bike. Ensuring that your tires are properly inflated will increase their performance and longevity, and a good pump is the key to that longevity.
Here is what you should look for in a pump:
A good pressure gauge to prevent over inflation
Good stability
Stay away from all plastic pumps with poor durability
Replaceable parts, so you are not buying a new pump after minor wear and tear
This floor pump is a great bike tire pump for you to add to your repair tools collection.
#2: Tire Levers
Nothing is more frustrating than trying to coax your tire off the rim to change an inner tube or what have you. If you are thinking of jamming a screwdriver between the rim and the tire, I would have to warn you about the damage you are likely to cause. You run the risk of puncturing your inner tube, but you could even warp the rim.
Just use these handy little tools to make changing a tire or inner tube an easy process with little to no risk of damage to any of the components on your bike.
It is a little more specialized, but it is a great asset to your tool kit. Their all-metal composition means they are built to work hard and last for a long time.
Here is what you should look for in a tire lever:
Bright colors for easy identification if dropped on the trail 
Smooth surface to reduce friction
Wide enough to get a substantial grip
These tire levers are a useful and affordable option for those looking to add something effective to their kit.
#3: CO2 Mini Pump
This tool can be a lifesaver! Out on the trail, far from help, would be a bad place to wish that you had bought this. Put one of these in your bag and never ride without it.
CO2 mini pumps are better than hand pumps simply because of their efficiency. This powerful little pump will have you back up and riding in no time at all.
One of the most common repairs you will need to make is when your tire goes flat. You might even notice after you have gone well into your ride that your tires need a little extra air.
This will be a staple of your riding bag that you will use often. The CO2 canisters will allow you to pump your tire up without the chance of a low battery derailing you.
Here is what you should look for in a minipump:
Not too heavy (less than 6 ounces)
Air pressure 85-130 PSI
Extra storage for additional CO2 canisters.
This Co2 Mini Pump will prove a valuable asset. 
#4: Tire Pressure Gauge 
This simple little tool goes hand in hand with the CO2 Mini Pump above, and there is no need to sink a ton of money into it. You can find good quality tire pressure gauges for low costs.
When using the mini pump, (which is not likely to have a gauge), you could cause serious damage to your bike from over inflation. Therefore, this tool is a must.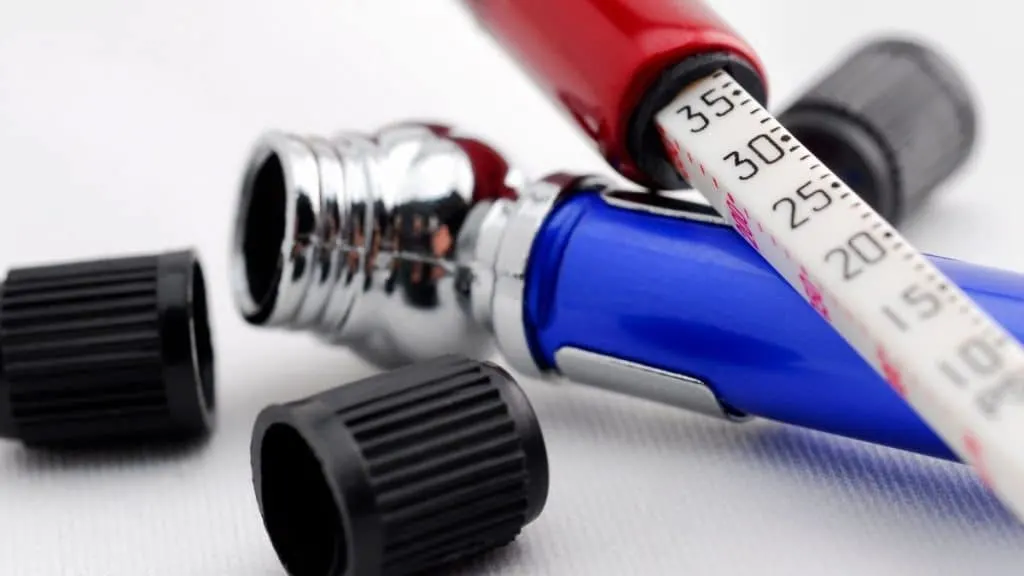 Tire pressure gauges are practically weightless and take up little to no space, making them a perfect tool for your riding bag. They come in all shapes, colors, and sizes, but the most common ones follow a similar metallic, cylindrical theme.
TIP: Neon colored gauges are easier to spot when lost!
Here is what you should look for in a gauge:
Durable material that will last
Bright colors for easily finding if dropped
Accurate and precise pressure readings
These tire pressure gauges will work wonders for your biking needs.
#5: Riding Bag
You will need a good bag when you are out for a ride to carry those quick-fix items. A riding bag is practical for urban and backwoods biking. Keeping tools, snacks, and other personal effects like your wallet or phone in a convenient pack will be incredibly beneficial to your riding experience.
Get something adjustable so you can put the bag tighter on the top of your back towards the shoulders. Doing this will make your bag seem far lighter as it moves with and not against you. Many people shy away from wearing bags while they ride because of discomfort, but this can be mitigated with proper wear.
This is what you should look for in a bag:
Not too big or too small (25-liter bags are the best for added space)
Synthetic materials will keep dry and dry faster than cotton
Multiple compartments to organize contents
This bag is a great addition as a general all rounder for bikers. 
#6: Chain Lube
Is your chain having trouble moving? Is it rusting or corroding? Is it already dingy? If so, you need chain lube, which is more commonly called grease.
It will clean away the grime, lubricate the metal to reduce friction, and protect your bike from rust and corrosion. Remember to keep this in your riding bag for easy access.
Some chain lubes can be too gunky, attracting a ton of unwanted grime and buildup on the chain, leading to nothing but trouble. You can avoid this by wiping the excess off with a shop rag. The point of lube is to be applied in a thin coating over the chain. If it looks like icing, you should think again.
NOTE: For more details on keeping your bike chain in good condition, check out my article "How to Keep your Bike Chain in Peak Condition"
Here is what you should look for in chain lube:
Dry lube in the warmer months (see chain wax)
Make sure it is not a solvent like WD-40
A strong nozzle on the bottle to prevent leakage in your bag
Put this chain lube in your bag to be thoroughly prepared. 
#7: Multi-tool 
This tool will be your savior when out and about on your bike. You never know when you are going to need it, but eventually, you will. Needless to say, but worth saying anyway, this goes in your riding bag every time you take a ride. It is always better to have it and not need it than to need it and not have it!
The uses for a multi-tool are wide and varied. You can use them to tighten your chain, adjust your seat and handlebars, tighten a screw, and the list goes on. They are lightweight, compact, and versatile, which makes them perfect for biking. Make an effort to keep this tool in good condition.
Here is what you should look for in a good multi-tool:
Hex keys in 4 mm and 5 mm
Made of steel, so you only have to buy it once
Chain tool attachment
A multi-tool like this one should come with you on every ride.
#8: Chain Whip
This tool will not be used as much as the others on this list, but make no mistake, it is essential. When you struggle to keep the cassette in place by hand in the middle of a swap, you will not be able to focus on the task at hand as your brain conjures every foul word in your lexicon. Seriously, this tool will save you a world of stress. 
When you purchase a chain whip, you will likely be buying your first and last. As mentioned before, they do not wear out because you will not be using them frequently. Even though this tool is highly specialized and seldom used, it is well worth the investment. (You will see why when you need it!)
Here is what you should look for when you buy a chain whip:
A long handle for leverage
Make sure it is suitable for use with a variety of cassette sizes
The chain whip is pretty straightforward; there's not really any need to spend too much time comparing products, as they all more or less work the same. 
#9: Spoke Wrench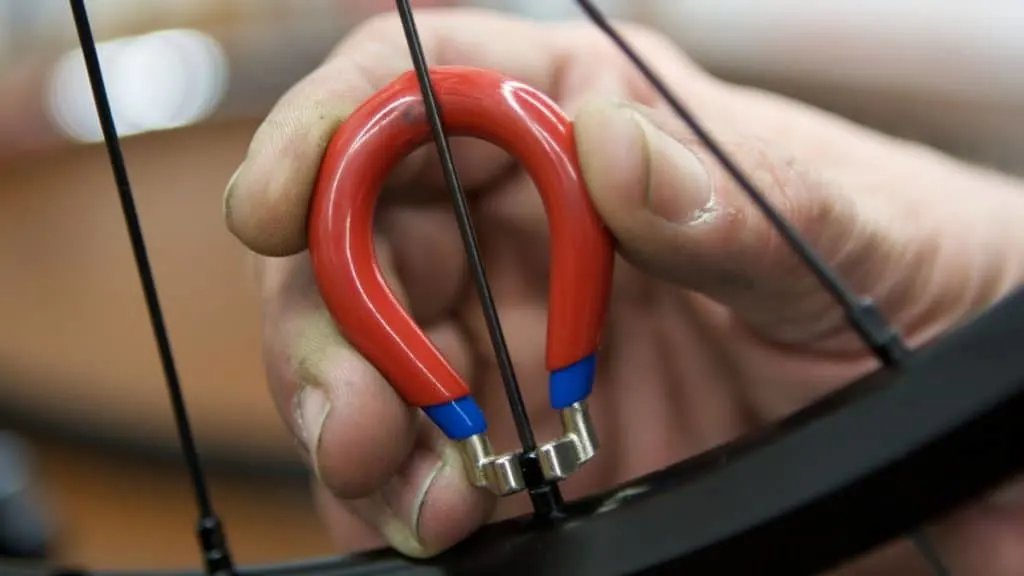 Tuning the spokes on your bike's tires is an important bit of maintenance. To ensure that your bike rides smoothly, you will need to keep your spokes tuned appropriately. Spoke wrenches are specially designed to perform this maintenance and, because of this, you must have them in your tool kit. It would not be a bad idea to have two of each size.
You should tune your bike once a year. If you ride daily, it wouldn't be a bad idea to check it out every six months. This process is not hard to achieve but will save you some serious repairs down the road. It is the little things in bike maintenance that make all the difference.
Here is what you should look for in spoke wrenches:
The slot of the wrench must line up with the nipple of your spokes
Ensure that you do or do not need a wrench for internal nipples
Steel is a great material that will handle crazy amounts of torque
Here's a great spoke wrench set to add to your tool kit. 
#10: Brushes
This simple tool will keep your chain running smoothly and ensure you have a fast, smooth ride. Oftentimes, the bigger problems with a bike stem from improper preventive maintenance.
Gunk, debris, and excess oil can build up over time on your chain, which can lead to issues with functionality. Use brushes to keep your bike at its best.
This will take no more than ten minutes of your time, but it will save even more when you are not stuck repairing a preventable malfunction. Make this a standard practice after rides. Take the time when you have it, or you will have to make the time when you do not.
Seriously, save yourself some heartache and look for this when you buy:
Strong bristles that will not wear out too fast
Stay away from metal wire brushes that can be too abrasive 
A longer handle will allow you to clean effectively
You can't go wrong with a specialist brush like this one.
#11: Crescent Wrench
This tool will be used to remove the fenders on your bike. You probably already have one, but if you don't, you should get one! This tool is incredibly handy because it is adjustable.
One size fits all or most for that matter. Be careful not to get a wrench that is too heavy. After all, you don't want to get fatigued when performing simple repairs.
Most crescent wrenches can be purchased at superstores or hardware stores, but more specialized wrenches are better bought online. Also, don't feel like you have to spend a ton of money here. The old stainless steel wrench under your sink can work just as well as an adjustable bike wrench.
Here is what to look for in a good crescent wrench:
Made of steel
Long handle for good leverage
Rubber handle for ease of use and added grip
This crescent wrench fits the bill perfectly for bike maintenance needs.
#12: Shop Hammer
As crude as it sounds, sometimes you need to knock some sense into your bike or maybe just a stubborn bolt. Make sure that you are not just swinging an old claw hammer at your bike. Obviously, this can cause damage that will lead to a larger repair. A good shop hammer for bike use can get the job done with no overkill.
Hammers can be used in the process of fitting and unseating cranks. Jeweler's hammers are excellent choices as well for the precise work on more delicate components of your bike. This tool is not used often but is super handy when you need it.
Here is what to look for when you are buying a shop hammer: 
Rubber striking surface to reduce damage
Lightweight
Rubber grip for stability and ease of use
A shop hammer like this one would be ideal for a bike maintenance tool kit. 
#13: Screwdriver Set
Your bike has so many screws that will need to be tightened over time. The vibration from riding will cause your screws to move more and more as time goes on from their last tightening.
A screwdriver set will help keep your bike in one piece, and you're probably going to be using these tools on your bike very regularly.
Durability is key when it comes to a good screwdriver set, more so with this tool than any other. It will not be uncommon for you to use a screwdriver to pry a component of your bike off of the frame or to use it to negotiate a fitting of two pieces.
Here is what you should be looking for when buying screwdrivers for your bike:
Phillips head and flat head 
Number 0, 1, and 2
Specialty heads if your bike requires them
Made from strong materials that can withstand prying 
This screwdriver set is a great one you can use on your bike.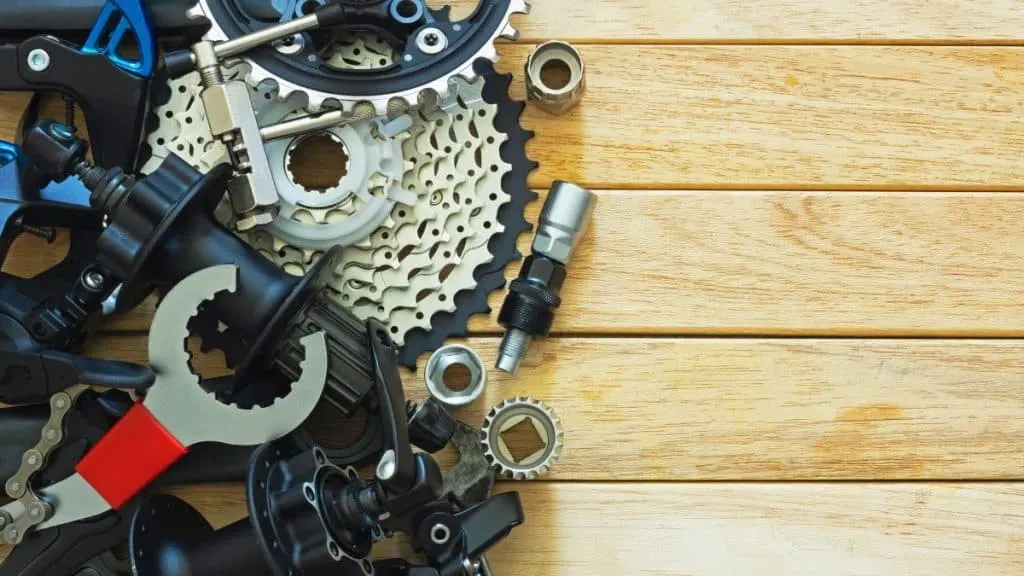 #14: Scissors
You'll need scissors to cut open packages and trim away excess tape from the frame and handlebars. Make sure that your scissors are sharp and move easily. The last thing you want is to struggle with your grip due to opening and closing a stubborn set.
You should get some scissors that can hold an edge and be tough on plastic and cardboard. You might even have to use them in maintenance, like cleaning cordage or other fibrous debris from the spokes or chain on your bike. Get something that is simple and well made.
This is what you should look for in your scissors:
Comfortable grip
Steel blades to hold a sharp edge for longer
Smooth action to prevent fatigue if you are doing a lot of cutting
Left-handed riders will need left-handed scissors  
These scissors will get the job done for you.
#15: Bike Repair Stand
This item is a must-have. You will never go back to repairing a bike without a stand ever again. This tool will conveniently hold your bike in place, leaving your hands free to perform any necessary repairs.
It is typically lightweight and folds up for easy storage, which is good if you have limited space for maintenance.
Bike stands are the king of convenience. Every dedicated biker should have one. Their simple purpose of holding your bike still can seem underwhelming, but don't let that fool you. A steady platform to conduct repairs and maintenance on is the difference between a relaxing day of tinkering and an irritating ordeal.
It will save you a ton of time in the long run as repairs become far easier, simpler, and will give you less of a headache!
Here is what to look for:
Fewer legs equal more space to work
Rubber tipped legs for added traction
Collapsible for easy storage
Make sure it is strong enough to hold your bike
I would recommend this bike repair stand from Amazon. It's so lightweight, whilst still being durable and adjustable, and it also has a handy little tool table attached to it, which saves you having to go back and forth when working on your bike.
#16: Cable Cutters
You will need a solid pair of cable cutters to maintain the condition of your cables and cable housing. These will come in handy when you need to make replacements because your cable will be extremely tough to clip with anything else. Forget about the scissors here. You need a strong, reliable pair of cable cutters.
A bad set of cable cutters will require you to mash and mash on the cable to get through it. Forearms can fatigue pretty quickly if you have to press away several times with dull and ineffective cable cutters. Make sure that you do your homework and invest in a quality tool that will make life easy.
Here is what you should look for:
Rubber handles for comfortably and added grip 
Locking hook on handle to make the cable cutters easy to store
Quality materials like steel to maintain sharpness on cutting edge
These solid cable cutters should be finding their way to your tool kit today!
#17: Tape
This can be a huge asset when out on the trail. Make sure to put a roll of duct tape and electrical tape in your riding bag for any unforeseen repairs you might need to make.
Electrical tape will probably get more use because it has much less adhesive to gunk up your bike. Duct tape will be the way to go for added strength.
Keep in mind that some brands of tape will leave a lot of sticky residues that will collect dust, dirt, and debris. Try to avoid this beforehand and purchase tape that can get the job done without too much overkill.
If you cannot avoid it, just make sure to clean the sticky area soon after removing any tape. This will keep your bike cleaner.
Look for some tape that:
Is water-resistant
Has good tensile strength
Can be tore easily for simple application
This tape is excellent as it doesn't leave any residue on your bike! It works really well and you'll be surprised at how handy it will be on your rides.
#18: Chain Tool
Different from a chain whip, a chain tool will probably be attached to your multi tool. This is super convenient for your riding bag, but when you have to remove a link after breaking your chain, a full-size chain tool will be much easier to grip. The ease of use will save you a ton of frustration.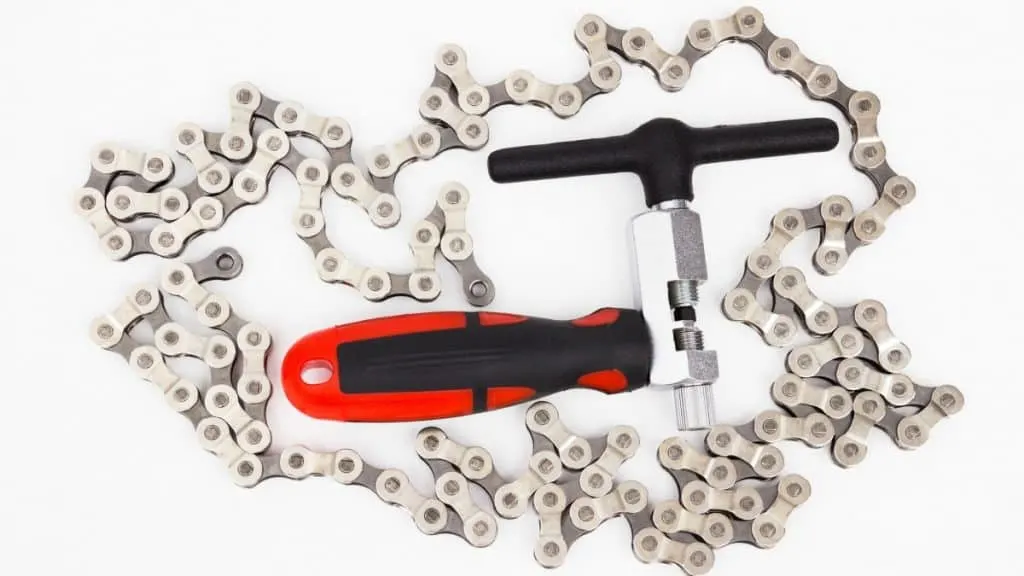 Don't overlook this tool. It services and maintains the most vital part of your bike and should be part of your tool kit. Some chain tools are smaller and more compact, but try to get a chain tool that has some heft. They will be easier to handle when you are performing repairs and maintenance at home.
Here is what to look for when you buy a chain tool:
A strong crossbar to handle the tool more easily
Quality materials that hold up over time
This chain tool meets such criteria, and will get the job done for you and your bike.
#19: Work Gloves
No matter how tough you think your hands are, you need these in your riding bag or tool kit. Gloves can make tools that lack grip or padding much easier to handle. If you do not have access to your chain whip, then a glove and some frustration would be able to get the job done. The added bonus of keeping lube off of your hands is great too.
You can also use your gloves while riding if the weather is a little colder or if you would like to keep your hands from getting too worn from the handlebars. Style can be a factor for some riders, but at the end of the day, the functionality will trump fashion every time.
This is what to look for when you are in the market for a pair of decent working gloves:
Vented for summer use and insulated for winter use
Durable leather palms
Darker color to hide grease stains
A pair or two of these gloves are a good idea for your riding bag and tool kit.
#20: Inner Tubes and Patches
These are absolutely essential to keep in your riding bag since it's quite common to have a leak in your inner tube that causes your tire to run flat.
Even if you used your mini pump, you would just be back in this position a few minutes later, and probably with a worse leak than you had originally. Small problems can become big problems in a heartbeat.
Patching the leak or changing the tube entirely will be way better for your bike than limping it back to the car or your home. Give yourself the option and carry both an inner tube and a set of patches. Two layers of redundancy in this department is a good measure towards a successful ride.
Consider this when you shop for these items:
Make sure you are buying the right size inner tube
Get something with decent protection against punctures
Patches should be self-adhering
Get yourself some of these inner tubes and patches for your riding bag.
#21: Headlamp
A headband flashlight combo is incredibly handy to have. It goes in your riding bag for sure and is brilliant for fixing emergency stuff when the sun has gone down.
This tool is hands-free, which gives you the ability to work on your bike with ease, and is also great when the sun goes down, and you need to find your way back too.
A good feature in a headlamp would be colored lenses to produce different shades of light. Red and green are common colors for headlamp lenses. These will come built into the headlamp with no additional assembly on your part. Strobe and blinking functions on the rear of the headlamp are also great for night riding.
Look for this when you buy a headlamp:
Get one that takes replaceable batteries, so you do not have to charge it
Get an adjustable headband so you can ensure you are comfortable
Strobe function will be great for safety when riding in low light
Here's a great headlamp that ticks all the right boxes when it comes to biking.
Now that you have all the kit you'll ever need to maintain and repair your bike, it's important to actually use those tools and keep a properly maintained bike, so it lasts long and gives you a smooth ride for years to come.
Check out my "Bike Maintenance How-To Guide" to learn about the basics of keeping you bike in tip top condition.