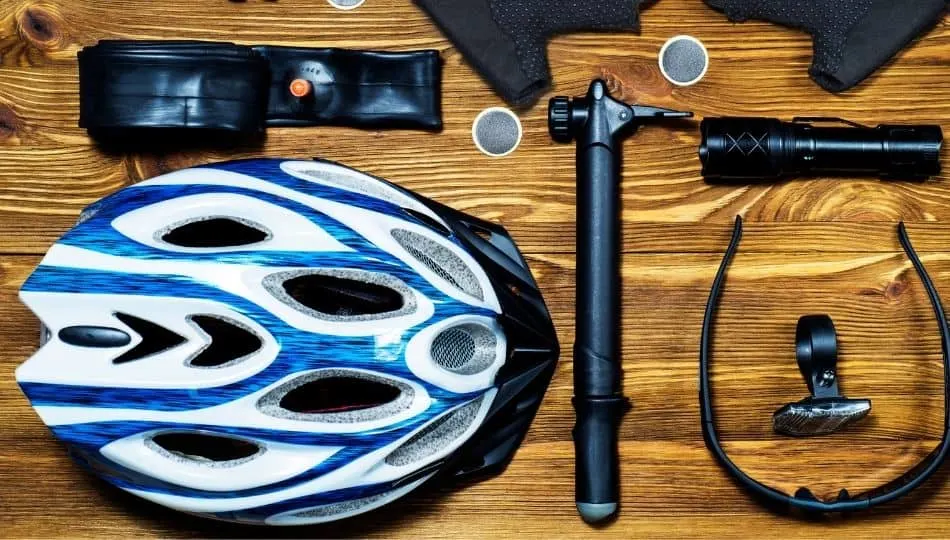 As environmental issues force people out of their cars and onto their bikes, knowing how to ride your bicycle safely in the city is essential. Biking can be dangerous if you must cross dangerous intersections or be in large crowds of other people and riders. So this guide will help ensure you stay safe when out on a bike in the city.
To cycle safely in a city, wearing safety gear such as high visibility clothing & helmet, as well as fitting your bicycle with safety features such as lights/reflectors is important. A cyclist is also considered a road user the same as any other vehicle, & must obey road signs and traffic laws to stay safe.
This article will take you through all the things you need to think about when it comes to cycling safely in a city area, including clothing, bicycle fittings, and basic etiquette, such as how to use hand signals to keep yourself as safe as possible when out enjoying a cycling ride in the city.
Biking Safely in the City
One of the most important things to remember before biking is to check the local laws in regards to bikes and their relation to cars on the road. Knowing about the helmet laws and how they are enforced is also an excellent way to protect yourself from crazy drivers or insane weather conditions.
Following the rules of the road doesn't just mean for those driving a car. Bikers will need to follow all street signs and stop lights, just like any other vehicle. Other drivers could not see a bike that runs a light and impact with them like another car on the roadway. Make sure to follow the laws and signals you see on your commute.
Above all, make sure that your attention is on the road at all times. The fast paced world of commuting can be hard for bikers that don't allow cars to rule the road. Be mindful of the other drivers and what routes they will take. Once you have a routine in place, you will know how to react when things go wrong. 
Biking Safely is About Safety Gear and How You Use it.
The most important thing you must have before you start on your commute is safety gear. You need to wear pieces that work well in day AND night situations. Dark-colored items can be challenging for drivers to see you and lead to an accident that could cause severe injury or worse. Bright colors and lights are the most important things to consider.
Pick things that are going to help you during your ride, as well as things that will allow you to handle crash or repair problems. Try and make your gear as portable as the bike to allow for easy storage and transition to working stiff. 
Let's take a look at some biking gear that you should consider for your safety…
Protecting Your Head is Crucial for Your Safety as a Biker
Having a helmet (here's a great value one with a variety of sizes on Amazon) that is brightly colored and tough enough to handle any crashes that you might encounter is a high priority. Choose something that covers your head completely, and fits snugly but not too tight (if you hold your head upside down, the helmet shouldn't fall off). And when you do wear it, make sure the straps are securely tied.
If you're looking for extra safety, you might want to consider a helmet with MIPS technology like this one on Amazon. MIPS stands for Multi-Directional Impact Protection System, which helps to redirect energy in a crash.
For more information on this type of helmet and why I prefer it, check out my article here.
Adequate Lighting Makes Your Bicycle Trip Safer
Front and rear lights are a big part of biking safely in the city. It is a good idea to have clear AND colored light that can be charged with your phone. USB lights are easy to install and often clip onto parts of your bike. You can take them on and off as needed so that you don't waste battery during the day, (and also to stop them getting stolen!).
Here's a great set available at Amazon.
A GPS Can Provide Safe Routes When Cycling
Today, there are several options that you can use for a GPS on your bike, (I love this one on Amazon).
But a GPS can make your journey safer by giving you clear directions on the safest and most appropriate cycle routes for your journey. And as a bonus, you also get traffic updates that help make your journey more efficient, as wells as it tracking your MPH and how far you have traveled.
A Bell on your Bicycle is Safer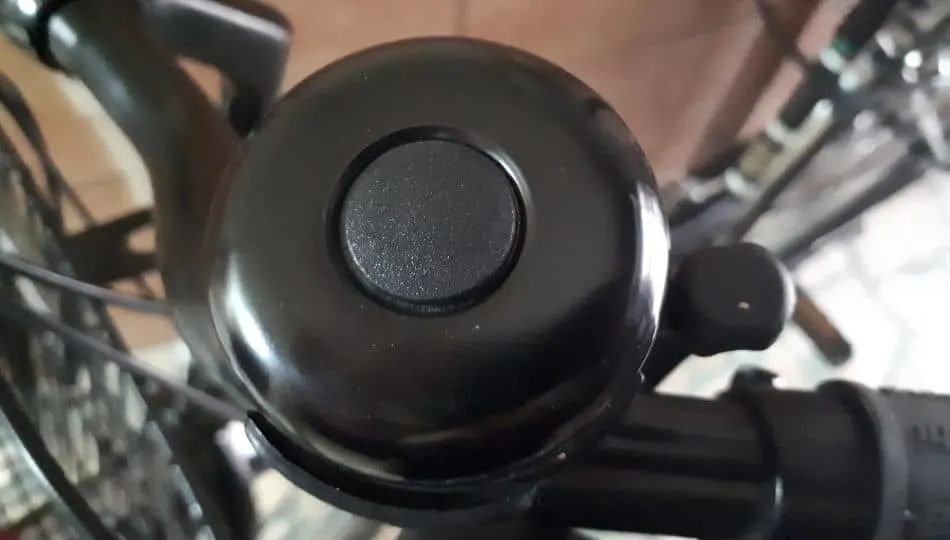 A simple but often overlooked safety feature for a city biker is a bell. Particularly for city riders, it's essential for them to have a way to let others know they are around in order to avoid unnecessary collisions with passers by, oncoming traffic, dog walkers, joggers, etc.
Having a bell is a safe way to simply and clearly let people know there is a cyclist around that may need you to give them way. Bicycle bells are readily available on place from bike shops and online; here's a great discreet looking one available on Amazon that doesn't get in the way and avoids cluttering up your handlebars.
Reflectors are Important for Cycling Safety
Having reflectors for your wheels or spokes is a great way to keep yourself visible to other drivers and pedestrians. These spoke reflectors (Amazon link) are high visibility, great value, and make the bike look super trendy! A good set of reflectors on your bike helps keep you seen and safe on your bicycle.
A First Aid Kit is a Good Idea when Cycling
Always have a first aid kit on your bike; Just in case. It'll come in handy if you ever fell off your bike with a few scuffs, but it can also be really crucial if anything more serious happened. There are products on the market made specifically for bike crashes with abrasion patches and all the medication you could need. Choose something that is brightly colored, lightweight & compact like this one (Amazon link).
Reflective Vests Provides High Visibility During Cycle Rides
Another way to protect yourself from collisions and make yourself visible for other drivers is to wear a reflective vest like this one on Amazon. Fluorescent color is excellent for the day as it is visible from far away and works even better at night. It can be seen from almost 800 feet away and has nice reflective strips that provide an even more reflective area.
The visibility of this set is excellent for those that are going to be riding at night. It covers the front and back of your shirt or jacket and even comes with detachable wrist guards that give you even more coverage. The waist expands around to make a gigantic reflective belt and provides a place to store your phone or keys.
The reflective vest fabric is made from a mesh that is great for keeping you cool during a fast ride or long trek. It will stretch to allow you to wear the vest in the summertime and add a backpack or large jacket or jacket during the winter. There's even a zipper pocket on the front of the vest that works great for items that won't fit in the pockets.
Consider a Bicycle Helmet Camera for Safer Cycling
Having a helmet is the law in most states. Adding extra upgrades like a camera could prove a worthwhile item to buy. They can provide additional security for you if there's an accident, and the police can see what happened. If there's an accident with other cars, you can witness and help them with insurance issues.
The other important reason to consider a camera that is often overlooked, is the fact that other road users can see that you have one. It shows that you are a diligent road user and it helps encourage others around you to behave appropriately and safely on the road, which in turn makes it safer for you.
MOKFIRE makes a fantastic helmet that has the appropriate attachments for your GoPro or another action camera. (Here's a link to it on Amazon). It provides extra protection for the user while having a few additional vents to keep the wearer's head cool when driving. (Being sweaty and heading into work isn't something that most people don't want to do.)
The MOKFIRE is lightweight, and has a dial fit retention system that allows you to make the helmet fit perfectly. What makes it stand out is the extra safety lights that are worked into the helmet's frame. There's even a red charging tail light that works as an indicator of charging status.
If you don't want to attach a camera to your helmet, or you'd like an extra camera for everything going on behind you, this one available from Amazon is a great choice.
Having a Good Bike Lock is Crucial for Safety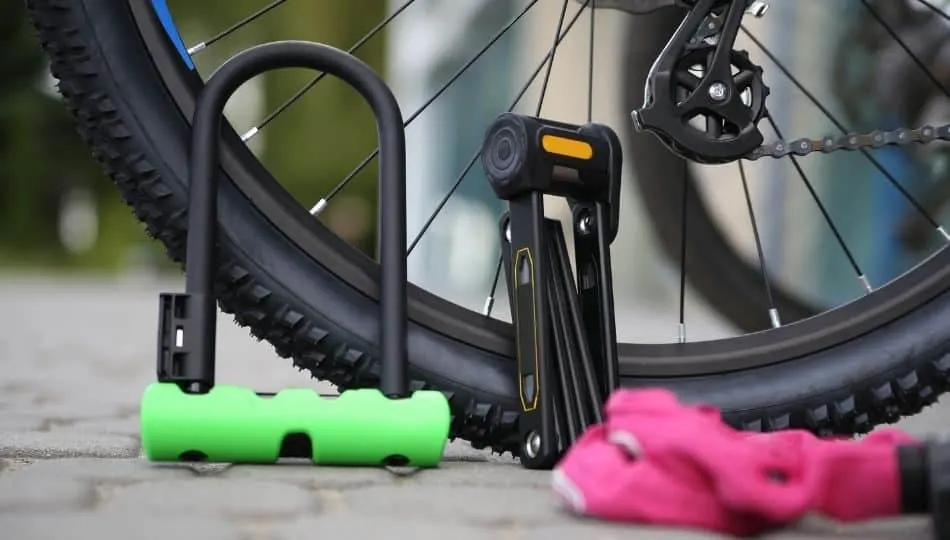 When you park your bike in the city, a bike lock is absolutely essential. Choose one that comes with a gold star rating. This is the highest rating of security that a bike lock can have and it'll be much harder to break it than less durable ones.
SeatyLock make a great one that is really heavy duty but also lightweight with it's patented technology. You can find it on Amazon here. And if you want to add an extra deterrent, combine it with a cable lock too like this one (Amazon link).
Use a Phone & GPS Mount to Stay Safe when Cycling
Phone and/or GPS holders that attach securely on your bicycle's tube is an important part of cycling safely in the city. There's 2 reasons for this:
It means you can ride with full view of the road whilst still using your GPS.
It'll stop your phone from falling/moving around, hence stopping a potentially dangerous distraction.
They're often made from leather or other thick fabrics that make the electronic devices able to be used in all types of weather. ROCKBROS makes one of the best models on the market, (you can find it on Amazon here). It's covered on both sides with thick pieces of fabric and across the front is a bit of plastic that acts to protect the sensitive face of your phone.
A Bike Repair Kit is a Great Addition to Cycle Safety
Carrying a bike repair kit can be a lifesaver when you're out in the city and you get stuck due to bike problems. KitBest makes a brilliant bike repair kit that is portable and durable (you can find it on Amazon here). Not only it is lightweight and portable, it also comes with a 16 socket wrench set, which means you should have the appropriate wrench for your brakes and wheels, no matter what bike you have.
And it's always a bonus when it comes with straps so you can attach it to your bike's tube instead carrying it directly (which the KitBest one does).
Consider Side Mirrors Extra Visibility When Cycling
It can't be stressed enough how important knowing where you are in relation to other walkers/riders is. Having a good set of mirrors will allow you to see when people are coming up behind you and make room for them. It will also let you know if you are turning and there is someone that will impact you as you ride.
Hafny makes mirror sets that are functional and will fit just about any bike. They are stylish, with large mirrors that allow you to see more of the road than your standard helmet mirror. You can check them out on Amazon here.
Now that you know what you need to stay safe when riding in a city area, here are some important tips for you to consider to make sure you are getting the best out of your ride in terms of safety…
6 Tips when Biking in a Crowded City Area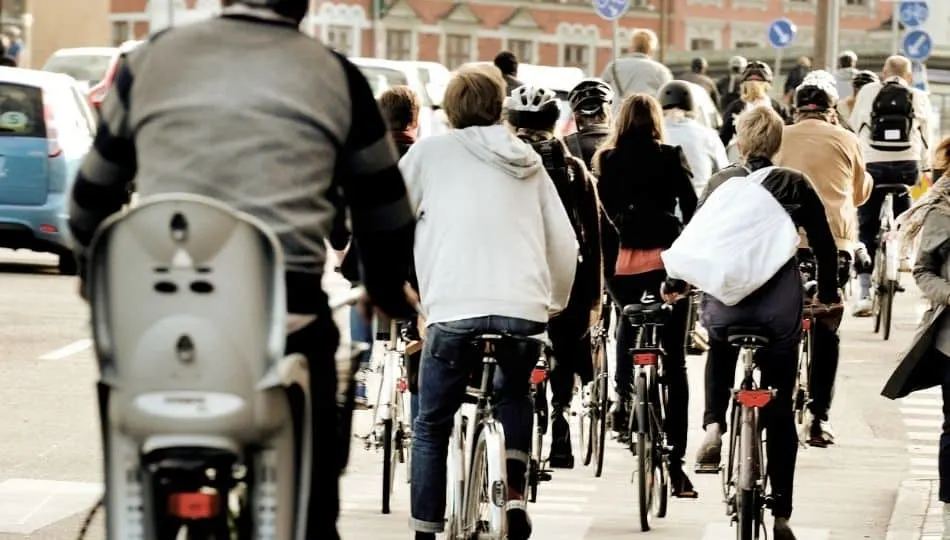 Get Some Practice – One of the most important things to do before you go is to take a few practice sessions. Choose parts of the town that have very little traffic or empty parking lots. This will help you gain confidence and proficiency on your bike, making your journey safer.
Get Rid of Distractions – Don't take anything with you that will take away your senses of the road: that means no listening to music with earbuds or headphones. Keep your mind on the road and other cars as much as possible to stay safe in a quickly moving environment.
The Right Bike – Having a bike that is suited to city cycling will make your life easier and safer. A hybrid bike is your best bet for cycling in most city areas, as it is essentially a cross between a road bike (good for riding on smooth surfaces such as road), and a mountain bike (good for rougher terrain). A hybrid will make it comfortable for you to ride on roads as well as parks/gravel paths.
Always Use Safety Equipment – As removable as the safety parts on a bike can be, you should make sure that they are always in place. This is for your protection and the protection of other people. So make it a habit to always check that your safety gear is all in place and in good working order before every ride.
Use a Map – Having a map or GPS on your bike is a great way to keep up with traffic. Often, riding in the city requires you to be rerouted, and a map application on your phone will work perfectly. Don't choose anything that will distract you from the task at hand– just enough info to make your trip.
Stay in a Safe Position – Make sure you know the safest position on the road for what you need to do e.g. don't get caught in a blind spot of a large vehicle, and make sure you are in the most visible part of the road when turning.
Getting Used to Riding a Bicycle in the City
It's quite normal for newbies to feel anxious about starting to cycle in the city (I know I certainly was!), but you've had some experience, you'll find that it isn't as scary as you first thought. Here are some ways to ease into it and grow your confidence and city cycling proficiency…
Have a Bike Buddy – Pairing up with a more experienced biker is a great idea for the newbie commuter. They can teach you the places to avoid and might even show you a few shortcuts that will make your day easier. They can also teach you about safety gear and what kind would work best for your bike.
Learn Hand Signals – Learning how to signal can be important to new commuters in the city because it gives others an idea of where you are going. Riding is about safety, and the signals will provide you with the best chances to avoid any accidents.
Ride a Practice Route – If you have a particular route to work in mind, you should take the time to drive it a few times at the busiest parts of the day. This will teach you how much effort and time it will take to get where you are going. This is very important if you are working on a tight schedule.
Bike Maintenance is Part of Cycle Safety
Safety and maintenance are directly related in that one impacts the other. Taking care of your bike means fewer incidents of chains coming off or brakes failing when you are barreling towards a group of people. If something does go wrong, knowing just a few quick things can keep you on the road and out of trouble.
Like any other machine, a bike needs a regular maintenance schedule. If you have a new bike, there could only be a couple of things to check each day, but as it ages, those things will increase. Doing regular repairs will make your bike last much longer and decrease the chances of catastrophic failures from the drive train. 
Basic bike maintenance that keeps your bicycle safe when riding: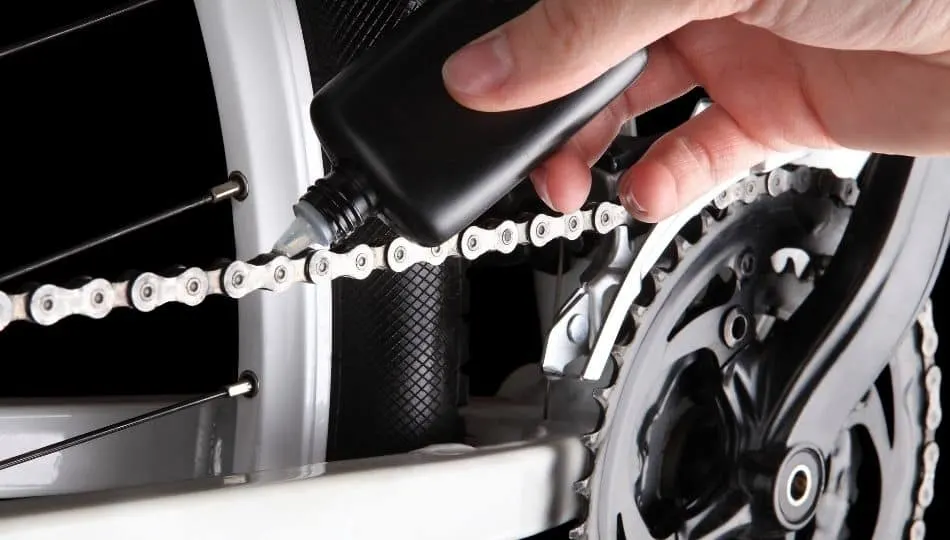 Chain Maintenance – Having a chain clean and well oiled will make your trips much more comfortable. It also keeps the chain from flying off when changing gears. If there are hills in your trek, having a bike with gears is essential, or be prepared to build Herculean leg strength.
Check the Tires – Tires are another big piece of the biking puzzle. Tires for a street bike are often thin and are susceptible to all kinds of debris on the roadway. Check the surface for any soft spots or indentations that could lead to replacement. Ensure that tires are always correctly inflated.
Keep a Clean Bike – It might sound like your mom telling you to clean your room but keeping a clean bike means that less overall maintenance has to be done. By simply rubbing down the bike every night, you can keep grit and grime out of the moving parts and lead to fewer breakdowns.
Braking is Crucial – Test out the brakes before setting off. Take the time to go over the calipers and pads to make sure that there aren't any loose nuts and bolts. As you ride, the bumping and rolling will cause the bolts in every piece of the braking system to loosen. Take wrenches and keep them tight at least every other day.
Be Prepared for Flats – If you don't know how bicycle tires work, now is the time to learn. Repairing flats will be a big part of riding and being calm enough to handle the frustrating work of replacing a tire tube. Keep extra tubes and patches with your first aid gear for easy access.
Conclusion
Biking on the street safely is going to take experience and a bit of planning. You should know your routes and how long it will take you to get where you are going. Pay close attention to traffic as the other cars can delay you or crash into you. Be prepared for crashes with safety equipment and first-aid materials by keeping supplies on your bike.
Being highly visible is a make or break situation for a bike commuter. If you ride at night, you must choose brightly colored lights that allow people to make out the bike AND rider.