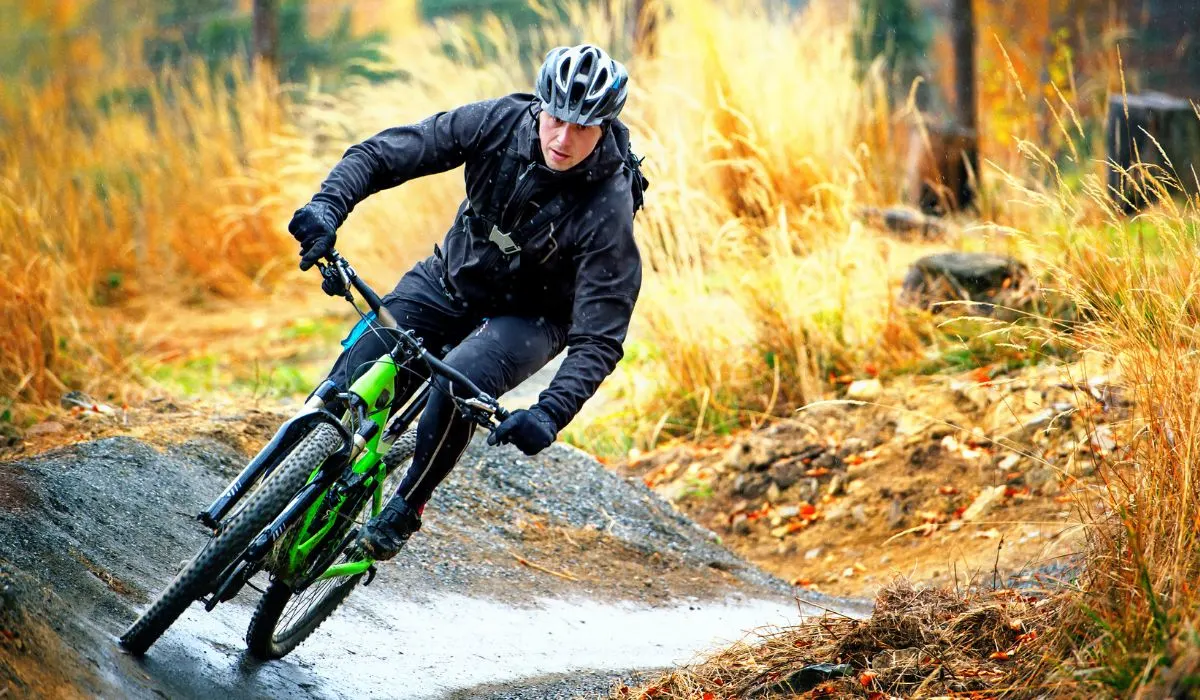 Giant, Specialized, and Trek are huge bicycle brands that are usually your first recommendations in talking with bike mechanics at your local bike shops or from basic Google searches. Although these companies have everything for most people, it's still helpful to know how they compare.
Giant focuses on options with quality components, even if it's one or two at every price point. While Trek, and more so Specialized, are more concerned with providing quality performance machines for their mid to high-end clients and often skimp on components on their more affordable builds.
All three of these brands are winners. Each has something to offer, and if you like cycling it's helpful to note what each leading brand offers.
Giant Vs. Specialized Vs. Trek: History, Reputation, And Resale Value
Like it or not, history can play a vital role in a brand's reliability. Knowing where a brand came from can help you see where it's going.
History also spins closely to a company's reputation. A company that continually strives to produce the best products will have a good reputation that rises above the criticism of being a brand in the public eye.
Giant History, Reputation, And Resale Value
Giant began its global stint by producing bikes for the American Schwinn Bicycle Company. The Taiwanese giant grew more aptly named as it matured to produce bikes and equipment for other recognizable brands such as Scott, Colnago, and even Trek.
After its 1972 birth, the Giant Bicycles brand we now know would come to be in 1981. The cycling market started seeing bikes branded with the Giant brand in the company's home country. Then it spread to Europe, North America, and other nations.
The company would start foreshadowing its dominance with its involvement in carbon fiber bike production in the late 80s. Giant Bicycles would also start innovating with their Maestro Suspension Technology for offroad riding and all-around performance.
Over the decades, the brand continued ingenuity and bringing high-end performance to budget bikes. The world would grow to consider Giant as the go-to company for riders of all levels, and it's perhaps this groundwork that would blossom into a reputation of a wide array of bikes at an equally broad price point.
Giant is praised for generally giving cyclist bikes decent components, even if it's one or two quality components in a relatively benign build.
Although the company doesn't have the exclusive prestige of specialist bike companies, Giant is a leading cycling corporation that produces long-lasting bikes, and it's a noteworthy Original Equipment Manufacturer (OEM.)
This company produces mid to high-end bikes that can hold a fair percentage of their original price over the years.
Specialized History, Reputation, And Resale Value
Specialized hasn't only focused on bike design and product innovation since its start in 1974. Specialized has been proud to promote its humanitarian efforts through programs like Outride to help kids focus on school through cycling.
The Morgan Hill, California company might not measure up in size compared to Giant and Trek. However, its respected brand recognition on the market still makes it a contender not to be overlooked.
The company is innovative, and just a few of its accomplishments undoubtedly prove that.
From the proverbial leftfield, the company satisfied the market with quality tires when there was an obvious need for them. At the behest of everyday riders, Specialized understood the assignment and went on to make some of the first production mountain bikes for offroad cruising.
Specialized would improve and add to the cycling world by also devoting themselves to carbon fiber bikes when the material hadn't quite infiltrated the general public the way it has today. This may be one of the factors that aided this company to grow to eat at the heels of leading brands, Giant and Trek.
The brand was bought by Meridia Bikes in 2001 and has only expanded its production scope from that point on. Specialized has cultivated a name associated with high-quality builds focusing on light carbon frames and stupendous suspension technology.
Specialized is known for having seemingly exorbitant rates for its bikes, but true to its name, its offerings are specialized and often high-end. This "elitist" status dramatically contributes to their reputation of continually releasing bikes that hold their market value exceptionally well.
Trek History, Reputation, And Resale Value
Trek could probably trademark the spirit of adventure. The company is an accurate representation of family companies that are conceived and nurtured here at home. Trek wasn't only a dream imagined in Wisconsin; it became the largest cycling company out of the Dairyland State.
Trek's rise has been as cinematic as its start over a couple of pints and a solid handshake in a bar you'd probably recount your day's riding. The cycling company would get an early leg-up on its contenders with their long-lived 904 touring bike frames, providing countless miles for avid adventurers and cyclists.
Trek's devotion to innovation would become easy to follow with its investment in frame designs and emerging cycling technologies. The ever-expanding venture would continue making Hollywood Boulevard strides and go on to create other increasingly recognizable brands such as Bontrager, Electra, and Diamant.
Revolution, comfort, and accessibility are at Trek's and its subsidiaries' lead. Trek has invested a lot in its marketing. Combined with their exceptional designs, it has made them one of the most easily recognizable cycling brands.
The company is widely respected and trusted, and its above-average ability to retain its value over the years is one of its best qualities to look out for. Their mid and higher-tier bikes can hold around 50% of their original market value, which is not as typical as you'd think for continually depreciating products.
Giant Vs. Specialized Vs. Trek: Durability, Warranty, And Customer Service
Determining if a bike or product you plan to spend your hard-earned money on will stay with you for the long run is essential. Warranties for these performance machines are also vital to help alleviate the stressors and potential dangers that come with company oversight.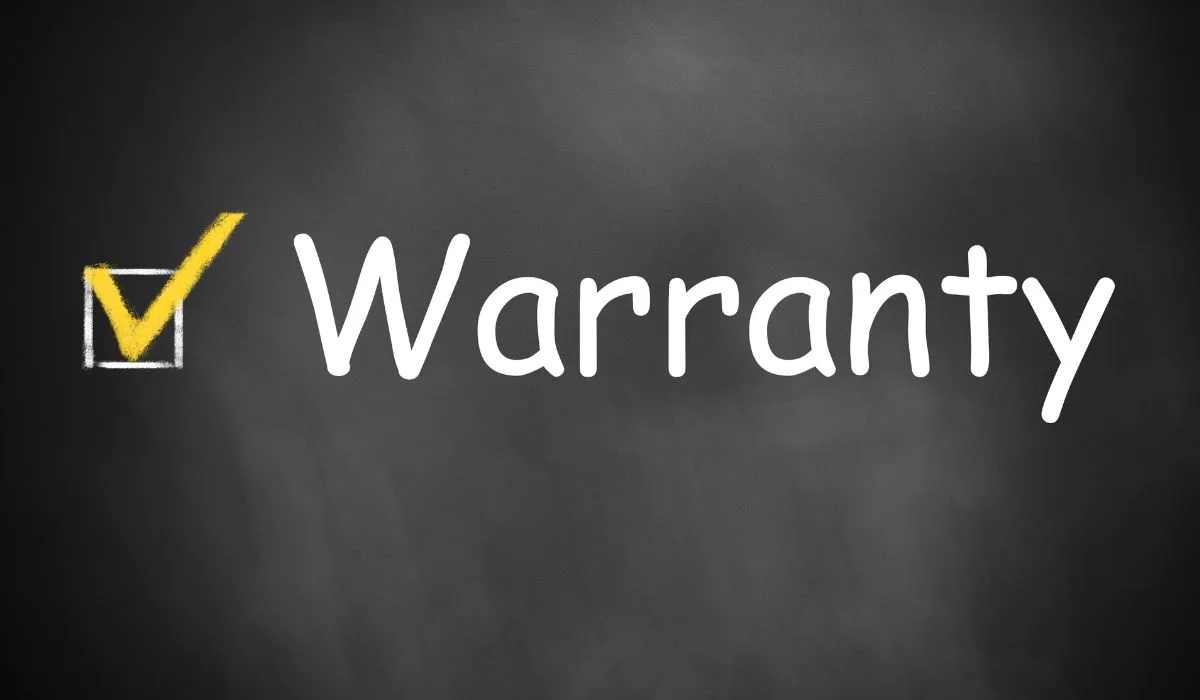 Giant Durability, Warranty, And Customer Service
Giant has proven itself deserving of the number one spot as the most extensive cycling brand in the world. Their bikes have been tested time and again without much faltering. Kids and adults have tested the durability of their bikes, and it has primarily held.
The company is so confident in its builds that they offer a lifetime warranty for its bikes. This warranty covers manufacturer defects on the frame for the original bike purchaser with proof of purchase.
There's also a limited warranty for faults found on their original equipment and finishes on paint. Giant is humongous and sometimes receives some bad noise for seeming picky with honoring their lifetime warranties.
NOTE: Their online store has been known to dawdle in dealing with some issues. Still, the company primarily deals with problems quickly.
Specialized Durability, Warranty, And Customer Service
Specialized makes bikes that are rated with outstanding durability. The company has amassed respect for its attention to detail and robustness that lasts. The company's policies are rider-centric, and its lifetime warranty stands as proof of just that. It covers their framesets and branded products.
Their Roval wheels also have a lifetime warranty, and their Specialized-branded products have a two-year warranty that covers faults like paint and visual defects. Their Turbo batteries also have a two-year or 300-charge-cycle warranty.
They also have a two-year warranty from the original date of purchase for subsequent, second-hand owners of Roval or Specialized products. Specialized has similar customer service reception on platforms like :
They are hardly ever based on the quality of their builds. Still, they sometimes receive a beating over their response times and lifetime warranty honoring.
Trek Durability, Warranty, And Customer Service
Trek can't be much faulted regarding the durability of their frames and overall builds. The company is well-known for being capable of churning out high-quality builds that can last riders for many seasons. Sometimes the line does get slightly blurred between the quality of their handiwork and their knack for excellent marketing.
If nothing else, Trek takes incredible pride in its craftsmanship, as it has been one of its standalone characteristics over the decades. Their lifetime reflects just that.
The warranty applies to their original equipment and aftermarket products. It is non-transferable, meaning that the original buyer needs to be able to prove that it's been in their care for the entirety of the product's escapades outside Trek's factory.
The lifetime warranty benefits their framesets and suspension, as you never know what a couple of hundred miles can unveil.
Trek also has a 2-year warranty on some of their other products, and second-hand owners can get a limited warranty for up to 3 years from the original purchase date of the first-hand owner.
Like all large corporations, Trek has customer satisfaction on either side of the spectrum. Customers do agree that when things go well, they go super smoothly. Still, there are times that hair-pulling can arise from lifetime warranty contests and just general timely replies.
Giant Vs. Specialized Vs. Trek: Accessibility And Servicing
Fortunately, all three of these brands are relatively easy to get your mitts on them. Their extensive inventory also plays well into catering to riders of all levels, and you can get servicing in many shops across the country.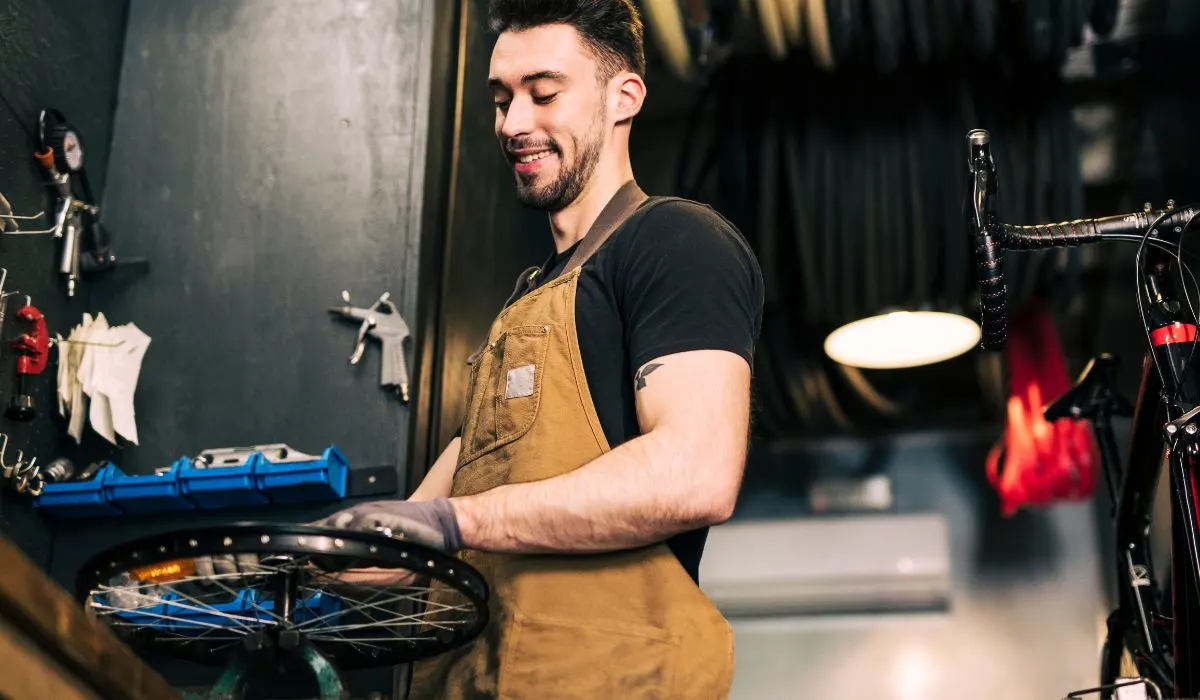 Giant Accessibility And Servicing
Because Giant is a colossal cycling brand, they can ship their bicycles nationwide at a fraction of the cost of other brands like Trek. Even though they don't have factories here in the States, they can quickly fulfill orders through bike shops nationwide without hindrance.
The brand is also so famous that finding a shop that can service your bike isn't challenging. Plus, many of Giant's builds still retain the original simplicity of bikes. You can do your servicing without being thwarted by complicated integrated cable components.
Specialized Accessibility And Servicing
Specialized can hold its head high as one of the largest bike companies in the world and doesn't trail far behind Giant and Trek. The company's size is one reason why Specialized bikes are available in many bike outlets worldwide and across the country.
Cyclists shouldn't encounter much hassle getting their hands on a Specialized bike and servicing it. However, because their lineup has bikes with some advanced engineering, it is challenging to do self-servicing.
Good bike shops with experienced mechanics should have no issues servicing your Specialized bikes. Still, it might get expensive the higher you go up the Specialized hierarchy.
Trek Accessibility And Servicing
Trek does most of its production in-country, and you can walk into many bike shops and ride off with a Trek bike. Being the second largest cycling brand also affords them a far-reaching understanding of their products.
If stock isn't an issue, you shouldn't have any trouble getting your hands on one of Trek's bikes and services. The builds are also straightforward enough that home tinkerers can do servicing themselves.
Giant Vs. Specialized Vs. Trek: Design, Components, And Technologies
These three leading companies can't be much faulted for their:
design
choice of components
integrated technologies
Trek's track record is that of a company that focuses on precision and perfected only technologies that have proven revolutionary in the game.
Specialized also seemingly focuses less on trying out every idea in the hopes of lowering the charge to the customers but works to improve what they are already assets to them.
On the other hand, Giant is so big that it can afford to play around with multiple ideas and works to create something for everyone. Giant's list of tech and designs on their info page could fill a sizeable pamphlet.
Giant Design, Components, And Technologies
Giant seems to focus on making a wide range of bikes to make cycling accessible to as diverse a market as possible while focusing on comfort and quality components.
The company's designs are a bit flashier than Specialized or Trek. That confident philosophy is reflected in their many technological ventures.
Advanced Composite Technology
Giant uses High-Performance Grade raw carbon to make their unique carbon material. Their focus is on pushing it on the stiffness-to-weight ratio. The company uses Modified Monocoque Construction for a seamless single-piece fabrication of the front triangle on some of their frames.
The company also expands on this technology with its:
Advanced SL
Forged Composite Technology
These two technologies are for Giant's high-end bikes and offer benefits in terms of:
stiffness
weight
strength
Aluxx Aluminum Technology
Giant reanimates 6061 aluminum alloy from its impending retirement. Using single-butted aluminum tubing, Giant can produce relatively lightweight framesets that are stronger than they ought to be.
Giant again expands this line of material to use on their more esteemed bikes under:
Aluxx SLR
Aluxx SLR Aluminum Technology
These are performance-grade upgrades to the humble, tried-and-true aluminum material. Giant does it so well that it looks pristine and performs as such.
Comax Composite Technology
Giant's propriety mix of quality fiber-reinforced polymer and pure carbon makes for a versatile carbon fiber composite. Their engineering of this material allows for the best rider comfort with as little weight as possible while not compromising performance efficiency.
Maestro Suspension Technology
This simulated single floating suspension creates a suspension system on offroad bikes that is one of Giant's most:
independent
fully active
responsive
pedal-efficient
Crest 34 Suspension Fork
Giant effortlessly flaunts decades' worth of research and work for response and control that is:
smooth
comfortable
accurate
Giant touts this suspension fork as one that asserts its unmatched control and stiffness effortlessly against other suspension forks at similar price points.
Specialized Design, Components, And Technologies
Specialized is known for its simple but technologically loaded designs. Everything from their material to the internals of their frames is optimized and dialed in. The cycling company is constantly working to make their bikes:
lighter
faster
appear more straightforward
Brain Technology
The Brain technology that Specialized uses on some prominent bikes adds intelligence to shock absorption. This suspension technology provided by Specialized responds faster to terrain demands and responds intelligently not to seep out the gas under your wheels.
Over two decades of tweaking and working on this tech helped Specialized fine-tune it to think independently from the rider and adjust from the firm to act in response for optimal control and efficiency.
FACT Carbon Fiber
The Specialized Functional Advanced Composite Technology (FACT) carbon process doesn't only start and end with the carbon composite material. Still, it is a holistic procedure of using only the best material with industry-leading manufacturing processes.
The FACT carbon fiber is perhaps one of the technologies that have grown to cement it as a formidable producer of carbon frames.
Öhlins Shock Technology
Öhlins Shocks offer seemingly limitless adjustability, and the brand produces an incredibly smooth-feeling and high-performing suspension system.
Specialized managed to capitalize on Öhlins' innovation by having an exclusive partnership with them which is a big plus for both brands.
Rider-First Engineered
The Specialized trademarked Rider-First Engineered focuses on a data-driven frame design inspired by the company's relationship with McLaren. The company's engineering labs look at all the potential pain points of the rider and work to rectify any lack of reliable data.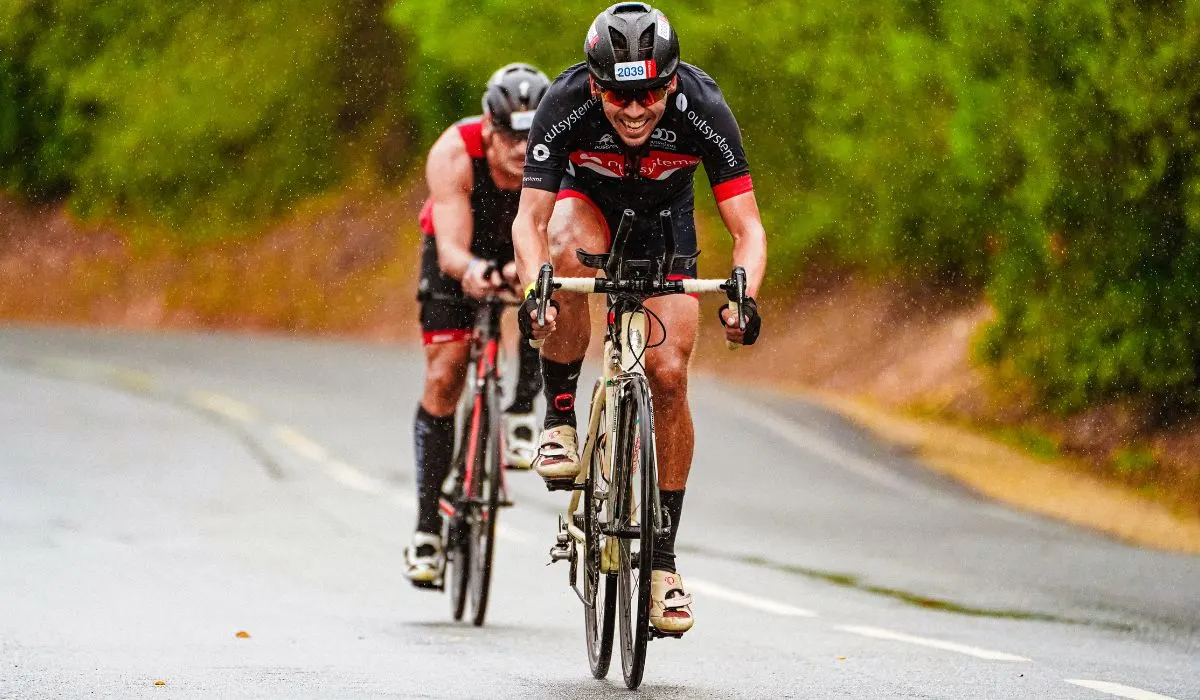 Trek Design, Components, And Technologies
Trek has quality frame designs and takes pride in providing clean and simple lines for its bike silhouette. Their components and mechanics are based on processes they've been building on for years.
Alpha Aluminum
Trek says their Alpha Aluminum is their most advanced aluminum concoction. The company has invested innumerable hours into its metallurgical science to produce frames that are robust and light enough to compete against carbon frames.
Trek has squeezed every ounce of performance out of their aluminum for a decreased weight and maximum stiffness on only the places that call for it.
Active Braking Pivot
This simple yet masterful execution of Trek's suspension system allows riders to brake efficiently without locking out the rear suspension on the mountain bike equipped with this design.
With a simple realignment of the rear suspension pivot, riders can go ham on braking without losing momentum on dicey trails.
RE: Aktiv With Thru Shaft
This setup allows riders to forget that momentary lag of engagement on the shock system, whatever the terrain. Trek is constantly working and reworking its suspension systems to only be there from their input into the ride.
Re: Aktiv has such close tracking of the trail that it almost feels like it's reading the future.
IsoSpeed
Trek's IsoSpeed allows the company's engineering department to retain the classic diamond-shaped frameset where it should be while adding a beautiful level of:
predictable stiffness
control
frame compliance
Giant Vs. Specialized Vs. Trek: Bike Range And Prices
Giant has one of the largest, if not the largest, spread of bike types at every price. Companies like Giant put mass-produced, discount store bikes in the area they belong in.
Specialized and Trek are more bourgeois brands. Although they offer entry-level bikes, they often all seem like afterthought capitalization compared to their mid-tier and higher-end offerings.
Giant Range And Prices
Giant has pretty much every type of modern bike you can think of. Without much effort, you can find a bike that can be a good companion for several thousand miles specially designed for:
Their electric bike range has been building up steam over the years, continually decreasing prices while improving. The company has road bikes ranging from as low as around $500 to around $12,500. 
Specialized Range And Prices
Specialized also carries a wide array of bikes at all price points. The company provides everything seasoned cyclists and newbies could ever want. Their pure-bred road bikes start at around $1,000 and can dance around the $15,000 mark.
Fortunately, the company knew to not only focus on mid-tier and up ranges. They also offer other hybrid and mountain bikes for around $600, even though some of these bikes seem to constantly remind you that they are entry-level with the use of questionable components for the price point and the age.
Trek Range And Prices
Trek has a respected lineup of touring and mountain bikes with stellar suspension. Their focus is commendable on these bikes:
mountain
road
hybrid
electric
women-centric
Although there's always a harmonious chorus of getting what you pay for, Trek does get some flak for not fully catering to people with newly emerging cycling interests. Their cheapest road bikes sit around the $1,000 mark and gallop past $14,000.
The company does properly dip its toe into the entry market with its hybrid bikes with price tags as low as around $600. However, these bikes often flounder from their lackluster component assembly. 
Giant Vs. Specialized Vs. Trek: Pros And Cons
Each of these three companies has something to offer the discerning customer, and you shouldn't be in much want with any purchase of the brands. It's more important to know what you want for:
your build
your budget
what you can't afford to include in that assembly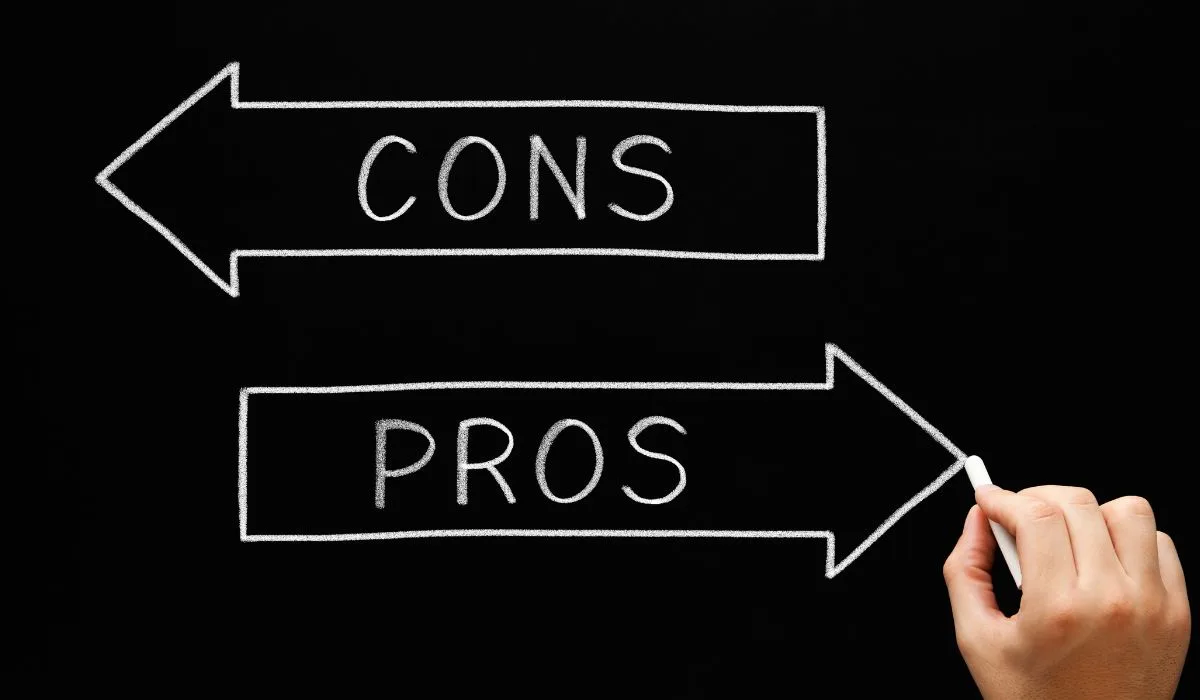 Giant Pros And Cons
It's widely agreed upon that Giant produces comfortable rides. The entirety of their range is appealing to even the most starved pockets. The vast store of bike types at all price points makes the company a one-stop shop for beginner and more experienced riders.
The company is also respected for selling dead-set products to be bang on the buck. One of the few issues is their propensity to slap one or two name-brand components on lacking builds instead of making the bike more well-rounded.
However, the lifetime warranty on their frames is always comforting because it gives riders a sense of security in their bikes across the board.
Specialized Pros And Cons
Specialized continually cranks out some interstellar builds loved worldwide, especially regarding their S-Works line. Perhaps their high esteem is even more glaring when the company "phones it in" regarding the assembly of components on their entry-level bikes.
Fortunately, mid-tier Specialized bikes usually have a fantastic assortment of components. Another fault with Specialized is that they don't always have products that match their high price, especially with their mid-tier bikes.
Specialized also has a body geometry design that's in tune with their riders and can fit like a glove if you take the time to do a proper fitting.
Trek Pros And Cons
Trek has invested a lot of dollars and hours into advertising its brand and saturating the market for recognizability. Their marketing efforts have duly paid off as Trek is now one of the most recognizable cycling brands anywhere in the world.
Unfortunately, many now feel like they are paying more for brand recognizability than the quality craftsmanship from the Trek they grew up with. The lifetime warranty of Trek bikes serves as a small testament to their unwavering dedication to reliable builds and innovative designs.
The company isn't as affordable as Giant, but it is an American-made brand that stands proud of the fact.
Conclusion
To reiterate, Giant, Trek, and Specialized are leading bike brands for a reason. They are such close matches that an affordable purchase from any of the brands shouldn't be a disappointment.
For cyclists who have been on the game for some time, it usually comes down to taste and knowing what each company skimps or spurges on.
You might also be interested in: