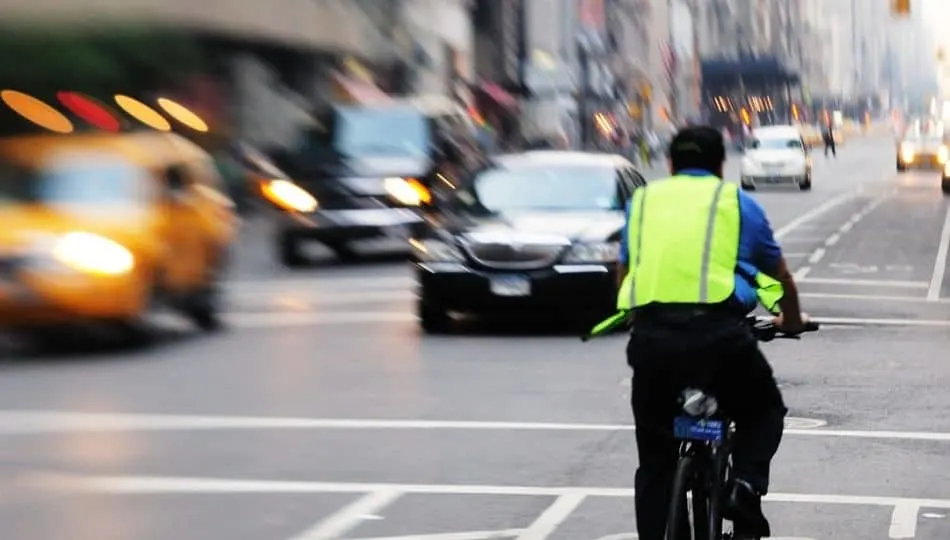 City cycling can be a bit daunting if you are brand new to biking. The city is a hectic and busy mess of streets, sidewalks, bike lanes, and unforeseen hazards. To make biking through the city as a beginner easier, we developed the following guide for you.
As a city cycling beginner, the basics of cycling, along with understanding how biking on the open road works are important. From choosing the right bike, wearing the right gear, to knowing the law and etiquette of the roads; city cycling skills are an essential part of your journey.
This article will discuss how to choose the right bike for you and the specialized gear to make your ride easier. We will also cover some important safety tips and road signals necessary to share the road with others safely. Finally, we will talk about simple bike maintenance and tips for riding in a city without bike lanes. Get ready because you will be an expert city cyclist in no time!
Choosing A Bike For A Beginner
The most important part about city cycling is the bike you are using. There are quite a few options on the market, but not every single one is going to be right for you and your needs. Use our chart below to determine which bike is best for you. 
The following chart shows a list of the different types of bikes you can purchase for city cycling and the advantages and disadvantages of each:
| | | |
| --- | --- | --- |
| Type of Bike | Pros | Cons |
| Cargo Bike – Can vary in capacity and size depending on the intended cargo. | Great for carrying bigger loads or if you have children | A larger frame can be difficult to store easilyMore expensive, especially if you invest in an electric version |
| Dutch Bike – Also known as a comfort bike  | Extremely comfortableEasy to mount and dismountDesigned for ease of useUpright riding position | The frame can be on the heavier sideTires generally have a light tread |
| Electric Bike – Also known as an E-bike | The motor allows for less effort while pedalingElectric motors can be found or adapted for almost any of the other styles listedGreat for more intense terrain changesThree classes for varying speed needsGreat accessible option | More expensive than an average bikeCan cost over $1,500 |
| Folding Bike – A compact option for those using public transit in addition to biking.  | Great for easy storagePerfect for multiple modes of travel in one dayVery convenient for commuting or errandsMany have large capacity and versatility  | Smaller wheelsPartial disassembly can take some time to adjust toVery purpose-built, so it may be lacking in other areas of form and functionality depending on the style you choose |
| Hybrid Bike – A great combo of fitness and comfort. | FastLightweightFunGreat on paved and unpaved surfaces | Narrow tiresMay run into handling challenges during poor weather conditions |
| Mountain Bike – Durable bikes made for dirt trails | Great for off-road adventuresWide and flat handlebars for control | Not the best option for city cycling The suspension is everything; choose a beefed-up rear suspension for ultimate off-roading  |
| Road Bike – Also known as a 10-speed or racing bike  | For the athletic typeGreat for speedPerfect for pavement riding | Not the best option for city cycling Narrow tires |
While the above list is not comprehensive, if you do not see a bike that is perfect for you, there is no need to worry. Most of the time, you can find a bike that meets your exact needs or find a shop to build you a custom bike. 
NOTE: You can also check out my article "A Beginners Guide to Choosing the Perfect Bicycle" if you'd like more specific details about how to choose the perfect bike).
How Do You Select The Best Bike?
We suggest you head to your local bike shop and not a big box superstore for purchasing your new bike. Bike shops can offer you expertise and suggestions that a general store employee can not usually provide. 
Keep in mind the following points of consideration when choosing your first bike:
Comfort and positioning – Seats that allow you to sit upright are generally more comfortable, but bikes designed for speed may have you leaning forward. Consider comfort and positioning when selecting a bike frame. 
Overall fit – Choose the right size bike for you and adjust the seat as needed for proper fit. Select tires that are large enough for your height. 
Stability – Consider choosing a wider set of handlebars and base for increased stability. If the handlebars twitchy or overly responsive, it could mean that the bike stem is not the right fit. Here's an article I wrote on how to check if a bike stem is too short or too long.
Tire width – Wider tires will add stability and create more opportunity for traction on the open road.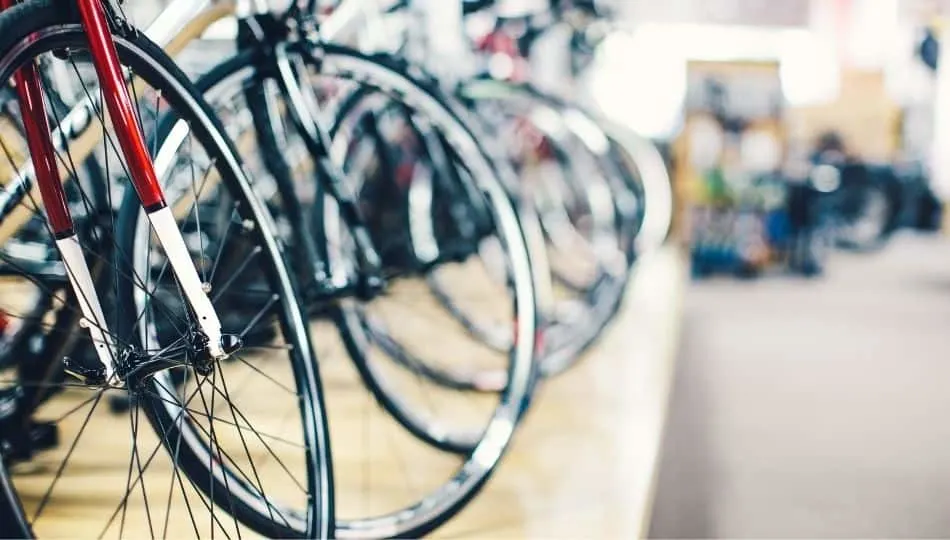 Depending on your needs, you can select the best bike for you. Here is our breakdown of the best of the best options:
Best for Adventure – A mountain bike is great for its versatility. You can bike on the trails off-road, and then you come back to the open road without sacrificing speed. 
Best for Comfort – The Dutch bike has a design with comfort in mind. With the upright design, you are never hunched, and it usually includes a basket for quick storage and a wider seat. 
Best for Commuting – A folding bike, which you can bike to the train with and quickly hop on for the rest of your commute. 
Best for Families – The cargo bike is best for families, but it is the largest of all the bike frames presented above. It makes traveling with children very easy and much safer than a trailer you haul on the back of a more traditional bike. 
Best for Quick City Travel – The hybrid bike is perfect for getting around the city as it is a fast and lightweight bike. 
If you still do not know what bike will work the best for you, it is always a good idea to test drive some bikes at your local bike shop. They will give you the rundown on the different types of bikes and are more familiar with the road conditions in your immediate area. 
What Type of Gear Will You Need?
As a beginner, there are only a few items you need to stay safe. But as you become a more frequent city cycler, you will find the gear listed below will help you create a comfortable and enjoyable ride. With this list, you will have all the things you need, and it will streamline your biking experience. 
The following is a list of gear you should invest in as part of your cycling habit:
Bag – Have a bag that you store your bike gear in; make sure you include a basic tool kit and bike pump, just in case you need it while out on the road. 
Bike lock – Choose a lock that is easy to use and difficult to break off. Your basic bike lock should do the trick. 
Comfortable saddle – Almost all bike seats can be traded out for more comfortable options. Select a seat that is right for your needs. Wider seats will be more comfortable. 
Helmet – Always wear a helmet, especially in the city. It will give you an added layer of protection and decrease your risk for serious injury in the case of a crash.
Lights – These provide you and your bike with added visibility. These will also increase your safety.
Mudguards – These will help keep your clothes clean while riding, especially in poor weather conditions. 
Phone mount – This makes travel via GPS hands-free and easy. No need to fumble with directions while you are out on a ride. 
Safety vest – Another measure to increase your visibility and stay safe 
Once you invest in the right bike, do not skimp on the accessories. They are just as important as the bike itself. It can be easy to get discouraged about city cycling as a beginner, but having the right gear will help you keep your new habit. 
Check out my Recommended Gear section for information on all my favorite items when it comes to cycling gear.
Types of Clothing to Buy
In addition to the gear discussed above, you should also think about some comfortable clothing options for city cycling. If you are comfortable, you are more likely to enjoy your ride and keep up your new city cycling habit. 
The following chart is a selection of great biking clothing that you should purchase for your city cycling adventures: (all links in this chart take you to the recommended product on Amazon)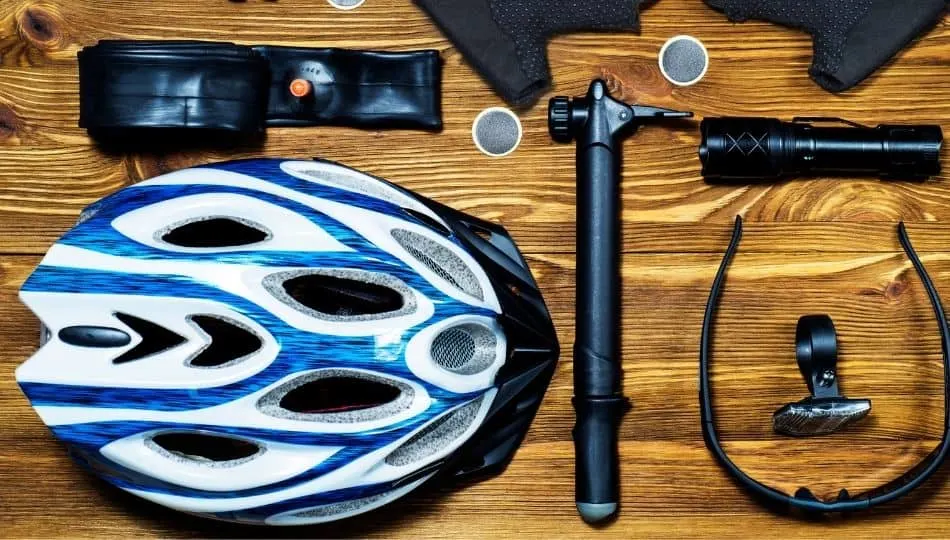 Even though we did not include it in the chart above, investing in a great pair of bike shorts is important to keeping you comfortable on the road. Check out these two options for men's and women's bike shorts available from Amazon below:
For more information about cycling shorts, check out my article "Are Cycling Shorts Worth the Money".
Having all the proper gear not only makes your ride safer but more comfortable as well. And a safe and comfortable ride is what will keep you coming back to your bike day after day. 
City Cycling 101: Safety Tips
Whenever you are biking, there is always a safety risk, just as there would be with any other form of transportation. However, since you are more exposed on a bike, you must stay safe while cycling in the city. As you navigate the city, you want to keep the following three safety tips in mind.
Staying Visible while Cycling Keeps you Safer
Staying visible as a biker on a busy city street is important to keeping you safe. You need to make sure your bike is equipped with the right gear to ensure you are visible to other drivers, riders, and pedestrians. 
The most important pieces to stay visible are lights and reflective gear. If you can wear a reflective helmet and vest, this is a great start. Adding lights to your bike also makes you more visible to other people on the road, especially if you are biking at dawn, dusk, or during the night.
Following the Laws of the Road means Safer Cycling
As a cycler in the city, there may be many things with which you are unfamiliar. Finding the information you need to stay safe and within the law can be a bit tough. One major help in determining what the laws are in your state is by using The League of American Bicyclists.
How to Determine Your State's Bike Laws
A simple google search can help you find the primary source on the laws you must abide by as a cyclist. Keep in mind while the resource from The League of American Bicyclists is amazing, it is not comprehensive. Laws change and so determining the primary source for this information is important.
The following is a list of tips for finding the right information for your state bike laws:
Check your driver's education manual. Many times, states include laws on bicycles in this manual because a bike is considered a vehicle. 
Review your state's website. Generally, laws can be found on your state's website. To gather the most up-to-date information, this is a great resource. 
Check with your state's local bike coalition. Not all states have a biking coalition. However, those that do have the information you need to ride your bike safely in the city.
Generally, some consistent laws can be found in most states, such as:
Biking under the influence – This is considered the same as driving under the influence in many states because you are putting yourself and others at risk of being in danger.
Distracted riding – As with any other vehicle, bikers can be subject to distracted driving mandates. Keep your eyes on the road and do not use your hands to text or make a call while riding.
Helmet laws – Most states require children under a certain age to wear a helmet. These helmet laws can vary drastically from state to state.
Riding on the sidewalk – In some states, sidewalk riding is prohibited, and sidewalks are reserved only for pedestrian use. 
Safe passing laws – It is good to know how cars are supposed to pass you. This gives a biker some peace of mind. It is also important to understand how bikes should overtake other vehicles on the road, which these laws can also sometimes specify. 
Make sure you understand the state laws before you head out on the streets. It will not only keep you safe, but you won't get ticketed for breaking any rules of which you may have previously been unaware. 
Maintaining Courteousness While Cycling
Just like with any other vehicle, you want to be courteous to the drivers, riders, and pedestrians around you, so remember to stay safe and act predictably. Erratic behavior is not only dangerous; it causes a lot of anxiety for others on the road.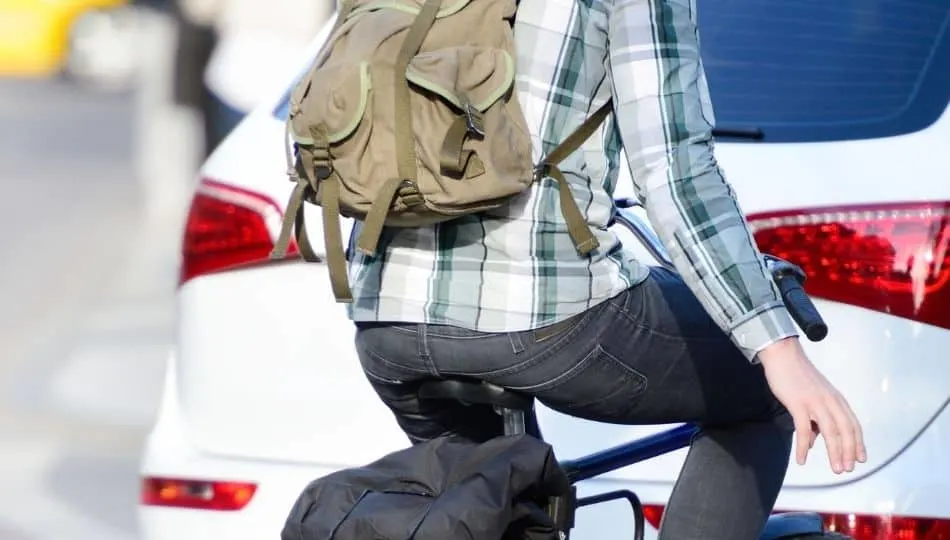 Here are some tips to keep your safety in mind while navigating the busy city streets:
Avoid wearing headphones – Just like if you were driving a car, you would not wear headphones because they are distracting and distort your knowledge of the environment around you. Being able to hear a car start or the rev of an engine behind you will help you stay safe on the road and anticipate what other drivers are doing. 
Follow traffic laws – Since your bike is considered a vehicle, you must follow all traffic laws, just as if you were driving a car. This means when you see a red light, you should stop!
Read the road – Notice when drivers have just parked or are leaving a parking space. Doors on parked cars could open at any moment, so it is important to stay alert on a crowded city street. 
Try a maps app – Google maps does a good job of creating routes for cyclists. Using a maps app will help you safely navigate the city streets and keep you from getting lost or ending up on a dangerous thoroughfare. 
Use the bike lanes – These lanes have been planned and designed by the city specifically for bikes. But they are not a safe zone. You still need to watch out for car doors and pedestrians. 
The Simple Road Signals To Know 
When out on the open road, you should be able to signal to other drivers when you are making a turn or coming to a stop. It is a good idea to become familiar with the following three hand signals to communicate your next actions.
There are a few different hand signals that you need to use when cycling in the busy city streets:
Right turns – Point your right arm out straight to your right or extend your left arm up to a 90-degree angle, fingers pointed toward the sky. 
Left turns – Extend your left arm out straight and point to the left with your hand.
Stopping or slowing down – Point either of your arms toward the ground or bend your arm at a 90-degree angle with your fingers pointing toward the ground.
How Far Should I Cycle As A Beginner?
Picking a distance that will not be too challenging for the beginner can require some adjusting. Finding the right path does not happen overnight and may take time for you and your body to acclimate to the distance and exertion. 
Generally, trips under three miles are great for beginners. Most people taking trips with their vehicles actually only travel about a mile before they reach their destination. This means it can be an easy transition to biking. 
What To Do If Your City Doesn't Have Bike Lanes
Riding a bike on a street or through a city that does not have bike lanes can be a bit confusing. What do you do when you need to turn left? Do you ride in the middle of the road as a car would? Is it common to ride in the middle of the street until you are ready to make a left turn? The answers to all of these questions, and more will be discussed below. 
The following is a list of tips to follow if your city does not have bike lanes, but these are also great tips for all riders:
Avoid the sidewalks – These are not only full of pedestrians; they were not designed for bikes. Sidewalks can have some nasty bumps, lips, holes, and other obstacles. If you stick to the streets, you can generally avoid these more difficult obstacles and environmental hazards. 
Do not be surprised by a honk – Drivers are notoriously impatient and unhappy with cyclists. Try to be courteous and kind. Avoid reacting to an angry driver, and remember you are not as protected on a bike. If you feel unsafe, you can always stop riding and call the police. 
Look without leaning – It is easy to swerve when you are trying to look behind you. When making turns, it is important to be able to check over your shoulder without swerving into another lane. This is a skill that takes practice. Some bikers will install mirrors on their helmet or handlebars to help increase their field of view. 
Ride with traffic – Do not ride against traffic, or you will increase your risk of getting hit. Drivers are not actively looking for vehicles coming the wrong way down their side of the street, so you are putting yourself in danger. Additionally, remember you need to follow the same rules of the road as your motorized vehicle counterparts.
Take the lane as needed – When lanes are too narrow to be shared, ride on the left side of the right lane. This will increase your visibility and note to any drivers behind you that it is not safe to pass on the narrow street.
How Do You Maintain Your Bike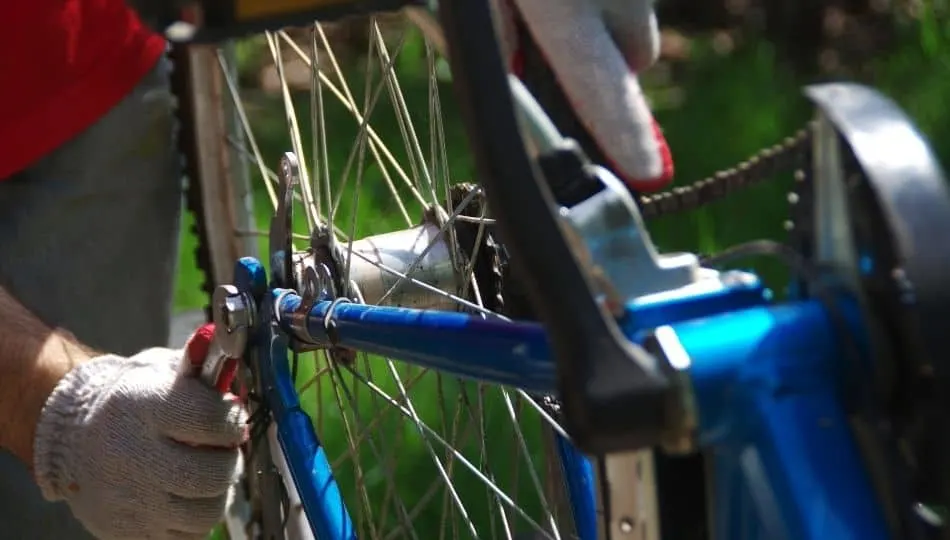 Keeping your bike in peak condition is not difficult. It takes a few extra steps in your morning routine now and again to maintain your bike. You can check out my article here, to learn about how to maintain your bike and keep it in great condition.
The following is a list of items you should regularly check to keep your bike in its best condition:
Tires – Make sure they are filled with air and firm. 
Chain – Make sure the chain moves without catching. Oil it regularly to maintain peak performance. 
Brakes – Always check your front and rear brakes before you get out on the road. Being able to stop safely is an important part of cycling. 
Consider getting your bike serviced on an annual basis. This will help maintain the bike and minimize the potential for breakdowns or other problems. 
How to Fix A Flat Tire on a Bicycle
We have all been there. Flat tires are common and can derail your day if you are on your way to the office. To get back on your bike quickly, follow the steps below to fix a flat tire. 
Once you have all the tools you need for a tire repair, you can get started. Follow these steps to fix your flat tire:
Remove the flat tire. Do this by disengaging the brakes and releasing the wheel. You will need a wrench to loosen the bolts.
Remove the tube from the tire. Do this by deflating the tire all the way and then unseating the tire bead from the wheel. Carefully pull the valve through the hole and pull the rest of the tube out. 
Determine the cause of the flat tire. If the tube is damaged, you can find holes by submerging it in water. Air bubbles will come up where the holes are. The valve can be worn or may have a leak. The rim can have protruding spokes or areas that pinch the tube. 
Replace the tube, or if possible, patch the hole. If you are on the road, a quick repair can tide you over until you are home and can fully replace the tube. It is also easier to replace a tube with a faulty valve than to try to repair it. 
Replace the tire. If the cause of the damage was from a gash in the tire wall, it is time to replace the tire. There are some quick fixes involving glue, but the best option for long term use is a replacement. 
It is always good to practice these steps before you need them out on the road. Keep in mind what tools you would need on the road for a tire repair, and keep those handy in your bike pack. 
In Summary: City Cycling Is Great For Beginners
City cycling may be scary at first, but with a bit of reading and practice, you can be an expert cyclist in no time. The best experience, however, is to get out on the road and start biking. Of course, only hop on your bike after you have become familiar with the rules of the road and know your route. 
Choosing to cycle through your city is a great option, especially for those trips that are much shorter. City cycling is the perfect way to exercise and reduce your environmental footprint.